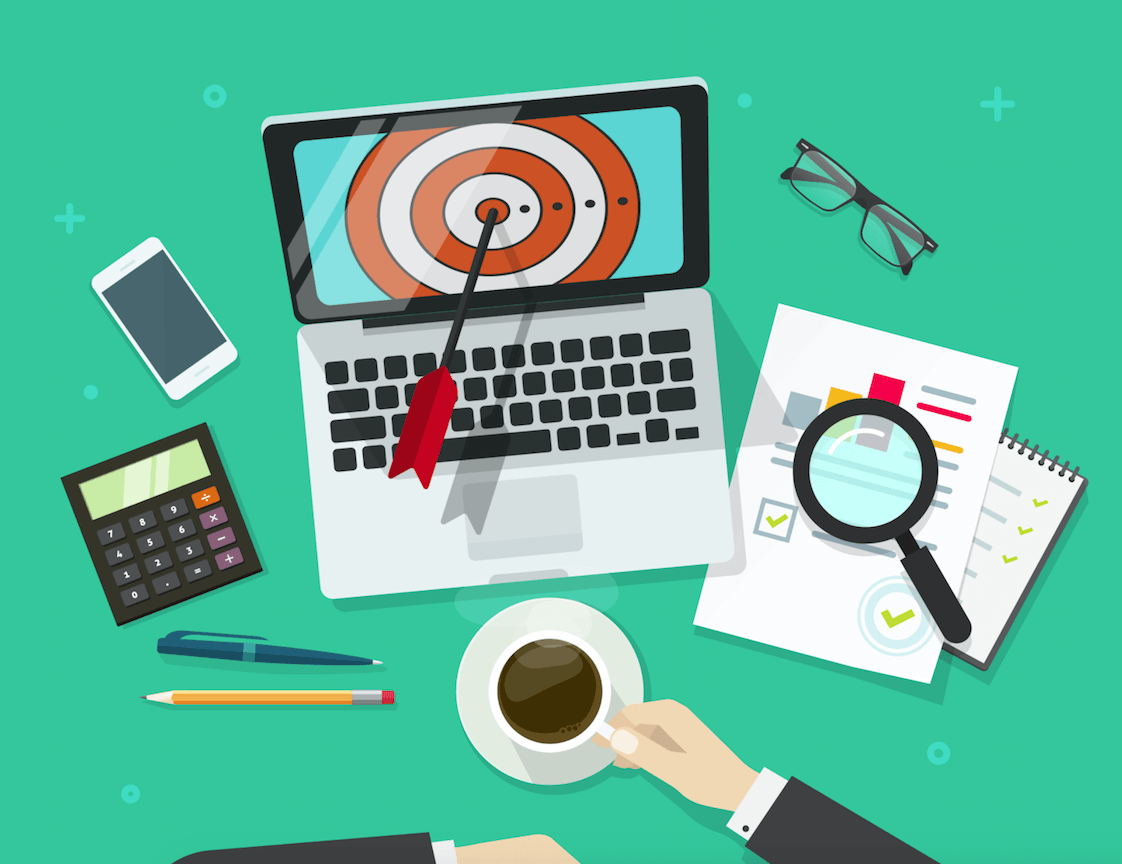 Ads Manager is a Facebook tool that helps advertisers manage, as the name denotes, their ads in an organised manner.
If you have created your first Facebook ad then, chances are that you are no stranger to Ads Manager. Ads Manager is a tool that helps you manage your ads (create, edit, and delete), set up a budget, and set a schedule for your ads to go live. You can access it through https://www.facebook.com/ads/manager .

What are the options that Facebook Ads Manager offers
Here are the available offers:
Plan,

Create and Manage,

Measure and Report,

Assets,

Settings
We will be diving into each of the options and provide tips on when and how you can better utilise them.
Plan
Here you can find tools that will help you with the first step of your campaigns; planning. Planning is a very critical step that can impact the success of your Facebook ad campaigns. Under the plan menu option you will get the Audience Insights or access the Creative Hub.
Creative Hub: The Creative Hub serves as the go to place for inspiration, information on the recommended sizes for your creatives, to create and manage your mockups, and check if your images comply with the 20% rule. If you are working with a large team or working with a client, Creative Hub helps you share with great ease your mockups. 
Audience Insights: This tool ( facebook.com/ads/audience_insights) enables you to get insights in a variety of audiences from people who you are connected with via your Facebook Page, to specific custom audiences (CRM Exports or any audience you've created),  to anyone who is active on Facebook across the globe, in order to create ads and content that will be relevant for them. The information you can get breaks down to demographics, page likes, location, activity, household, and purchase.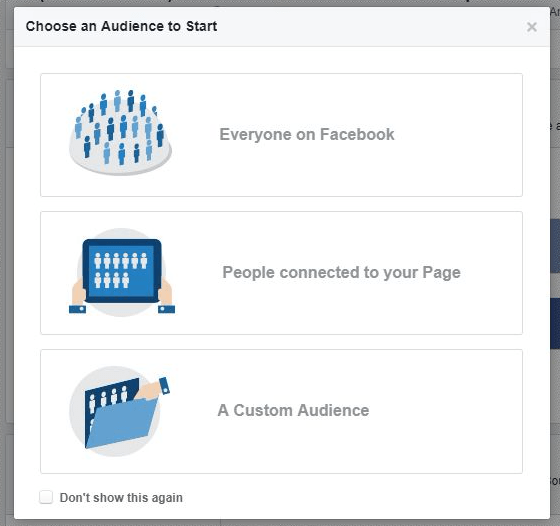 You can utilise the filtering options on the left to help get actionable insights that will help you with ideas for targeting, This will help you uncover unique characteristics of your audience (Demographics, Location, Activity, Household tabs), get ideas on marketing partnerships, such as partnering with influencers (Page Likes tab), and how likely they are to buy online (Purchase tab).
Create and Manage
In this section you will find the necessary tools to create and manage your campaigns.
Ads Manager: This is the tool that you will be using to manage all aspects of your campaigns from from creation, to editing, to getting valuable data that will help you optimise for success. Here you can customise reports to include key metrics or download the data that you can use to create reports with third part tools such as Google Data Studio. I will be going through Ads Manager's tabs later on. 
Page Posts: This tool consolidates posts from your Page (published and scheduled, as well as your ad posts. For each of your ad post you can see the following metrics:

Reach, Engagement, Lifetime Talking About This Post and the day it was published while for your published posts you can view Reach, Clicks/Actions and PPTP (how many people took an action on the post) metrics.
App Dashboard: 
App Ads Helper: This tool helps you check your app platform's settings and shows any install events and app even activity that took place within the last 60 days. Here you can also verify your app.
Automated rules: With this you can automate certain aspects of your campaign's optimisation (scalling campaigns, pausing bad performing ads etc) or get notifications on changes in your campaigns performance. In order to create an automate rule you will need to set up:
Triggers – the conditions that are required and that will trigger  the rule to take effect
Actions – the specific actions that should take place if your conditions are met.
Scope – the level (campaign, ad set or ad) that the rule will be executed in.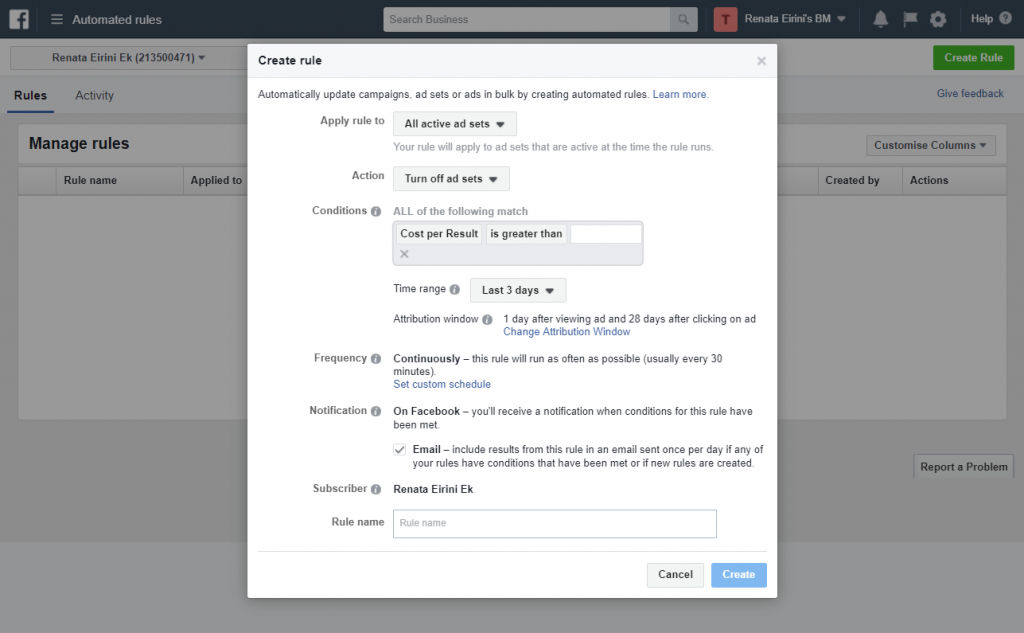 Measure and Report
The options here will help you to effectively measure and analyse your ads' performance and see whether you are on track on achieving your goals.
Ads Reporting: Here is where you can access your customised your reports. Depending on the type of campaigns you are running you will want to adjust the metrics shown to include the ones that will allow you to determine how successful are your campaigns. By utilising the breakdowns, you can hone in to your target audience, placements or days that help generate conversions and proceed to narrow down your targeting even more.  By spotting patterns, you can form a hypothesis, which you can later test that will allow you to tweak your campaigns for success.

Test and Learn: This is an interesting tool that Facebook recently released. With this tool you can experiment with different marketing strategies and find the one that achieves your business goals most effectively. See our tutorial on Test and Learn to see how you can make the most out of it.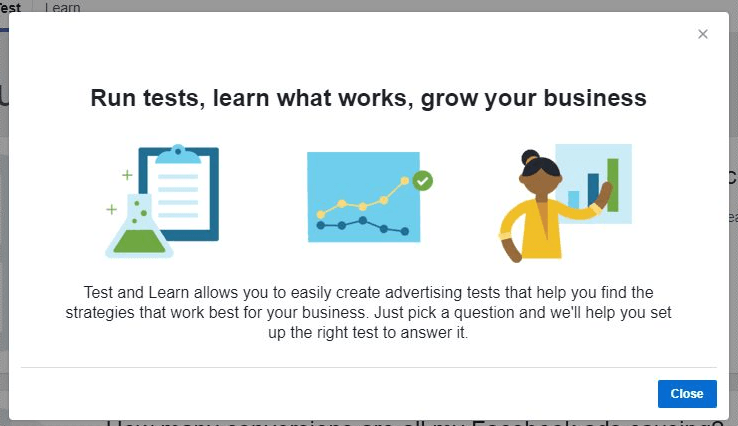 Analytics: A much-awaited tool that Facebook recently released. With Analytics you can analyse the behaviour of your customers. Working with segments, funnels and cohorts will provide you with the information you need to understand your customers or any other type of visitor and make the necessary adjustments to help people convert. See our detailed tutorial on how to use Facebook Analytics.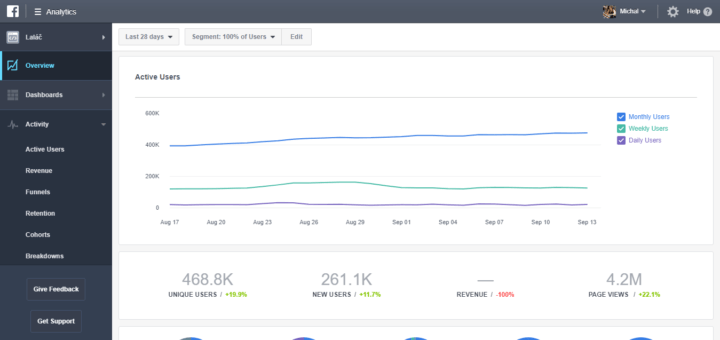 Events Manager: This is a new, unified interface that you can use to manage all your online and offline data with easy in just one place. Some of the key features include: 
Custom Conversions Enhancements: Easily share custom conversions across your ad accounts. Also, there is a significant increase in the number of custom conversions allowed per ad account to 100 (used tot be 40).
Facebook Pixel Enhancements: An informative diagnostics tab that helps you spot any anomalies and provides diagnostics on common event errors, links to where the errors occurred, as well as the steps you need to take to troubleshoot them.
Offline Events Enhancements: This helps facilitate the upload process and ensures that the data will be mapped and uploaded successfully.
You can access Events Manager through https://www.facebook.com/events_manager
Assets
Under this menu option you will be able to create assets that you use in your Facebook Campaigns. Here are the assets that you can create:
Audiences: These are the people that you can target with your Facebook Ads. Facebook, over the past few months, has made many updates with regards to the available options in order to help advertisers to help reach audiences based on certain actions they have taken on the website, Facebook Page or Instagram Profile, offline (your brick-and-mortar store), or their response to your Facebook event, or similarities to your existing customers (LookAlikes). If you need some ideas on which custom audiences you should create to achieve bigger ROI, here are some suggestions.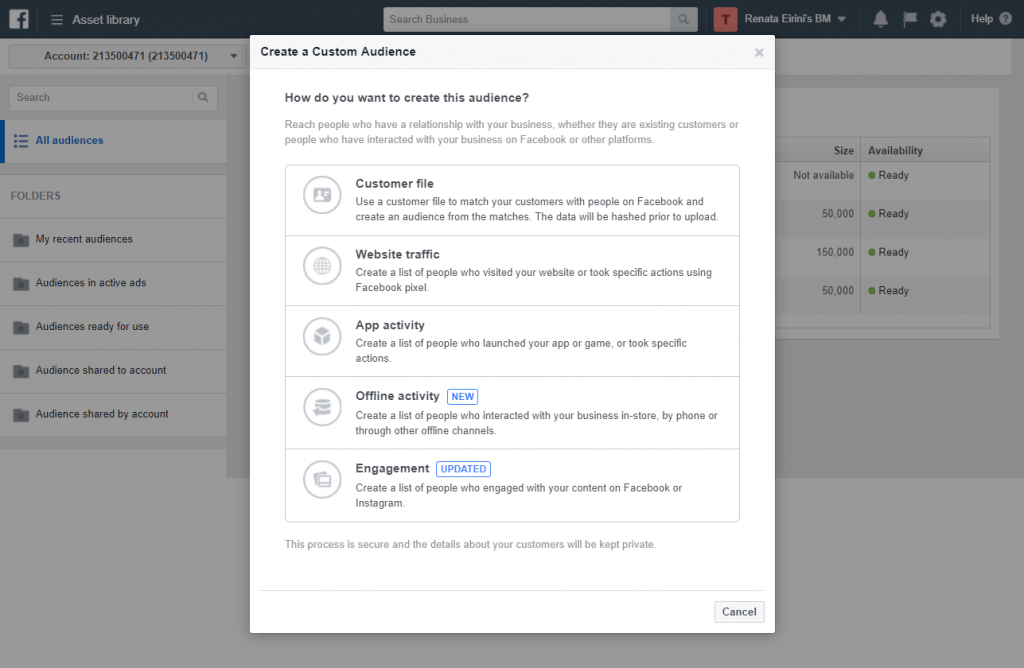 Images: Here you will get access to a list of images, sorted by the newest images you've used for recent ad campaigns or boosted posts.
Catalogues: A catalogue or a Product Catalogue may contain products, flights, hotels, home listings and more depending on how creative you can be with Product Catalogues! They are a key component of Dynamic and Collection Ads, formats that, especially, those operating in the e-commerce field should definitely try out. Recently the Catalogue has received a massive overhaul that made far more easy to navigate through.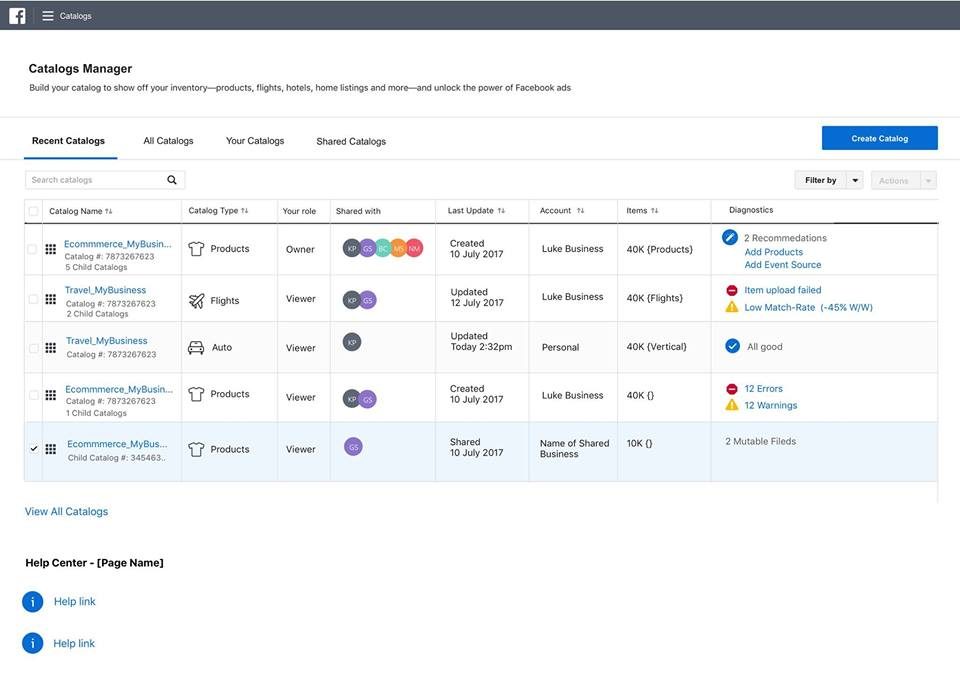 Business Locations: In the case that your business operates from many locations than this tool may be proven really handy. Here you can add, edit or delete business locations. Once you add your business locations you can target ads to people near specific business addresses.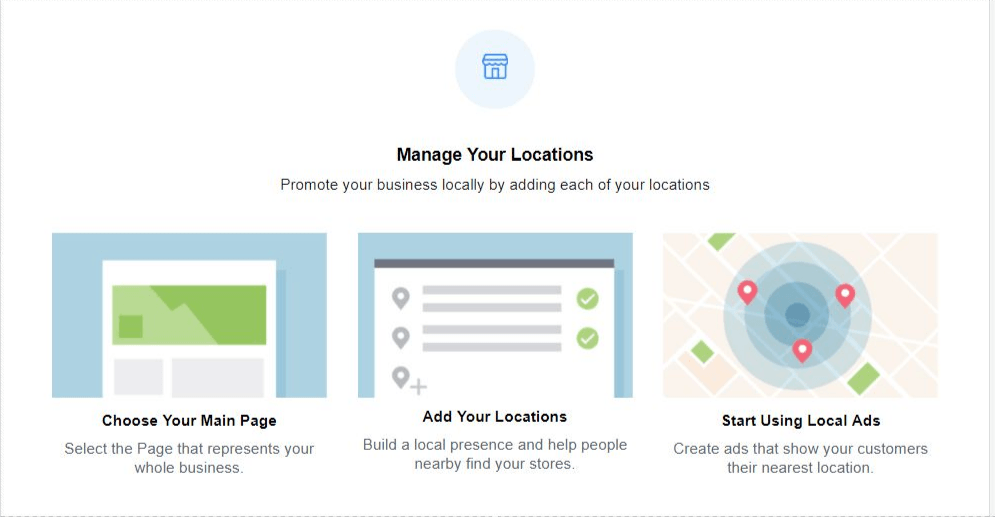 Videos: Here you will find all the videos you have used in any of you campaigns or Page posts. You can also upload and manage your videos quite easily.
Ads Manager's Tabs
Upon clicking on the Ads Manager menu option you get access to the "main" Ads Manager. Ads Manager is comprised of the following tabs:
Account Overview: This tab is relatively new. Here you can see information as to how your Facebook campaigns are performing over time and gain actionable insights by spotting patterns or honing into segments of your target audience. From here, you can also access the Creative Report tab. The report aims to provide advertisers with actionable insights as to which creatives perform the best and capitalise on this by creating similar creatives. For each creative unit you can see the delivery status, spend, results, cost per result, and reach and frequency.
Campaigns / Ad sets / Ads: Through these tabs you can assess the performance of your Campaigns, Ad Sets or your Ads. You only need to click  on the check the box next to the campaign, ad set or ad you want to view. Once you do, a side pane will show up in the right that you can use to see the performance, edit, or view any activity history. 
You can utilise breakdowns in Ads Manager to get more information on the age of your audience, where they are viewing your ads, what devices they are using, among others.

In order to tailor the reports you can adjust the metrics as you see fit according to the type of campaigns you are analysing.
Ads manager offers advertisers a plethora of tools and features that allows them to target their ideal audience, assess their Facebook campaign's performance, monitor key metrics, track conversions and make the necessary changes based on data.

Comments