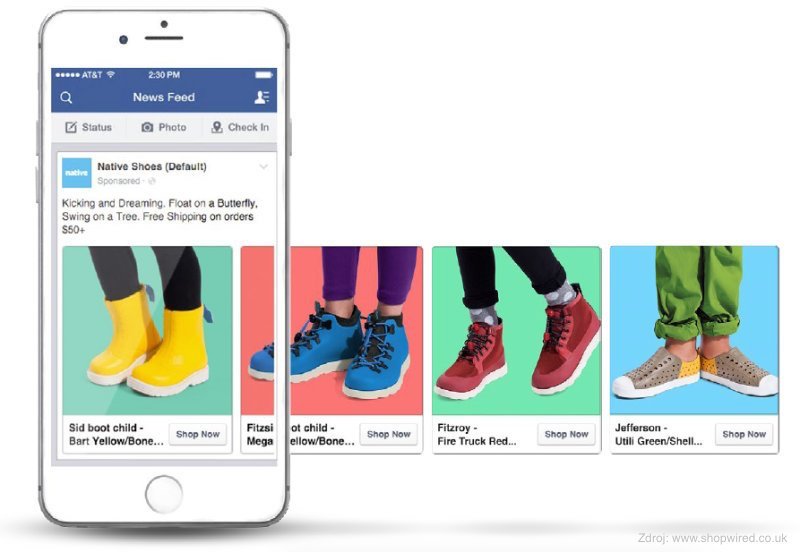 Dynamic ads have been available to all marketers empowering them with the possibility to show potential customers products they have previously seen or added to cart on your website.  This tutorial provides you with everything you need to know and how to make the most of  dynamic product ads.
What are Dynamic Ads?
Dynamic ads, formerly known as Dynamic Product Ads, were introduced in February of 2015. It is a solution designed to help advertisers "promote multiple products or their entire product catalog, across the all the devices customers use".  These ads can target certain products to specific audiences depending on where they are in the marketing funnel. Simply put, with Dynamic Ads you can rest assure that Facebook will automatically deliver the most relevant products to your audience.
The old way – Carousel ads
Prior to introducing Dynamic Ads, advertisers that had a large product inventory they would utilise Static Multi-Product Ads, also known as Carousel ads. This type of ad format enables advertisers show multiple images and links within a single ad as opposed to single image ads. While carousel ads yielded great results for advertisers, you couldn't help but wonder; what if you could tailor your ads to your targeting audience? 
What issues do Dynamic Ads solve?
Dynamic Product Ads do just that; They choose the right product from a product catalog comprised of tens/hundreds/thousands of products and show it to the right people. The "magic" behind it is simple. They pair a product ID to a user ID and this helps create highly personalised ads. The best of all? In addition to saving a lot of time and being more accurate and precise than if you were to create Mutli-Product Ads, they use up-to-date pricing and availability.
Getting started with Dynamic Ads
Before you begin you need the following:
Facebook Pixel

Business Manager – a Facebook Page is required

Product Catalogue
Facebook Pixel
To show dynamic ads to people who visited your website or mobile app, you need to  implement the Facebook pixel on your website and/or the Facebook SDK in your mobile app. Installing the basic pixel is something that can be easily done but you need to track additional information so some modification is required. The reason you need to track additional events is because this will help you target people at different stages of your purchase funnel. The custom data that are required to be added are: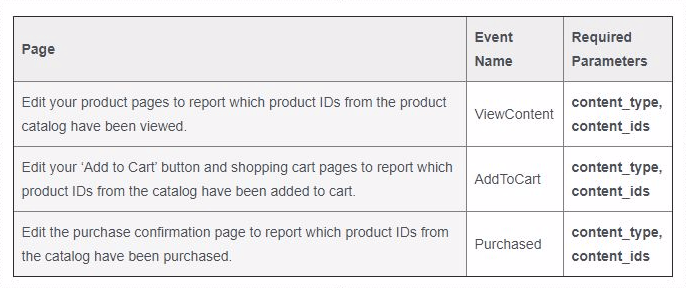 Bear in mind that the event names are case sensitive so do not deviate from the suggested spelling nor case. Also, be mindful of content ID consistency in both the the Facebook Pixel and the Product Catalogue.
Pixel and Dynamic Ads: What you should know

Product Catalogue
A product catalogue contains a file (or multiple files) with a list of all the products you want to promote. This file is called product feed as it feeds the product catalogue with (updated) information on the products. The supported files are CSV, TSV, RSS XML, or ATOM XML.  Changes in the product feed will automatically reflect on your catalogue and subsequently, your ads. When setting filters in your product feed you then get a subset of the product catalogue that's called product set.

How to create a product catalogue
Head over to Business Manager > Settings and Click on Product Catalogues. Choose "Add new Product Catalogue" in the upper right-hand corner.
Now, you can choose an appropriate name for your product catalogue and choose the type of products that will be featured.
Move on with adding the people that will be working with the Dynamic Ads campaigns.
Save the changes and move to the next step; associating your product catalogue with your Facebook Pixel.
Now that you have successfully created the product catalogue, you need to create the product feed. Head over to the Product Feeds tab and click on the "Add Product Feed".
Fill-in a descriptive name and move on to choose the currency and the upload type. Then click "next", upload your product feed and type in your username and password, if applicable.
After creating your product catalogue and uploading your product feed, you can create a product set in order to have more control on the products you want to show in your Facebook Ads.
Product catalogue and dynamic ads: What you should know
For a list of common issues related to Product Catalogue and Product Feed, be sure to check the video below.
If you've reached this far then, congratulations! You are now ready for the second part of the tutorial, which focuses on the Dynamic Ads and  utilising Templates, Audiences and campaigns such as Upsell, Cross-sell and prospecting DPAs.

Comments