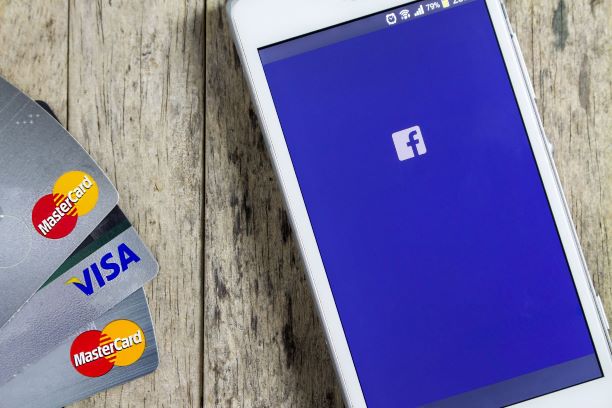 During a crisis, many people turn to Social Media to inform themselves, to interact with loved ones and browse the feed looking for an escape. Social Media usage increases and where the consumer is, the marketer should follow, right? Kind of! In this article, we will explain why you need to be running ads and how to do it successfully while distancing your brand from a potential crisis.
Should you run Facebook Ads during a crisis?
Running ads during a pandemic is something that you should examine carefully since you don't want to look as if your brand is trying to capitalise and profit from the situation. Your brand can be present, yes, but the important thing is the way you do it.
Before delving into "how" you should advertise during a crisis, lets, firstly, examine "why". Like any other day, but now more than ever, people still have wants and needs. A recent study shows that 52,7% of the respondents will avoid shops in general if the Coronavirus outbreak worsens (see table below).
This translates to a shift of part of the "brick-and-mortar shop"-goers to the internet and online window-shopping. This, in turn, means that there is an increase in sales now that the stores are shutting down. This is a great opportunity for brands to be present with ads but be always on alert and ready to adapt your strategy in this quickly changing environment.
Here is what you should have in mind when running Facebook Ads.
Adjust the ad copy
We have stressed the importance of ad copy has in ad performance. When running ads during a crisis you want to ensure that your copy isn't tone-deaf and you address the situation with the necessary importance and gravity to avoid a communication crisis!
The below ad may cause some mixed emotions among the followers!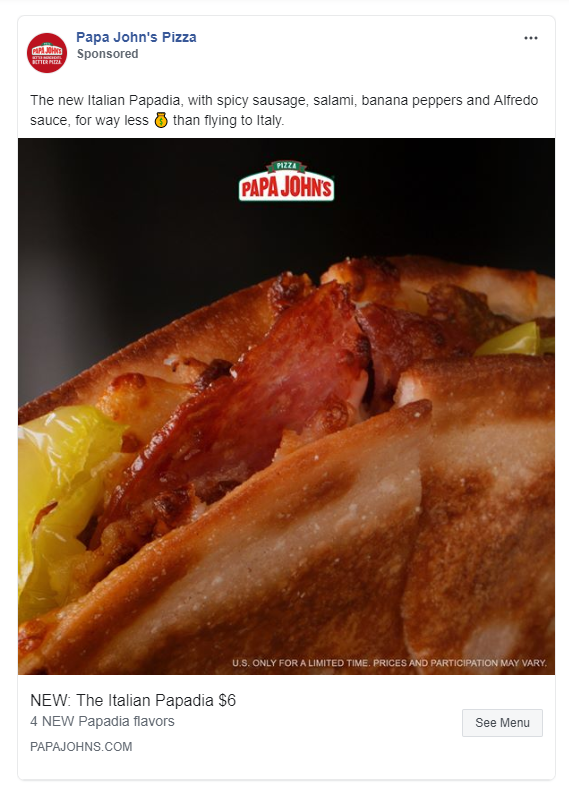 On the other hand, there are many ways to write appropriate ad copy while addressing the pandemic in your ads. The fitness company below, that sells protein drinks, alludes to the virus by using phrases such as "stuck inside & missing the sun".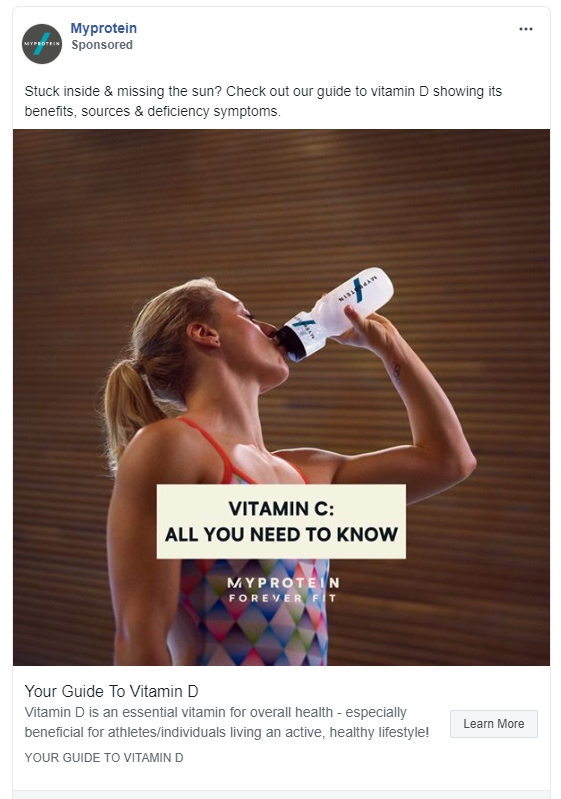 Focus on your ad creatives
Creatives play an important role when it comes to grabbing the attention and thumb!- of your potential customers. Boohoo.com achieves this perfectly by using creatives inspired by the current situation (bedroom). The creative in combination with an ad copy that reads: "staying in is the new going out". This makes it relatable and urges you to click. Okay, that 50% helps too!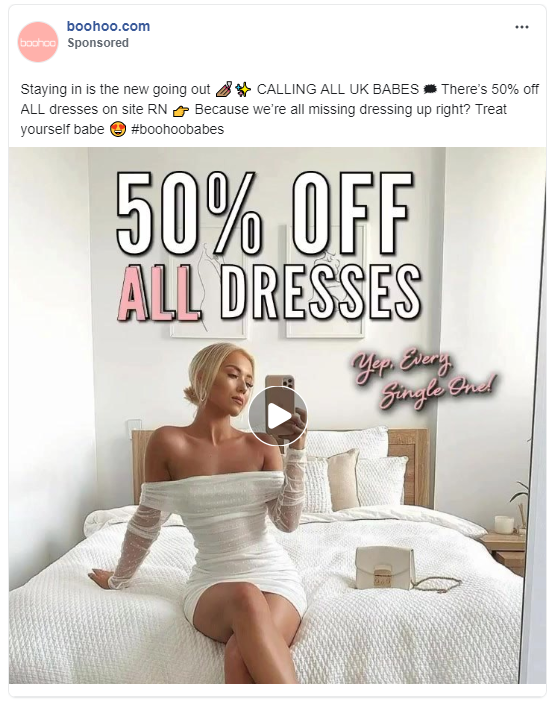 Run ads on a schedule
Things are evolving quickly and you need to be on alert to ensure that you are ahead of the situation, as much as possible…if that is possible in the first place. One way to do that is to schedule your ads to be active during the hours you can monitor them. The well-know travel platform below chose to advise their ad-targeted audience to "check out the sakura-themed items at their partner's store when visiting Japan this spring". This could be proven rather problematic with all the travel restrictions in place across the globe!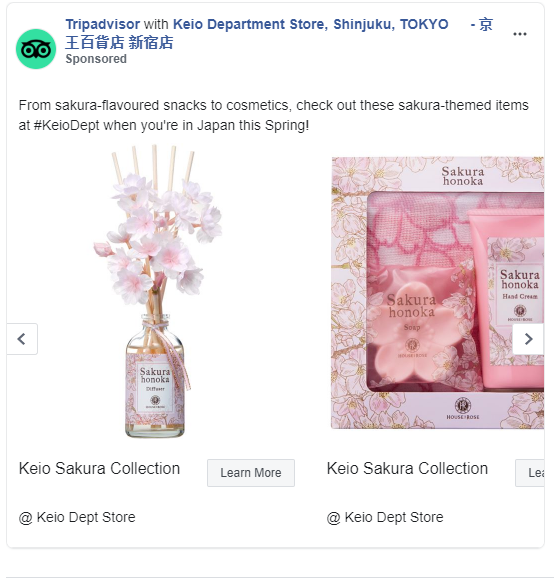 Read the comments
Now more than ever before, ensuring that you read and respond to comments under your ads is very important. In the case that advertisers, like the one above, choose to run such ads, they should closely monitor the comment section and be ready to respond to possible questions and catch a potential crisis before it even unfolds.
Make adjustments to your offering
Adjusting your offering is a great way to connect with your audience in such difficult times. Here are a few simple things that you could help convert your target audience to a client or a brand enthusiast!
Offering things for free or with a discount
You can choose to offer things on sale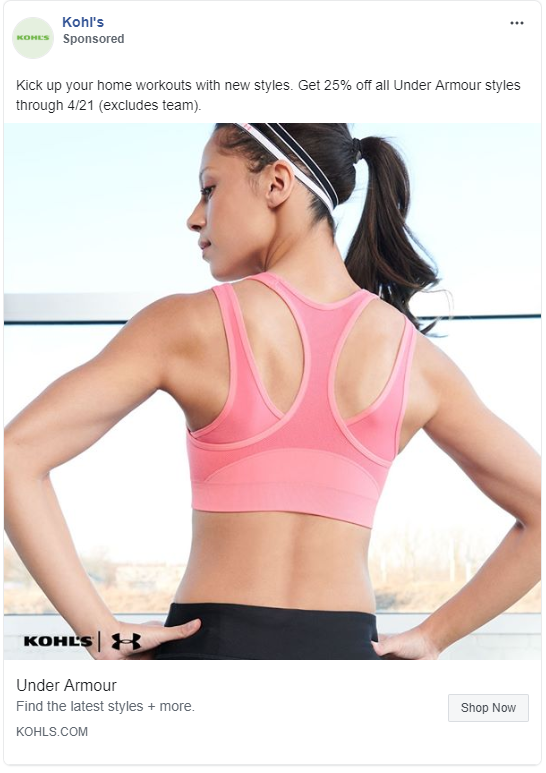 or for free. Here are some ideas:
an N-month subscription to your service,
the delivery,
physical goods,
electronic good such as an e-book or presentation,
a service, such as a webinar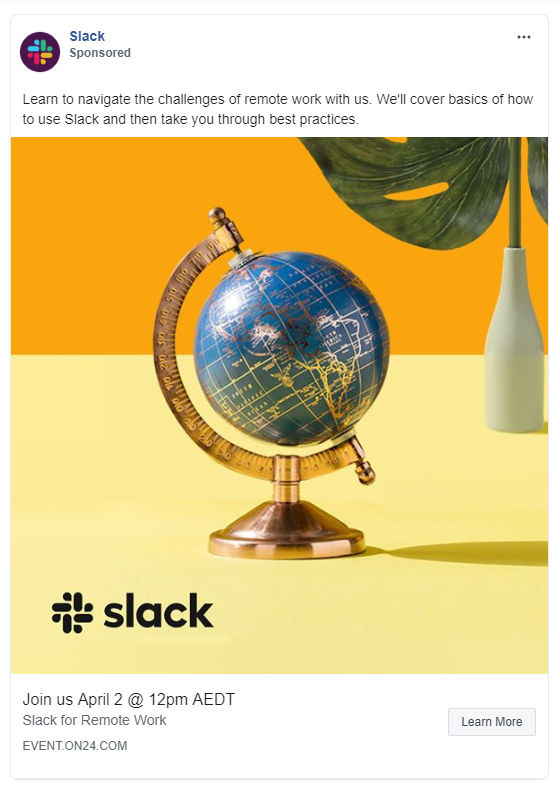 Extending the return period
With people not being able to try on clothes at your store and with the current delays from the couriers, some may hesitate to order online when a product has a "short" return period. One way to remove this blocker could be to offer extended returns.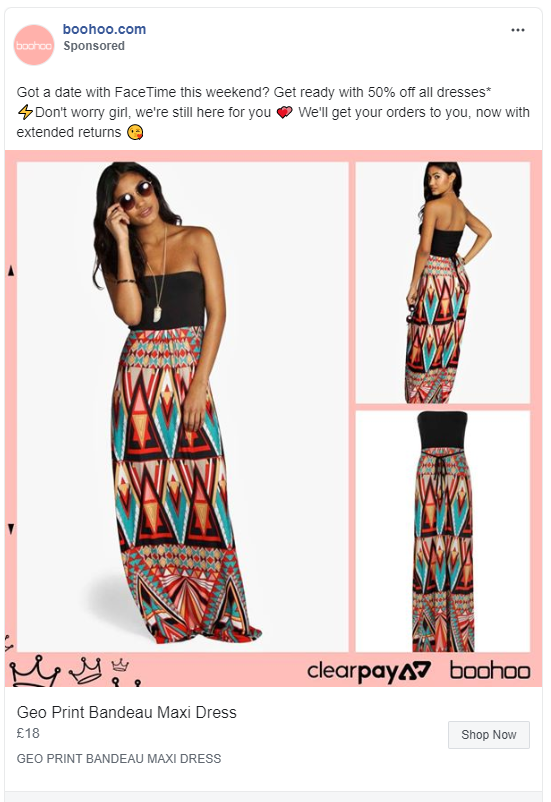 Offer flexible payment options
As we navigate the crisis, it is important to offer you support to your audience by giving them flexible payment options. BoohooMAN helps alleviate that problem by offering people to "Shop Now. Pay Later".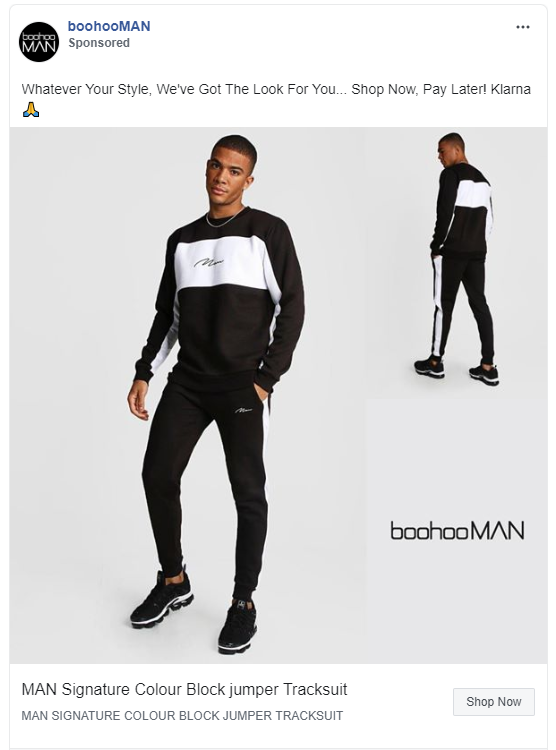 Run Dynamic Ads with modified product catalogues
It is true that during a crisis many people will consider reducing their spending or purchasing lower-cost items. If you are running Dynamic Ads, consider making new, relevant product catalogues and/or product sets to meet those needs and avoid advertising the entire product catalogue.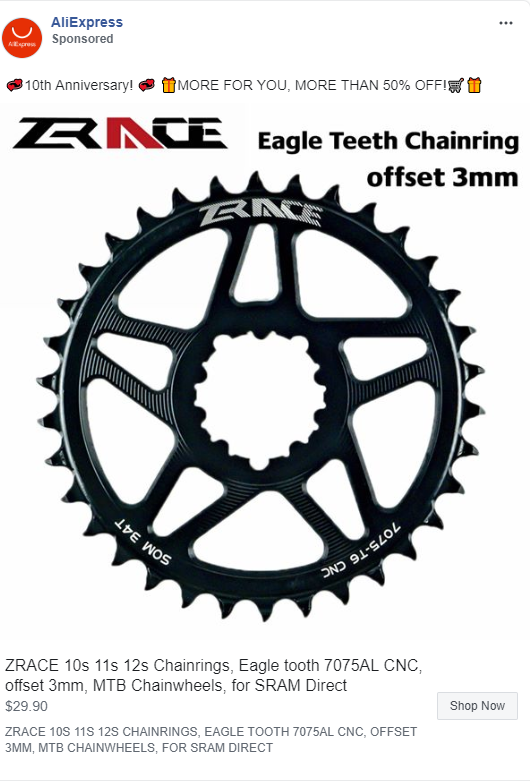 Keep a close eye to your reports
Perform a Week over Week (WoW) analysis and see how the performance looks like. Focus on metrics like CPM, CPC, CPA and scale up your campaigns if the numbers are good and consider pausing if they aren't.
Keep calm and advertise!
Many industries have been heavily impacted by the crisis.
If you are in an industry where your service and product are needed now, take advantage of the shift towards online shops and be present with your ads.
Are you in an industry that was forced to cease operation? Take advantage of the low CPMs to remind people of your presence and choose your services and products when everything slowly goes back to normal. This is the time to build long term relationships and plan new strategies.
In the end, it is important to monitor the situation closely, gauge the pulse of the crisis as it unfolds and adjust your strategy to avoid having to manage a crisis.

CLICK AND LEARN HOW TO SOLVE THE CRISIS
Comments