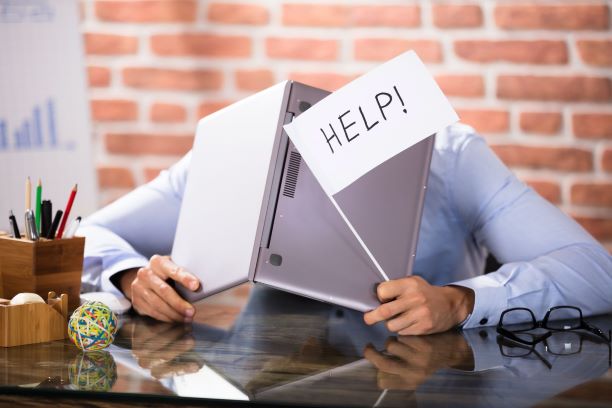 As an advertiser, there will be occasions in which you will deal with a disapproved ad, delivery problems, or even a banned ad account. When that happens, you'd want a way to contact Facebook. In this article, I show you the ways you can reach Facebook depending on the situation you may find yourself in.
The first thing to do when you have a problem with your Facebook Ads is to visit the Ads Help Centre for Facebook Businesses. You can select a topic to find answers to your questions. If you don't find a solution to your problem, you can look for it in the community forums. This is a great starting point especially if you are starting up with Facebook Ads. More advanced advertisers may need to reach Facebook support for a variety of reasons regarding your account, ad performance, copyright infringements etc. For this reason, I have compiled the majority of the reasons why you will want to reach the Facebook Ads Support team and give you links to the form that you should use depending on the situation you are in. Let's get started!
1. Your ad got disapproved
There are many reasons your ad might get disapproved by Facebook. Mainly it depends on whether the ad is compliant to Facebook's Community Standards, or it promotes drugs or products that contain prohibited substances or gambling and online lottery. If your ad has been disapproved for reasons other than these, you can submit an appeal. To do so, you need to fill in the appeal form. You 'll need to provide them information about the ad (ad ID, reasons you think it should be approved etc.). If your ad is approved on appeal, it will be become active and may be displayed to your target audience instantly.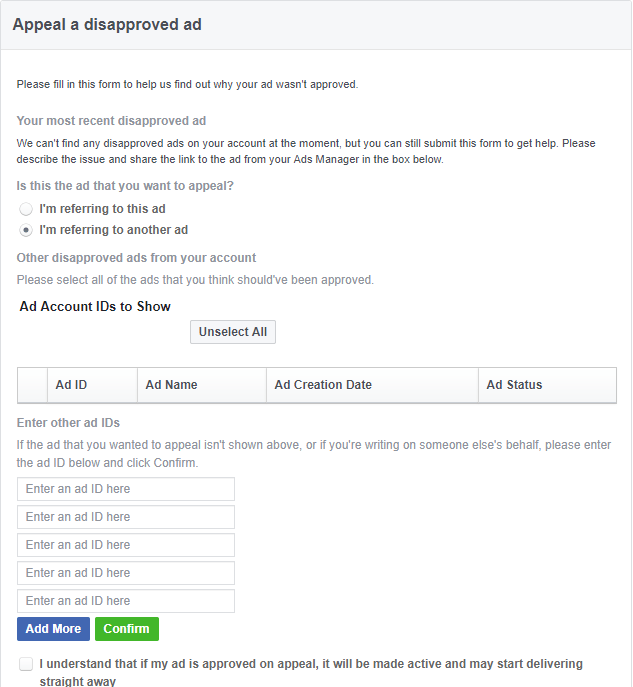 You can also appeal a disapproved ad from within your Ad account. To do so, click on the details of your ad where you'll find the ad denial information in a red box. Click the "Appeal" button to open the form.

2. Your ad account got disabled for not following Facebook's Advertising guidelines
If you were notified that your ad account was flagged for not following Facebook's ads policies, you can contact Facebook support using this form.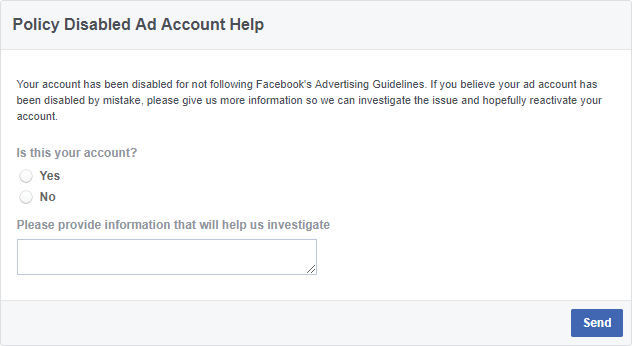 3. Your ad account got disabled wrongfully
If you think that your ad account was wrongfully disabled, then you can use this form. Be sure to please provide Facebook support team with all the necessary information so they can investigate the issue.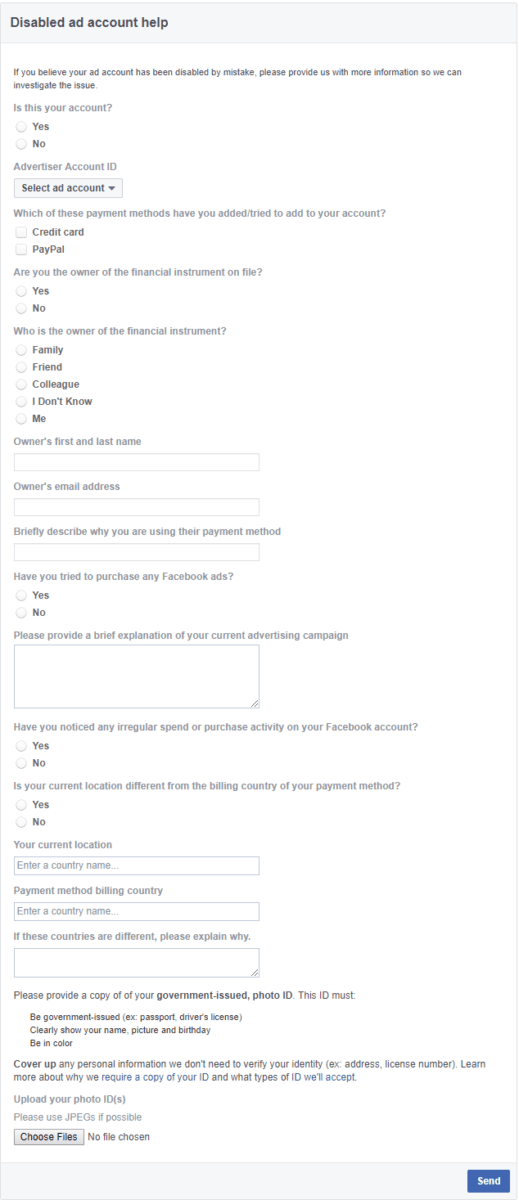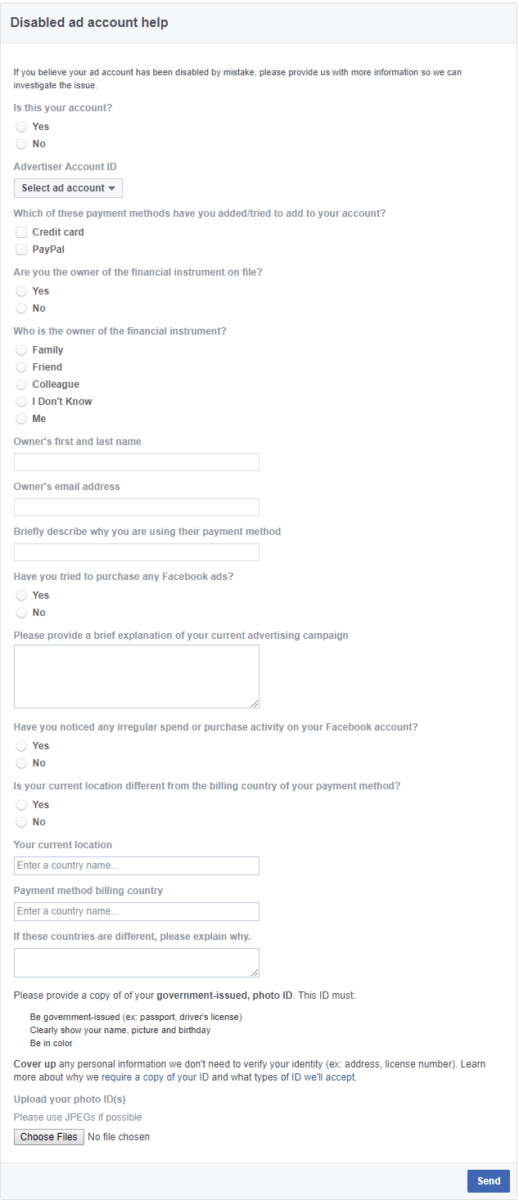 4. Your copyrighted work is being used by someone else
If you believe that there is a violation or infringement of Your Rights meaning that someone is using your copyrighted work without your permission, you can fill out this form.

5. You want to get the blue verification badge for your Facebook Page
A verified Page has a blue tick next to its name. This type of verification is available to selected people, sports, media, entertainment and government Pages. You should have in mind that Facebook doesn't support verification requests for user profiles and Pages that represent businesses/brands. When submitting your verification badge request via the form, you 'll need to provide reasons why your Facebook Page should be verified. It will also help if you can include relevant URLs that help illustrate public interest. Once you submit your request, you'll receive a notification. One last thing to note is that you can submit a new request after 30 days. If you want to boost your live video or any scheduled videos you can do so only if you are verified (at this time).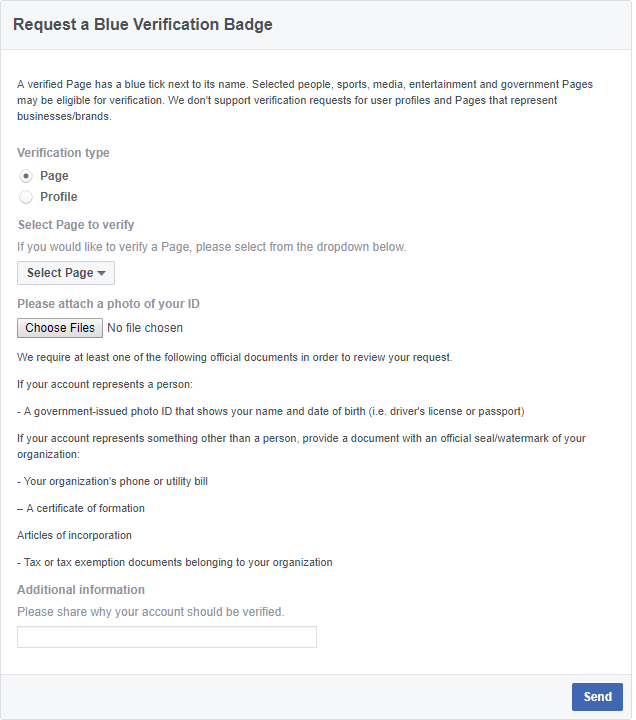 6. You have a question about Ads payments
If you are trying to apply a Facebook Coupon to your ad account to no avail, increase your billing threshold or have any problems regarding ads, you can reach the Facebook Support team through this form. You will need to select your ad account and choose the option that best describes your problem.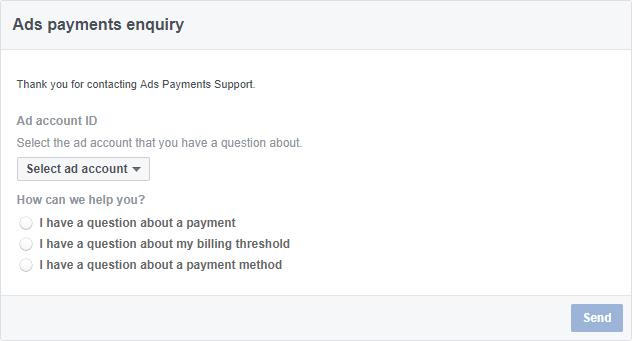 7. You found a bug
If you are facing any problem such as data aren't refreshed, your video is taking too long to upload or a feature isn't responding the way you expected you can contact the Facebook support team and inform them about it. In order to report a bug, you need to be in your Facebook Ad account and click on "Help" on the upper-right corner. Then, at the bottom of the menu, click "Report a problem".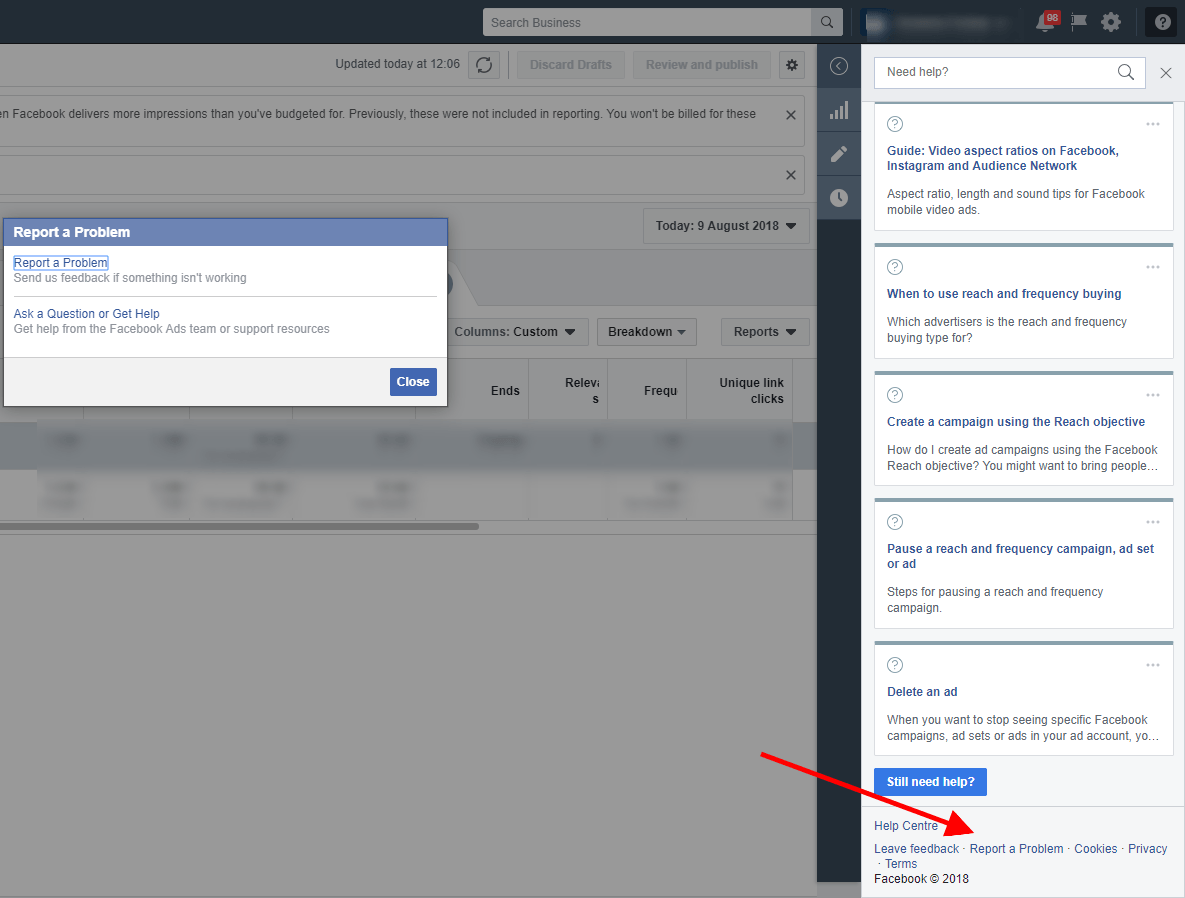 If your issue isn't listed above or for any other reason, there are two more ways to contact Facebook besides the aforementioned forms: Direct support and email.
Contacting Facebook via Direct support
Direct support is a private support channel that connect businesses such as Facebook Marketing Partners with specific support teams at Facebook. You can access Direct Support through this link https://business.facebook.com/direct-support. Have in mind that you need to append your Business ID at the end of the URL (/?business_id=YOUR_BUSINESS_ID). If you aren't eligible, you will get the below message.

Once you submit a question, you will be notified about any new replies via email or messenger.


Contacting Facebook's support team via email
If the issue you are facing isn't covered above and you don't have access to direct support you can use the contact support form to send an email.
This form will help resolve issues about the following issues:
Ad account-level issues (disabled ad account, managing permissions)
Ad delivery ( no delivery, under-delivery or over delivery)
Ad policy or disapproved ad
Ad targeting
Billing or invoicing
Dynamic Ads
Instagram Account (claim an IG username, lost access to IG account)
Pages (request a Page: name change, merge, URL change, take down)
Reach and frequency
Technical Issue
Any other issue
Once you fill out the form, a member of the support team will reach out to you within one business day.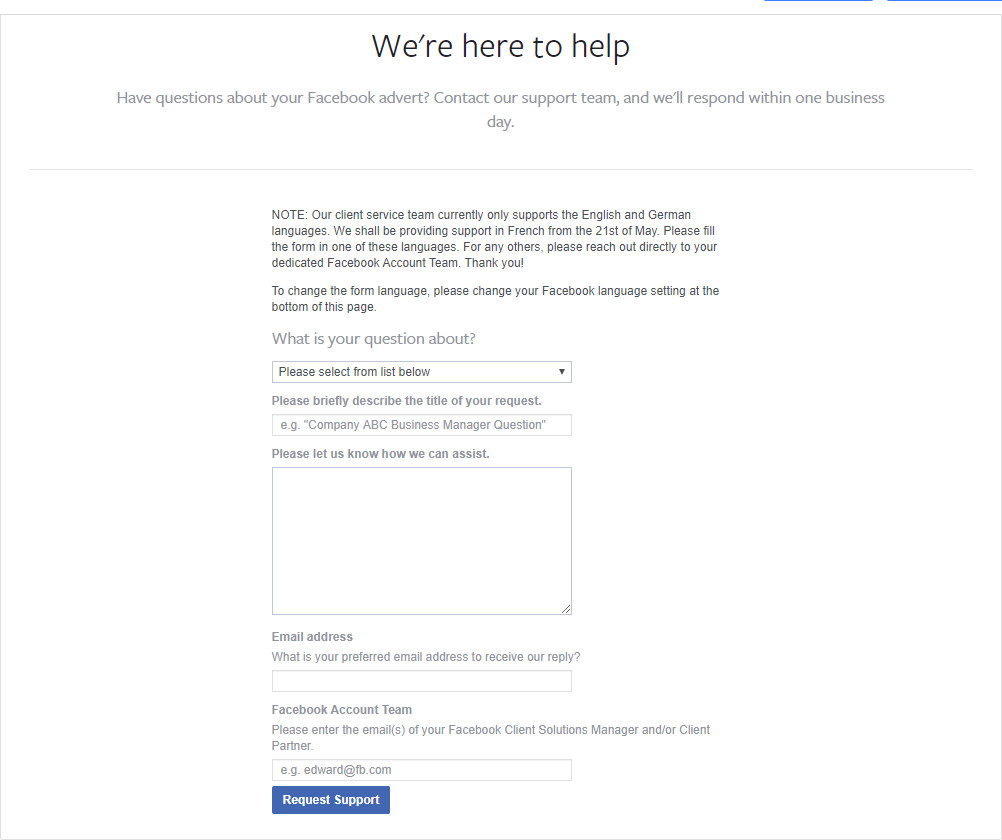 Contacting Facebook's support team via chat
Be aware that this option isn't available to everyone. Visit the help page at https://www.facebook.com/business/help and choose the "Chat" option at the end of the page.

By clicking on the "Chat" button, you will be directed to a form that you need to fill out prior to joining the chat.
You can use the Facebook Support Team chat option if you are trying to resolve issues such as:
Ad-account related issues
Ad-disapproval and ad policy related issues
Problems with billing and reporting
Issues with your Facebook Page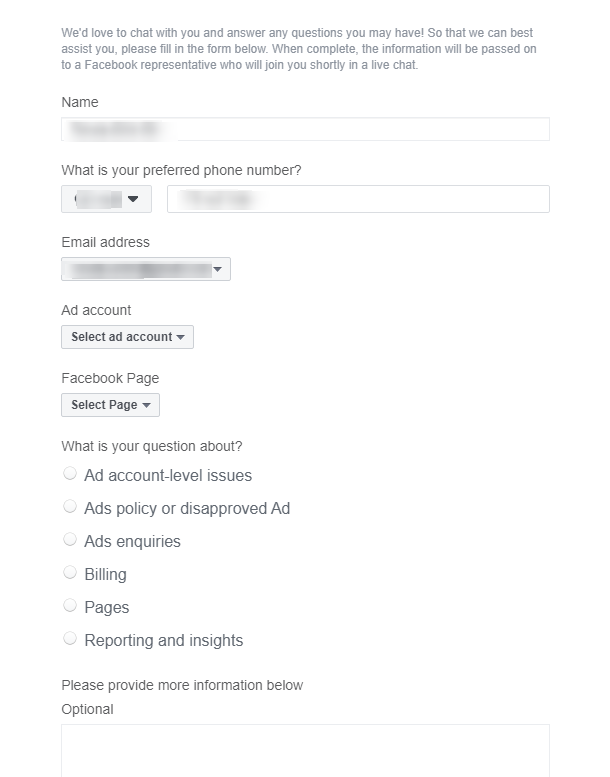 Before contacting the Facebook Ads Support team make sure that your account is in good standing and that you follow Facebook Ads Guidelines to ensure you have high chances resolving your issue.

Comments