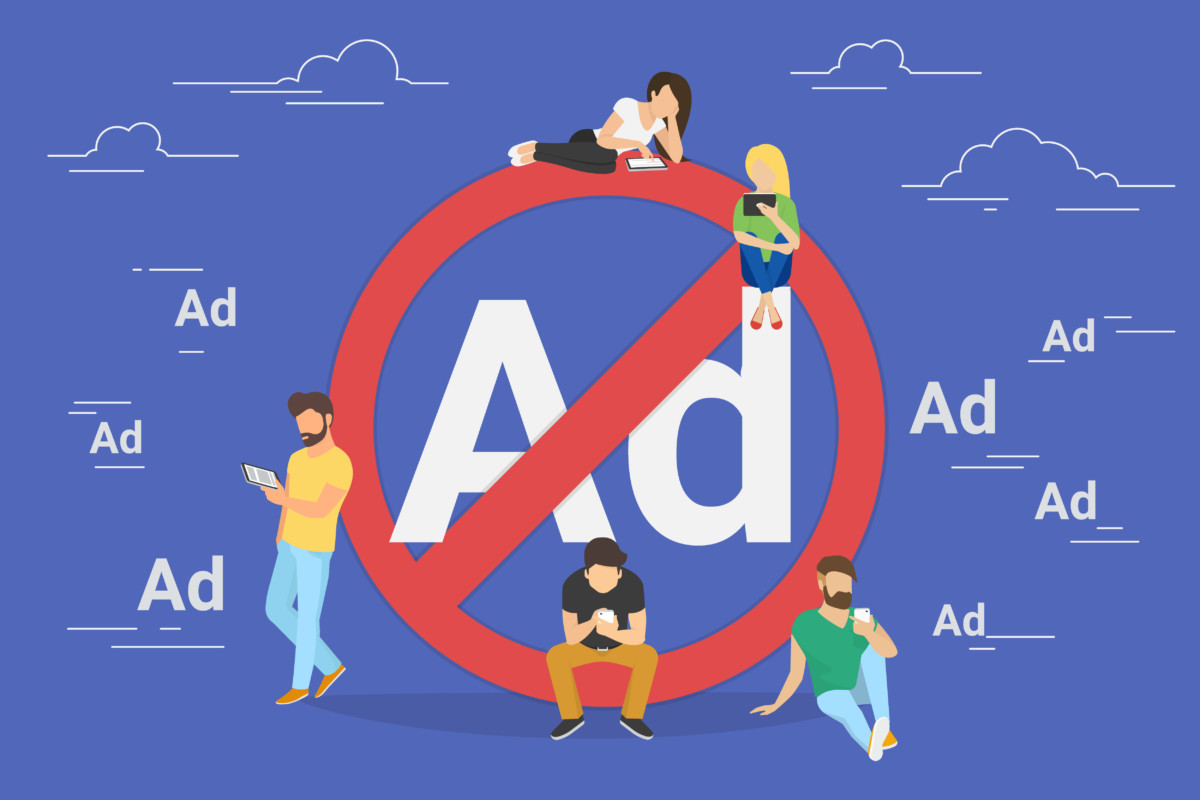 I am sure that many of us have often been in this situation; You spent hours choosing magnificent creatives, writing irresistible copy, defining carefully your target audience and finally submitting your perfect ads for review. Unfortunately, it ends up with you receiving a notification that says that your ads have not been approved. Facebook rejects them for violating its policies. But what are those policies? Let's take a closer look at them.
My ads have been in review forever!
Unfortunately, Facebook doesn't publicly clarify how exactly the approval process works behind the scenes. But based on what we know it's likely a mix of algorithmic and manual analysis.
When you create ads on Facebook, they'll be subject to a review process to see if they comply with Advertising Policies or not. Facebook will check the ad's images, texts, audience and positioning, and even the content of your ad's landing page.
You can check the current status of your ad in the "Delivery" column in Ads Manager.
The ad review process begins as soon as you finish creating your ad and submit it for publishing. Typically, most ads are reviewed within 24 hours, although in some cases it may take longer. Such examples could be busy periods, such as Black Friday or Christmas. Therefore, it is better to prepare your ads in advance, set your campaign launch on a future date and have your ad approved in the meantime.
If you've been waiting too long for an ad to be approved, try to duplicate the ad. The approval process will start from the beginning. It usually works well but if not, you have to contact the Facebook support team.
How do I know that my ad has been approved?
After your ad is reviewed, you'll receive a notification from Facebook. If your ad is approved, they will start running your ad and you can see your results in the Ads Manager.
But don't celebrate too soon. It happens sometimes, that an approved ad can get disapproved 24 hours later. At first, your ad might have been approved by the "algorithm", but then someone reviewed it manually and rejected it.

Because there is no shame in not knowing, the shame lies in not finding out, check these most common reasons why your ads being rejected:
You're advertising something prohibited
Facebook has a detailed list of "prohibited content". Don't try to get around it. Too many rejected ads might raise red flags on your Facebook advertising account.
Here are a few things that aren't allowed:
Tobacco and Related Products – Ads must not promote the sale or use of tobacco products including electronic cigarettes or vaporizers.
Adult products – Ads cannot focus on sexual pleasure or sexual enhancement.
Mention on personal Attributes – Ads must not contain content that asserts or implies personal attributes about a person's race, religion, age, sexual orientation, gender identity, disability, financial status, name and others (examples of correct wording could be found here).
Non-Functional Landing Page – Your ad may not be approved if the landing page content isn't fully functional or doesn't match the product/service promoted in your ad. This may also include cases when you are directing people to landing pages that are PDF or JPEG files or pages that automatically download files to a person's computer.

Grammar & Profanity – Ads must not contain bad grammar and punctuation. Symbols, numbers and letters must be used properly without the intention of circumventing the ad review process or other enforcement systems.
"♥♥♥ Buy Now ♔ ♕ ♚" would not work for Facebook. Use "Click here for more information!" instead.
Personal Health – Before-and-after images to promote weight loss that contain unexpected or unlikely results.
Payday or advance cash loan services – Ads which intend to cover someone's expenses until their next payday.
Multilevel Marketing – You cannot promote business models offering quick compensation for little investment, including multilevel marketing opportunities.
Community Standards – Facebook's policies about ensuring safety, security, and protecting intellectual property and personal information. It means no nudity, hate speech, violence. Another big one is bullying and harassment.
Fake buttons – Non-existent functionality on ad images, such as play buttons, notification jewels or checkboxes. Facebook knows how to recognize it.
You can find a full list here.
You're advertising something restricted
Alcohol, dating services, real money gambling, financial and insurance services state lotteries or cryptocurrency products. All these items and even more must comply with applicable laws and regulations, which do vary from country to country.
Examples:
If you promote alcohol in Saudi Arabia which is illegal in the country, your ad is going right in the digital trash bin.
If you provide cosmetic surgeries and procedures and you are trying to target 16-year-old girls, Facebook crackdown immediately.
Services only allowed with prior written permission from Facebook
Dating, real money gambling and games, online pharmacies, cryptocurrency products and services, drug and alcohol addiction treatment. Promoting these categories could be very challenging. In order to help prevent misleading advertising, Facebook requires prior authorization.
If the subject of your business falls into this restricted category, but you still believe that Facebook might be the right marketing platform for you, you have to get your ad account whitelisted by Facebook.
It is quite a demanding process when your application is being examined by a special team on Facebook. We've been through this many times. If you need some assistance, contact us via our contact form.
You've made a mistake with your ad creative
Excessive text in ad images may result in your ad reaching fewer people or not running at all. Remember that text on ad creatives mustn't take up more than 20%. Use this Facebook tool to check your image. If you get a rating "ok", you are fine. If you have a worse rating, do not use this image and try to find a better one.
What to do if your ad got already rejected
It will happen to everyone at some point. Facebook guidelines may seem overwhelming and it is difficult to check everything at once. In this case, you have 2 options:
1. Edit your ad
If you have a clear idea of what Facebook doesn't like about your ad, you may be able to edit your ad and fix the issue. Once you save your changes, your ad will be resubmitted for review again.
2. Appeal the decision
If you can't edit your ad or feel that the decision not to approve the ad was a mistake, you can appeal the decision using this form. Another option is the "request review" button in the ad edit tab.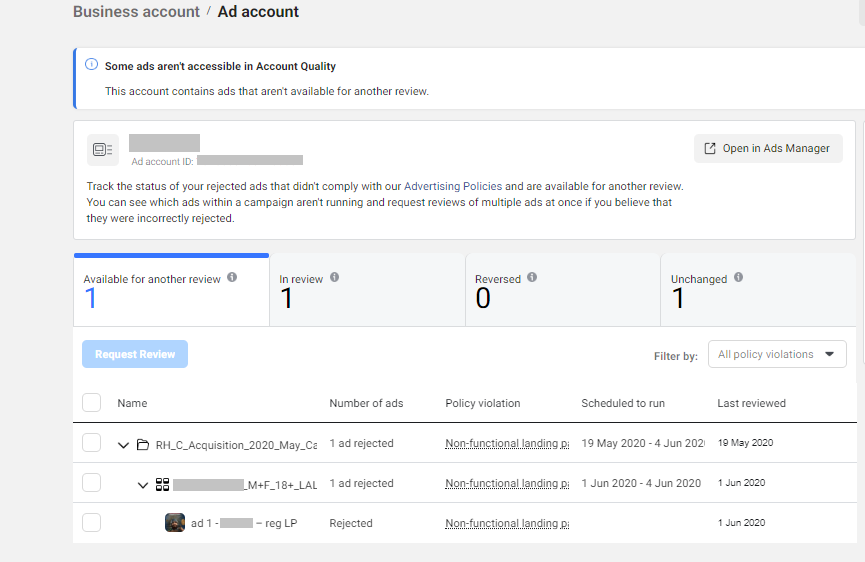 3. Contact the support team via the chat
If you are not satisfied with the result of your review and would like to contact a Facebook representative, take an opportunity to join a chat on Facebook Business help center.
Tip for you: Set your Facebook interface to English. Support team members often require print screens from the Business Manager and they must be in English. Make communication with them easier and get ready for it.
Are your ads approved but are not delivering? Check out our troubleshooting guide to spot ad delivery problems.

Comments