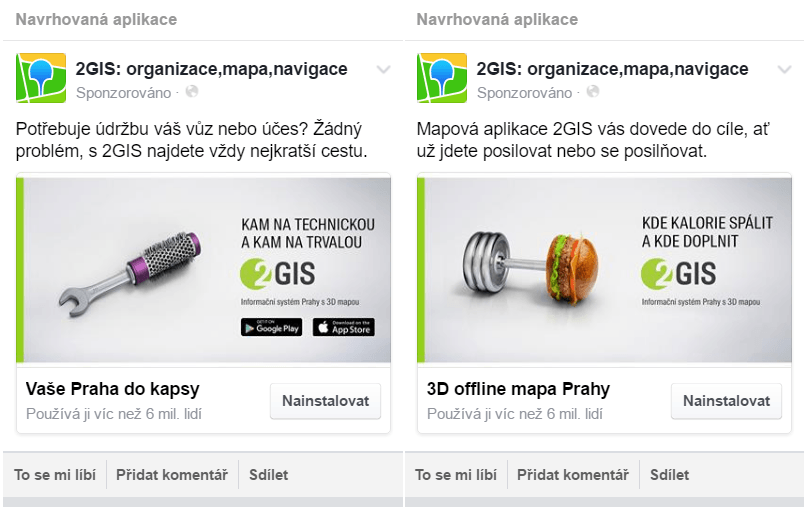 There are many factors determining your success when promoting a mobile app on Facebook. One of the most important factors is to have a good creative. Our case study demonstrates how we managed to triple the conversion rate for a directory app just because we focused on having the best creative possible. Read and learn how to make your app-installs campaign successful right from the get-go!
When creating an app-installs campaign we always recommend having tailor-made graphics. In this article, we will show you the steps to follow in order to have the best performing banners possible. If we ignore all technical requirements necessary for app-installs campaigns, choosing the right creative is usually the biggest challenge advertisers face in the beginning.
What were the results of 2GIS campaign?
3.5

X 

higher conversion rate

40% lower cost per app-install
Introduction
2GIS is an app-directory with a map and navigator. It offers complete and up-to-date information on 323 cities in 9 countries including Prague. Apart from the website app, both Android and iOS mobile app are available for download. Our task in Business Factory was to raise awareness of the app among the citizens of Prague and get as many app-installs as possible.
Ad creative is the first thing that can attract people´s attention and bring interaction. For us, the graphics were the biggest problem in the first place since the original creatives were the same for both online and offline promotion. As you can certainly imagine, the factors that determine the success of your ad on Facebook are way different than those for posters and billboards. This was confirmed during the very first days of the campaign as the number of app-installs was low (along together with our conversion rate) and the cost per install was even two times higher than the client wanted.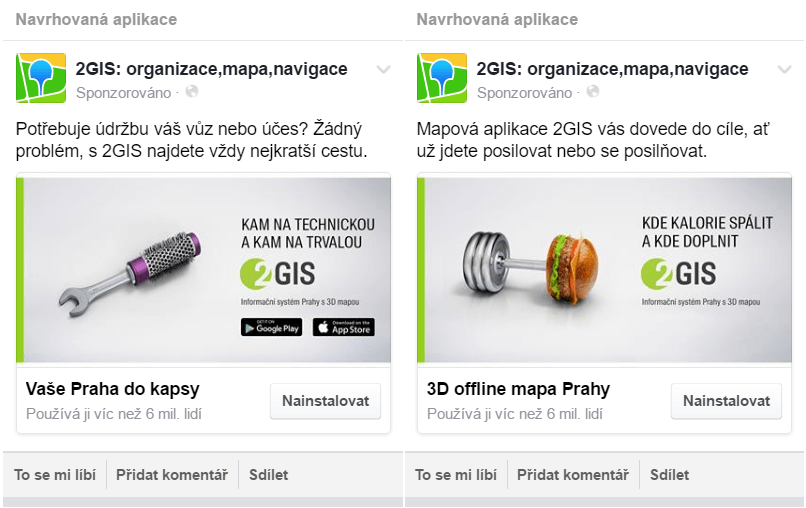 Therefore the next step was to create completely new banners according to our recommendations – based on our rich experience with app-installs campaigns on Facebook.  
Show the real use of your app
Do you wonder why we had so many clicks on our ads while the number of app-installs was so low? The explanation is very simple. The original creatives did not show the real use of the app in people's everyday life. Therefore, when people went to Play/App Store, they realized they are actually not interested in installing the app. They were simply disappointed because what they saw in the ad did not comply with its real purpose. As a result, people went back to the Facebook interface without performing the desired action.
What is our main recommendation then? Always show the real purpose or real functions of your app! It might sound obvious, but we see app-installs ads with irrelevant creatives quite often.
As mentioned above, we prepared brand new banners and texts that brought great results immediately. Conversion rate was suddenly twice as high and CTR increased by 50 % which resulted in CPA being much lower. Moreover, the relevance score went higher as well. Regarding the new creatives, we have to say that it was enough to basically incorporate previews from the Play / App Store into carousel ads.

Storytelling sells!
When creating banners we always recommend our clients to place special focus and so we did in this case. Therefore we used storytelling and tried to include the main advantages that are unique about our app into simple stories.  
We created 3 versions of our story for carousel ads which resulted in 3.5x higher conversion rate than with original banners. As previously said, our new banners were focused on the main advantages of 2GIS app.
Be effective from the beginning
Thanks to our improvements regarding creatives we managed to increase the conversion rate from 9,3 % to 34,4 % (on iOS even up to 40,6 %). However, after reading this article, you already know that you can start promoting your apps on Facebook much more efficiently right away.
What are the main ideas we want to pass?
Show the real use of your app

– do not use generic images, use real previews instead.

Demonstrate unique features

– tell your potential users how is your app going to make their life easier.

Do not forget to include call-to-action

– tell the users what they should do after interacting with your ad (e.g. "Download for free!", "Register in our app!"),

Always test everything

– do not be afraid to try different images, texts or calls-to-action. Only that way you can learn what is working and what is not!
Finally, we have one more important recommendation for you: do not be afraid to try all ad formats available!
It is 2017 but we can still see many advertisers using only 1200 * 628 ad format or the carousel. That is a pity because video ads, for instance, are one of the best ways how to demonstrate what is your app designed for and how it makes people´s life enjoyable. If you are not sure how to make a video, why don't you put some images together and create a nice slideshow? Creativity has no limits!

Comments