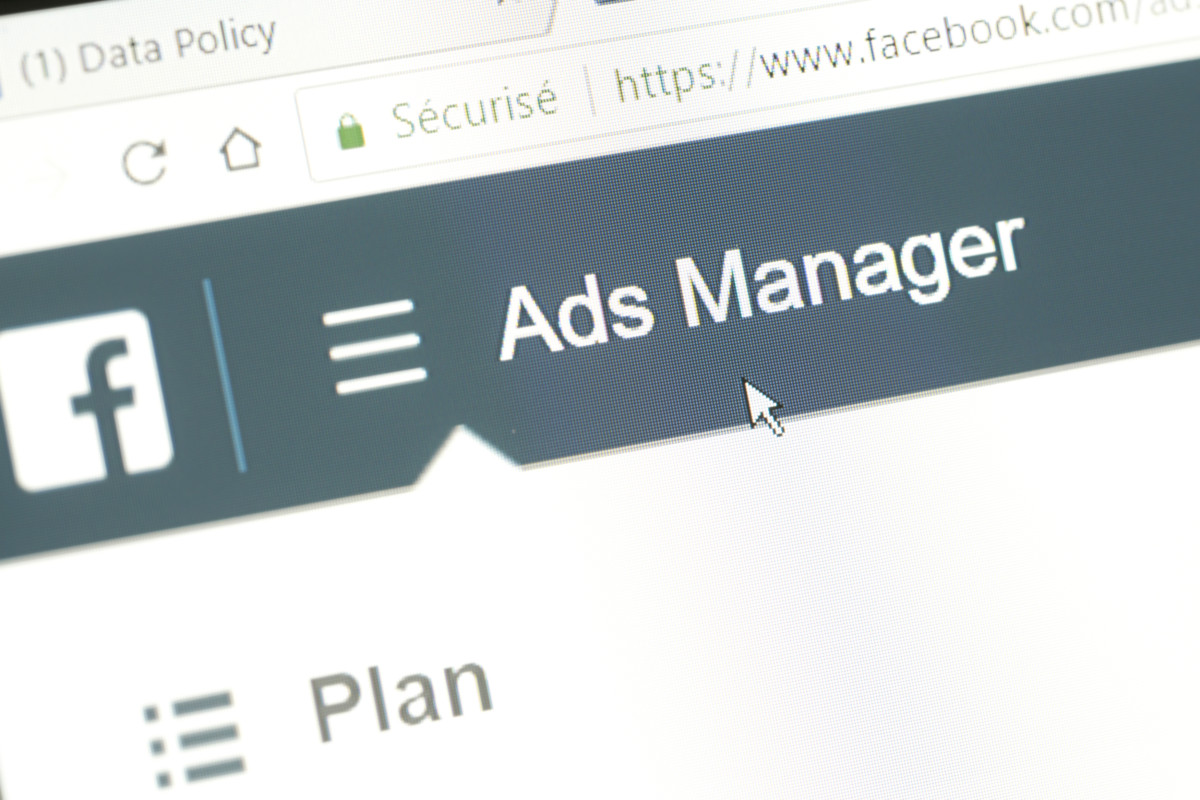 Facebook has enabled qualified ad accounts to use another ad buying type that is reach and frequency. Facebook has been working on this function for quite a long time and is still improving its featuers. If your ad account is eligible for this new buying type, you can use it for several marketing purposes. We have tested this buying type with one of our key accounts and will share our experience as well as tips how to set up campaign with this buying type.
Reach and frequency specific features
Facebook's Reach and frequency is one of the two buying types you can use to buy Facebook ads. The second one is the auction that most advertisers are familiar with and use on a daily basis. Reach and frequency buying type varies from the auction in many ways, especially in the availability of marketing objectives, targeting and other settings.
You should choose reach and frequency instead of the auction offering when you want to know the approximate reach for a specific budget, control how many times people will see your ads and have the opportunity of booking and scheduling ads in advance.
Marketing objectives
Reach and frequency is currently available only to eligible advertisers who can choose this buying type for one of the following marketing objectives:
brand awareness
reach
traffic
post engagement
app installs
video views
conversions
Targeting
You can, of course, choose who you want to target when using reach and frequency buying type. However, there are some limitations. You cannot exclude custom audiences such as audiences based on website traffic (audiences based on events or URLs). On the other hand, you can exclude (or include) lookalikes audiences and audiences based on your customer lists. We have already written several articles about creating audiences such as this one about getting started with Facebook´s Lookalike Audiences.
Placements and formats
When creating reach and frequency campaigns, you can use asset customization, but dynamic creative objective (DCO) is not available for this buying type. On the ad level, you can choose from the same ad formats as when using the auction buying. This means that you can use single images, carousels and videos.
How do I set up a campaign with the reach and frequency buying type?
Before launching your campaigns, you can easily find out how many users you will reach, how high the CPM (cost per thousand impressions) and what the frequency will be and how much it will cost.
At the ad set level, choose one of the metrics, for example, budget. Fill in the field (see picture) and Facebook will calculate reach, CPM, frequency and percentage of the target audience, your ads will reach.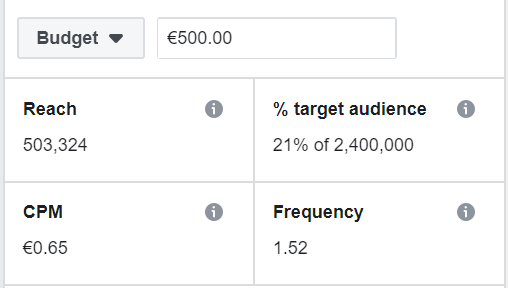 If you plan to reach for example 1 000 000 users, it will be better to enter a value in the "reach" field instead of budget. After you fill in the required reach, Facebook will calculate the remaining metrics such as CPM, budget etc.
Since Facebook is still improving and testing this functionality, it will warn you that the metrics are only estimated and that the real results may differ.
You can plan your campaigns for a maximum of 90 days and up to six months in advance. Thanks to this option, you will find out when and under what factors your campaigns will bring the best results.
How do I edit Reach and Frequency campaigns?
When your ads are active, you will see an active link in the delivery column at the ad set level. If you click on the link, you will be redirected to a graph. This graph will show you two curves – one of them shows the estimated delivery and the other one real delivery of your ads.
If your campaign is already running, you do not have as many options to edit them compared to auction buying. You can change basic settings such as budget, ad content or schedule (you cannot shorten it, only extend). However, it is not possible to turn off the campaign completely and keep it paused for a few days. If you want to stop your campaign, you must delete it completely.
Although the campaign will be removed from Ads Manager main page, you still be able to get the results. In the Ad Manager, click on "Filters", select "Deliver Ads" and click "Deleted". Your campaign will appear (be careful not to forget to include it in your reports!).
Testing out Facebook's Reach and Frequency buying option
We tested the Reach and Frequency buying on one of our key accounts in Business Factory. We chose "brand awareness" as a marketing objective and planned the campaign for one week. We set budget that enabled us to predict other metrics.
During the campaign schedule, Facebook warned us that estimated delivery did not match real delivery. Yet we still kept the ads active and the final results surprised us. The estimated delivery was almost 100% the same as the real delivery. In addition, compared to previous and similar campaigns, we also achieved a lower cost per result (estimated ad recall). The graph below shows the total real and estimated delivery.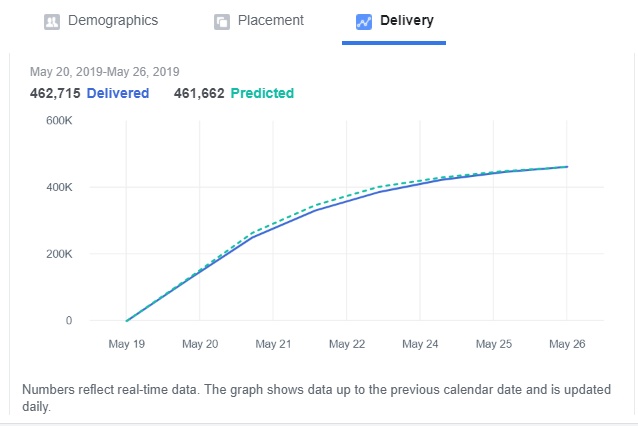 This buying type is a new option for advertisers and if your ad account is eligible, try it! Only by testing new functions, you will find out which buying type, marketing objective and other settings are best for your campaigns.

Comments