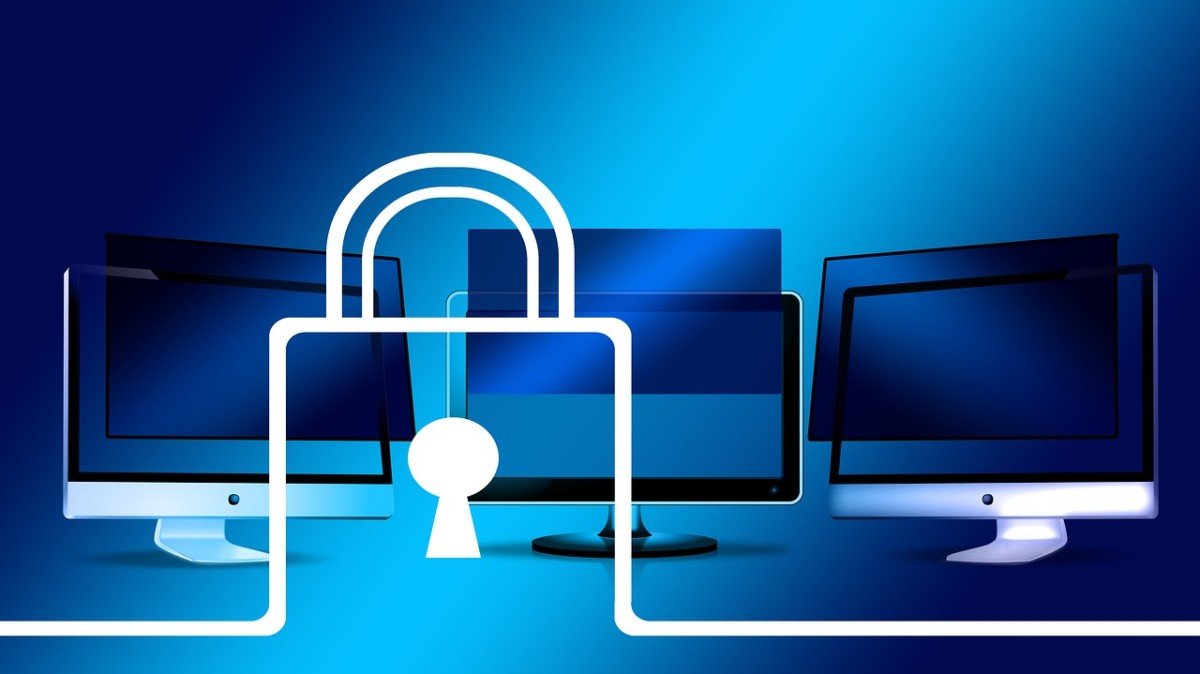 Every Facebook user should not forget to properly set up all account security measures and respect login policies. This is important not only because of the personal information the profile contains, but especially if you use Facebook to work with and manage your clients' business pages. In this case, you have to pay more attention to safety than a normal user. In this article, we'll summarize all the security options for your account that you should set up to keep your Facebook safe and less likely to be hacked.
1. Secure password
One of the main principles of Facebook account protection is working securely with passwords. For Facebook, choose a different password than you use on other accounts and do not share it with anyone else. Even if you trust someone, you can never be sure how responsible the person will be and how they will handle the safety of their Facebook account. Another important rule is to choose a password that is difficult to guess. Never use a birthday or a phone number. The password should be longer and be a combination of uppercase and lowercase letters, numbers and special characters.

Sometimes you may also find fraudulent emails that will require you to enter your password. Always check who the email is from and the URL to which it links. And remember, Facebook will never ask you to email your password.
If you're working on a computer that is used by multiple people, always sign out of your Facebook account, which you can do also do remotely.
Fraudulent accounts
Do not accept people you do not know as friends, as these may be fake accounts. Scammers can then spam you and send you dangerous links to viruses. Always beware of malicious software that can damage your computer. It is important to use the latest version of the browser.

But hackers can also attack your friends' accounts, so don't click on any suspicious links, either on Facebook or in your email. Facebook invites all users to report suspicious behavior and links.
2. How to set an unrecognized login alert

Facebook allows you to receive alerts on suspicious logins. To set these notifications, click Settings –> Security and Login –> Get alerts about unrecognized logins. You can turn on notifications for both Facebook and Messenger. You can receive alerts by email or SMS on your mobile phone.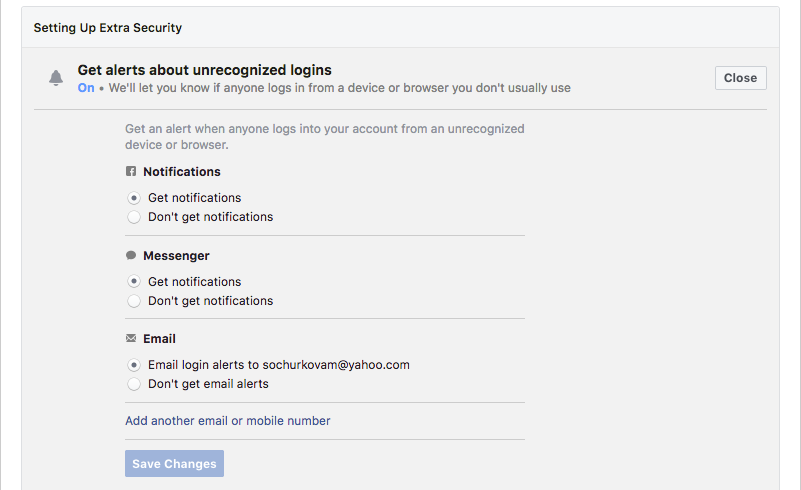 Once set, you will receive an email and a message to Messenger saying that you have alerts active, as well as a link to manage them.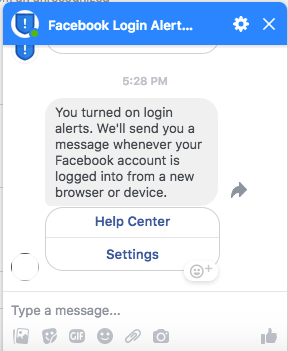 Once Facebook has detected suspicious activity, you will receive a notification to say if it was you or not. If someone else tried to sign in to your account, Facebook will prompt you to change your password and further secure your account. You can also set up secure devices that you use most often for Facebook.
3. History and current login
On your profile Settings –> Security and Login you will see an overview of the devices on which you are currently signed in to your Facebook account. When you click on See More, you'll be able to see your sign-in history and verify that all of the devices listed are yours. If you notice a suspicious login, click the three dots to indicate that it is not you or sign out of the device!

4. How to set up two-factor authentication
Two-factor authentication is another security feature that protects your account along with your password. To turn it on, go to Settings –> Security and Login -> Two-Factor Authentication.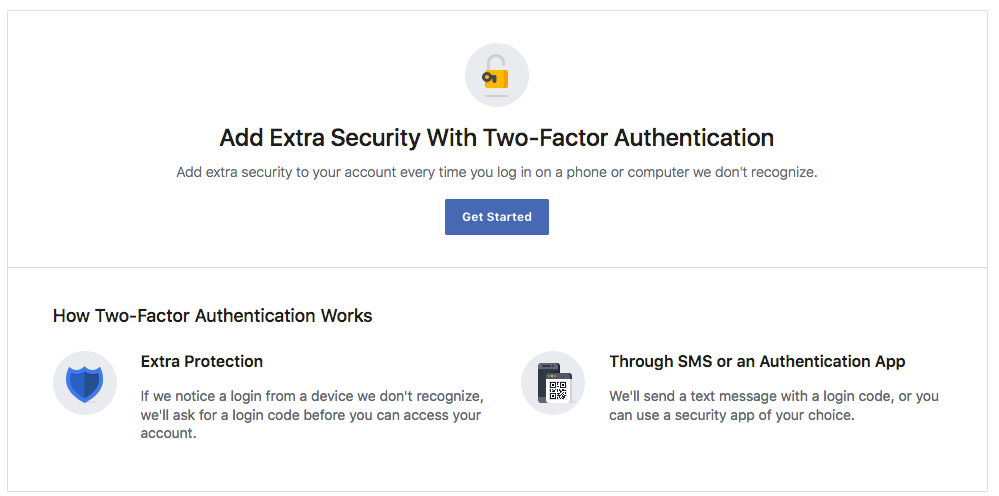 Click on Get Started choose your security method. You have two options to choose from, either an Authentication Application or SMS.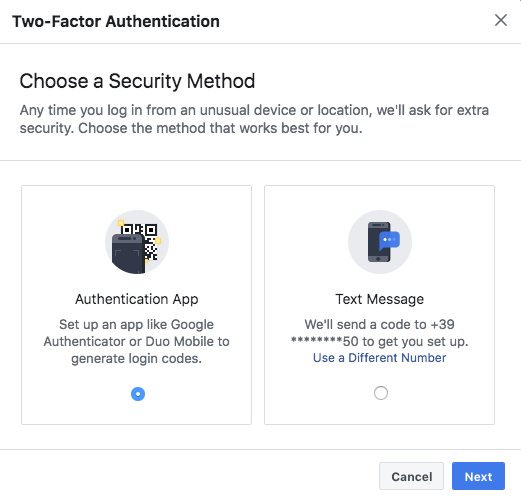 When you choose SMS, you will see another table with boxes to fill in the six-digit code you will receive on your mobile phone. Once entered, you will have two-factor authentication enabled. As soon as Facebook recognizes that someone else was trying to access your account from a different device than usual, you will receive a six-digit security code in an SMS on your mobile phone.
However, you can add a backup and set up backup authentication options for added security or for if you don't have a mobile phone with you.
You will have three options to choose from:
Authentication application – Here Facebook generates a code that you scan into your authentication application (for example DUO or Google Authenticator).
Security Key – If you have a USB Security Key, you can use it to protect your Facebook account.
Recovery codes – Recovery codes are a convenient solution if you do not have a phone with you. Facebook will generate ten codes that you can write, print or save. You can only use each code once, and you can request new codes when you have run out of codes or lost them.

5. How to set up your trusted contacts
If you want to strengthen your security, you can choose 3-5 friends to help you if you can't access your account. Facebook recommends this option to all users. When you have trouble signing in, Facebook will notify you of your selected contacts and send them security codes. Your trusted contacts will then give you the codes and you will be taken back to your account. You can turn it on in Settings –> Security and Login.

6. Advanced account security settings

The advanced settings include three options:
Encrypted e-mail notifications – Under this item you can set up encryption of Facebook e-mails which only you can decrypt to increase the security of e-mail notifications.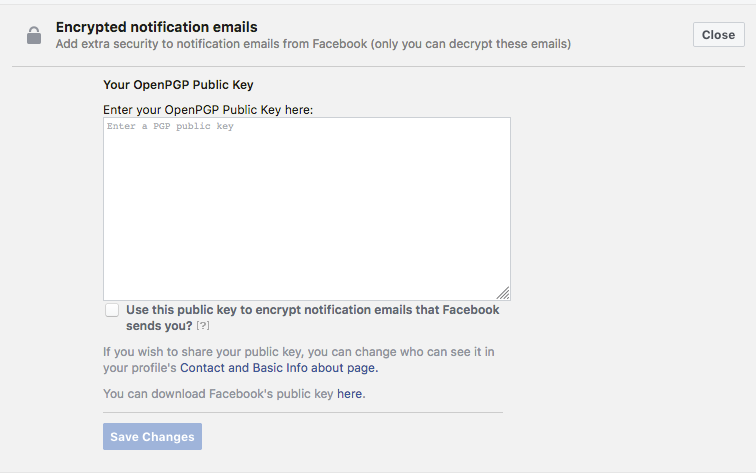 Recover external accounts – You can restore your access to various websites through your Facebook account.
See recent emails from Facebook – This is a list of emails Facebook has recently sent you about security and login.
7. Facebook Security Checkup
Facebook also offers the possibility of quick security checks. Click the link below and click Start Security Checkup.
The tool will help you check:
Sign-In – You'll see a list of Facebook apps you're signed in to, and show how long you haven't used them for. You can sign out of apps with one click to increase your security.
Alerts – The second option displays a list of alerts that you have set and can be turned on or off if necessary.
Password – The third feature focuses on tips for how to safely access your password.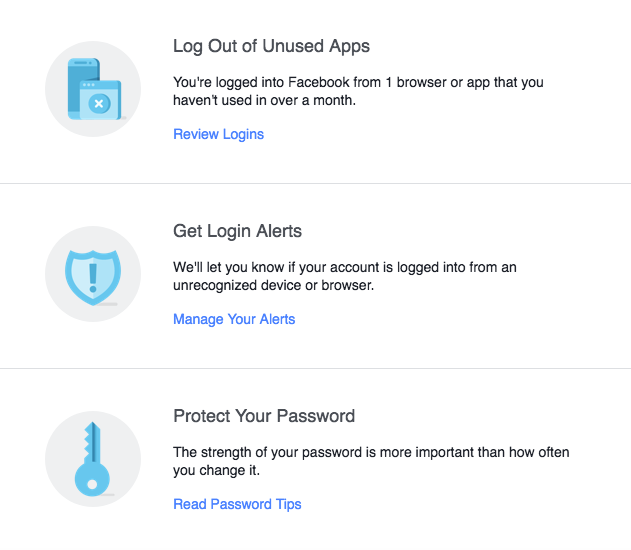 Finally, don't forget to perform a security audit of your Facebook page.
To learn more about how security works on Instagram, read our guide.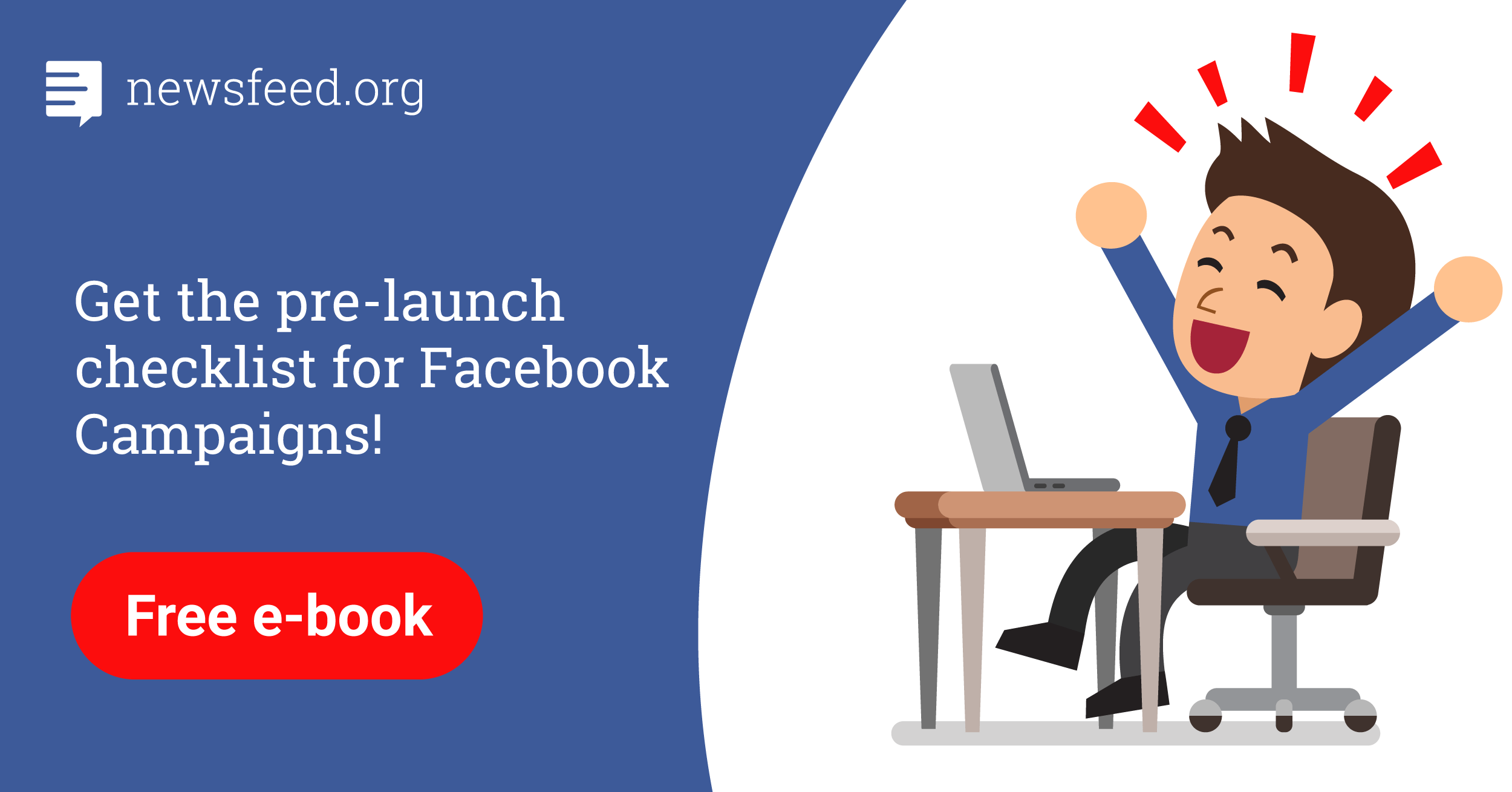 Comments