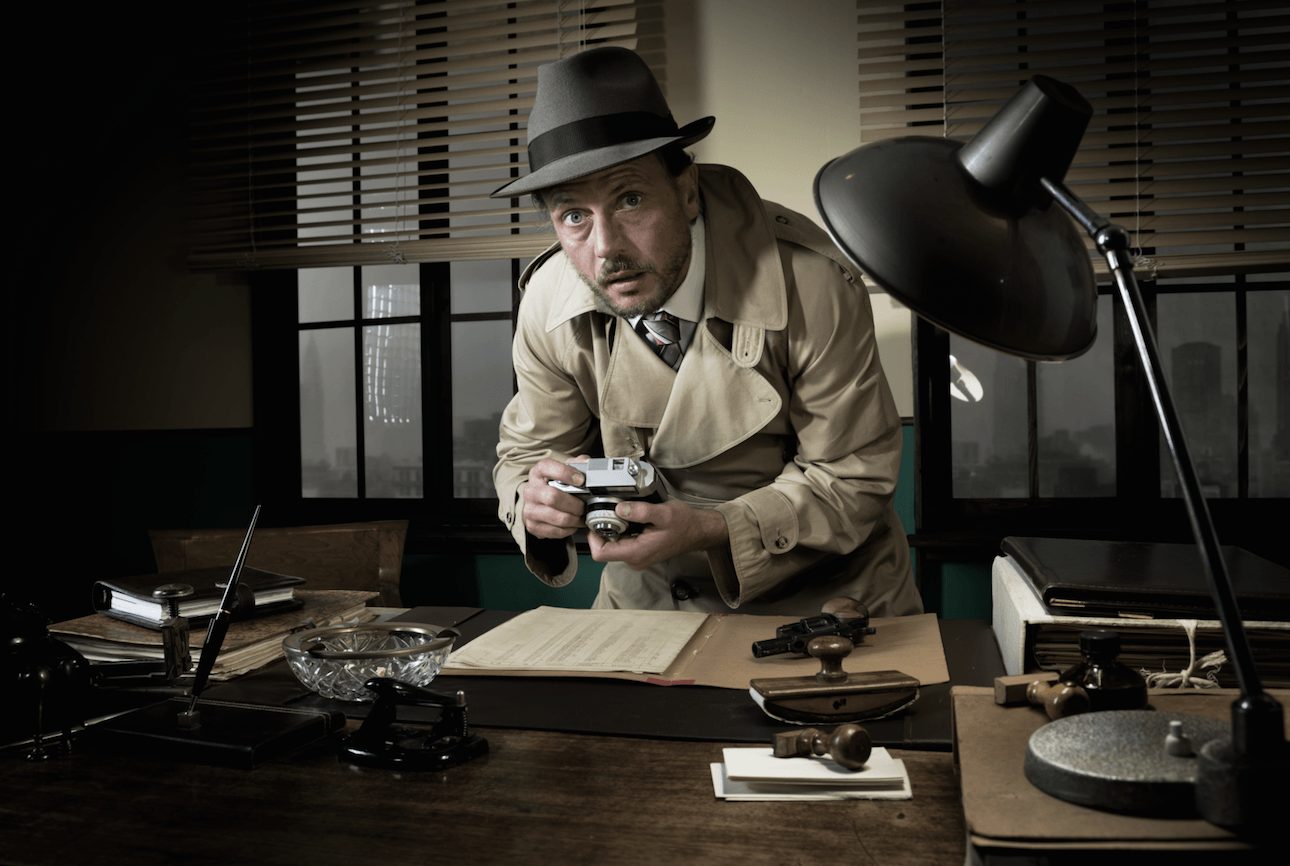 When it comes to competition, you always have to be one step ahead, if you want to be successful in your field. This rule is applicable for Facebook as well. Everyone in this world wants to know the strategy of his "enemy" – ad creative, targeting etc. If you want this competitive advantage, you need some extra information on your side. Of course, there is not a single word about illegal practices, but it is all about deep analysis which requires the help of Facebook and other tools. They are all free of charge. All you need is your time. Would you like to know how to get extra information about your rivals?  So, keep reading this article.
Who are your competitors?
It is impossible to start any espionage without knowing who you want to spy on. Therefore, the first step is about making a list of competitors who are the most important for you. One more question comes up with this activity: How many of them should be on your list? To be honest, there is no right answer in the world. Making this list is very much dependent on your business. Bear in mind that, although this list is easy to make, keeping the information about ALL your rivals up-to-date can be rather difficult.
Compare Facebook pages.
Before you will start to spy on your competitors externally, make use of your internal data. Facebook offers you the "Pages to Watch" tool, which compares the performance of your Facebook page and posts with pages you choose. What you will get is a chart of performance where you can see on which position you are now. Here, you can find information about total page likes, posts and engagement for any particular week.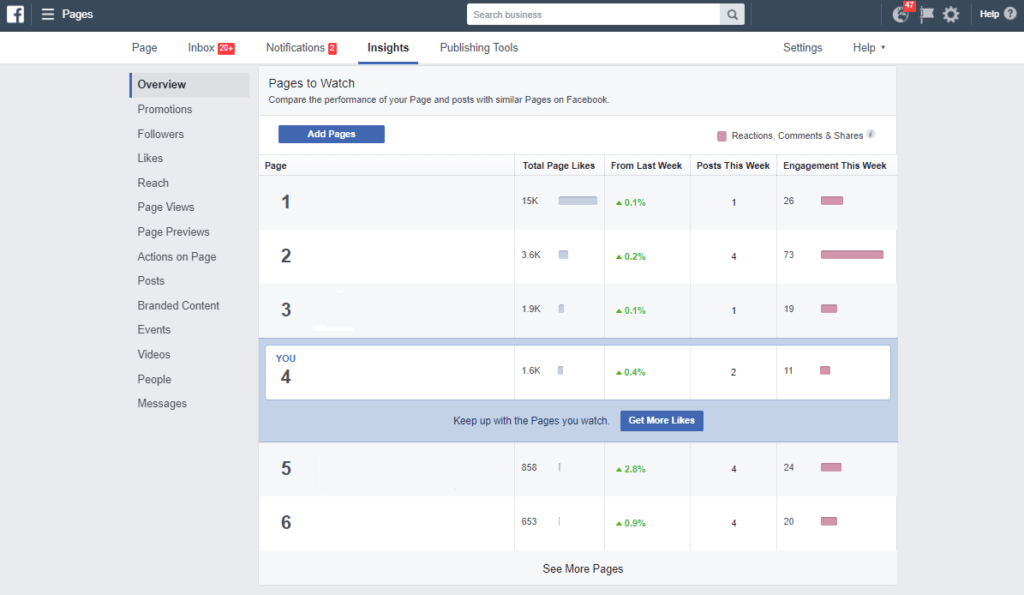 Let's continue with Insights in your Business Manager. Click here on the "Posts" button. There you can analyse Top posts from Pages You Watch where you can find out when was each of the posts published and how big is its engagement.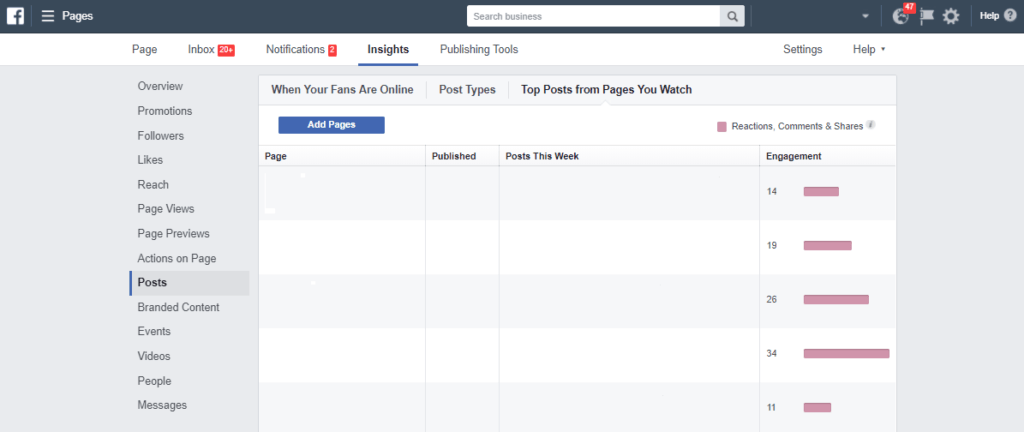 Become their biggest fan ever!
Literally, you have to be their biggest fan, at least you have to act like you are. Imagine yourself as a spy. Use your secret identity and become their potential customer. In the near future, you will see that your competitor gives you more information than he is aware. But how to do that?
First of all, become a fan of their Facebook page. Why? Because you are willing to know their FB ads strategy. Then, give some likes to their newest posts. Very soon, you will be able to see their ads in your newsfeed.
If your goal is to get as much information as possible, try to be a part of audiences they are probably targeting. And the more the better. Visit their website on a regular basis, examine (go through) their products, from time to time to add some products to cart. If there is an option of a newsletter, go for it. It is more probable that you will become part of their Custom Audience lists or Website Custom Audience lists.
Turn on Turbo Ad Finder
At this moment, you are ready to spy outside of your internal data. Probably, your competitors consider you as a potential customer. What is your job now? Wait for their ads in your news feed. If you do not have a spare time or you just do not want to wait and make your spy effective, download this extension tool Turbo Ad Finder into your Google Chrome. The principle is very easy to understand – if you switch it on, Facebook filter posts on your news feed and shows you only ads. At this point, simply find ads of your rivals. What is the next step?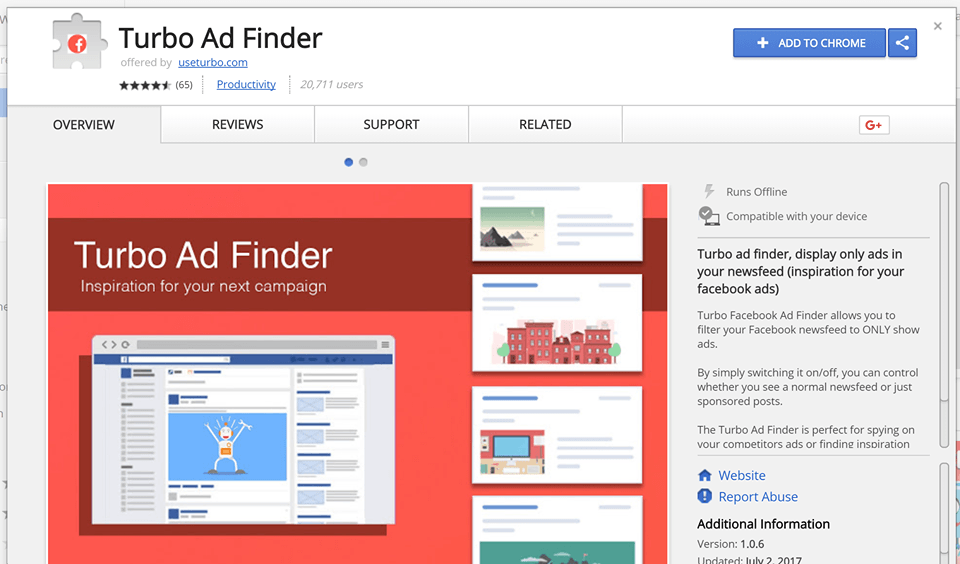 Look for competitors' ads and spy!
Before anything else, we kindly recommend you to create a document where you will write down all important information, such as the name of the competitor, what is this ad about, a screenshot of ad etc. You should not miss a column "your own comments" (if you like that ad or not and why).
After that, find an ad of a competitor from your list. Did you know that Facebook provides you precious information about targeting strategy? Take advantage of a Facebook tool for users feedback on ads. Yes, we are talking about a menu which appears after clicking on those three dots in the right corner of the ad. Have you ever registered "Why am I seeing this ad?" in this menu?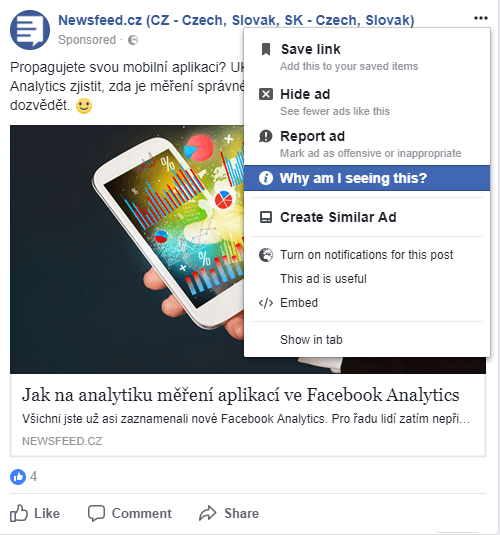 Either way, click on it (tap on it). Now you can see the targeting of your competitor. A short description may contain information about age, interests, location. Check the example below.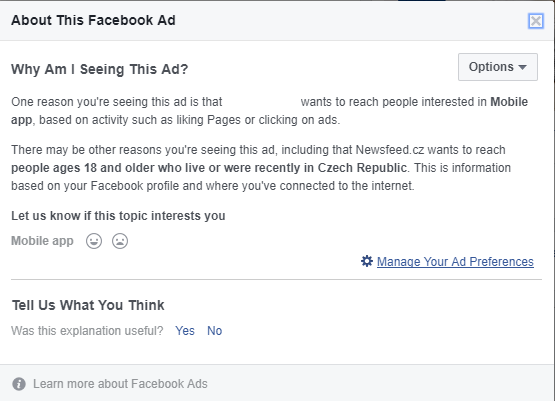 Finally, do not forget to click on the option "This ad is useful." Thanks to that, Facebook will show you more ads like this one.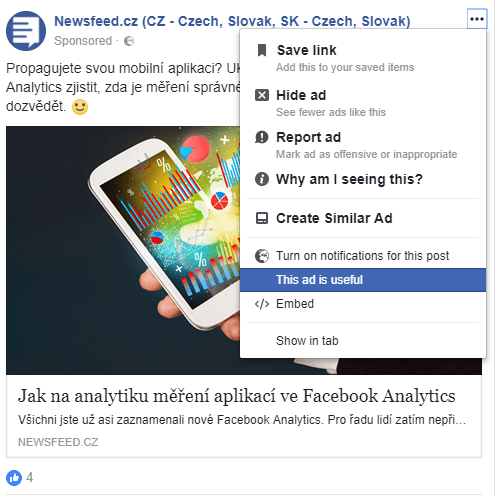 Our mission is still not over!
Bear in mind one important fact. The strategy of your competition is being developed just like yours. Therefore, you must repeat this process at regular intervals. Like and comment their posts, keep on watching their ads, control positions.
And a bonus?
Manage your ad preferences (you can find this option in the window explaining why you are seeing that ad). Delete some of your interests in order to see your competitors. Besides, you can open and go through each interest and see who created ads targeting this particular interest.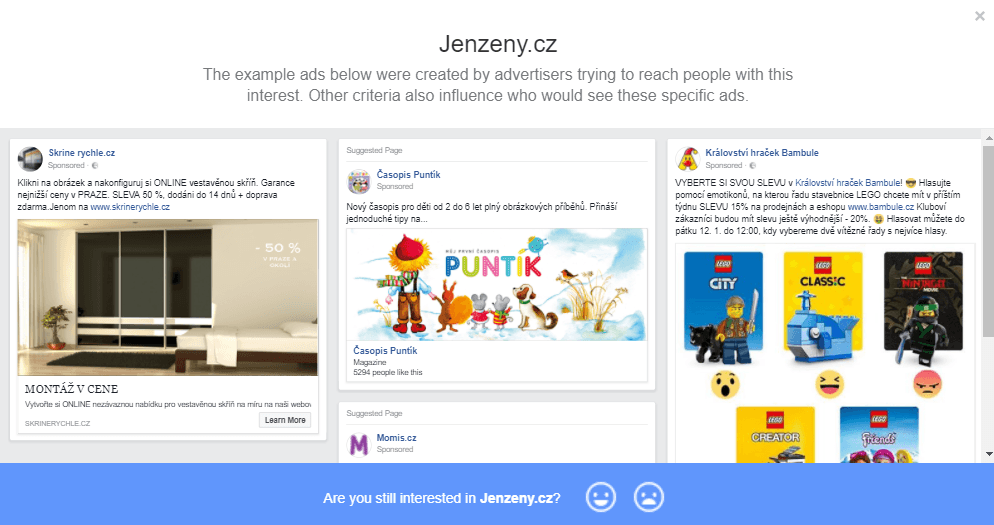 Update 4 July 2018:
Facebook recently released the Info and Ads Tab in order to provide more transparency in advertising. Facebook shows your Facebook Page visitors the ads you – and of course your competitors – are running on Facebook or Instagram regardless of the country they live in. You can use the Info and Ads tab to see the exact ads your competitors are running and information on any offers, special pricing and ad formats used.

Comments