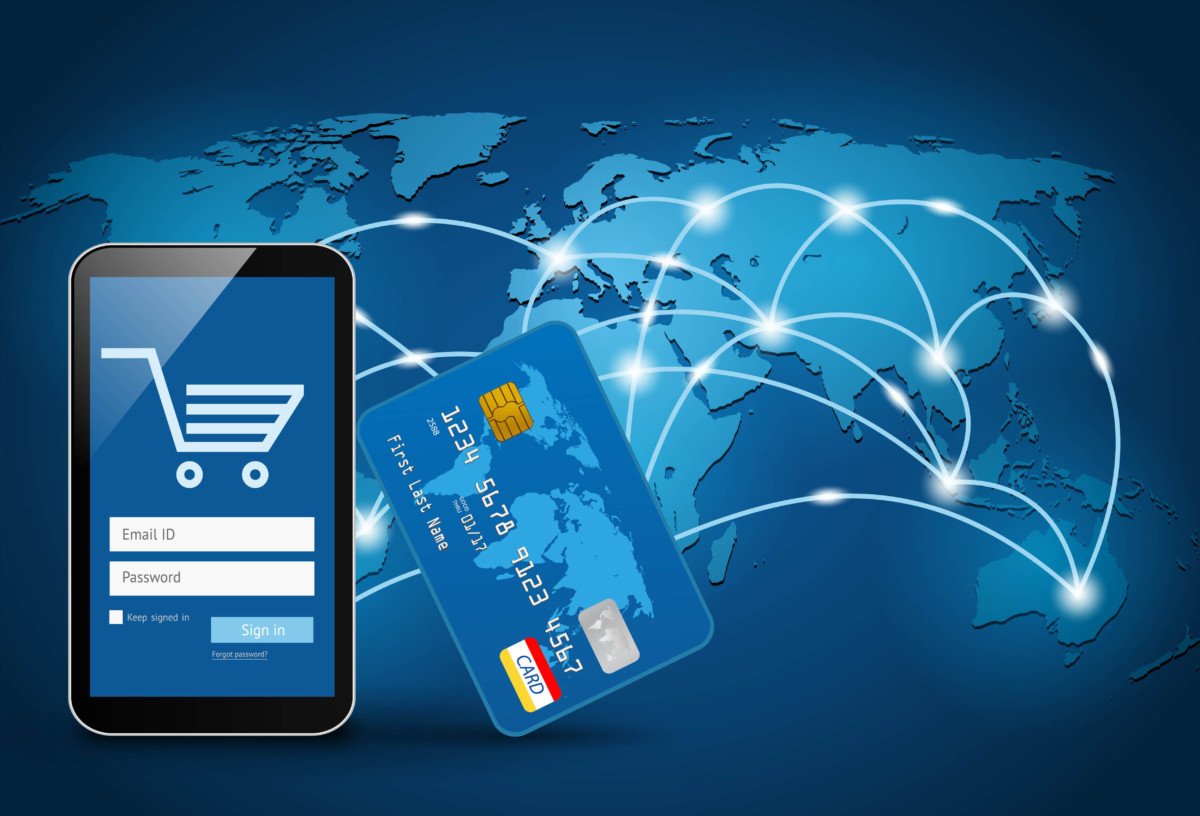 If you have been using Dynamic Ads to promote your products to international audiences, then you might have found yourself creating multiple product catalogues based on location and/or language. In addition to that, you had to create multiple ads for each language. This new possibility will help you create multilanguage and multicurrency dynamic product feeds, and ad copy for your dynamic ads quite easily. 
A new possibility will soon be offered to advertisers that use Dynamic Ads (formerly known as Dynamic Products Ads) that will allow them to create multilanguage and multicurrency product feeds in combination with Dynamic Language Optimisation. This will allow you to create Dynamic Ads for multiple countries and languages at a fraction of the time and spend more time for strategising and optimising your campaigns. This feature was paired with the Traffic, Mobile App Installs, and the Conversions objective. Now, it expands to include the Catalogue Sales objective.
One of the main advantages of Dynamic Language Optimisation is that you can include multiple languages in one campaign, and Facebook will match the right language to the right person at the right time. This solution also makes budgeting across different languages easier, as Facebook will optimise for the best performance based on your total budget and campaign objective.
What this means for your Dynamic Ads is that you can enhance your existing product catalogue with the help of a secondary feed that will allow you to promote your products across multiple countries in multiple languages. This minimises the number of product catalogues you create as it offers a more centralised way to handle all variations (country and language).
How to set up your feed for different countries and languages
First, ensure that you have your main feed in place. You can easily create a product feed with Google sheets or any other spreadsheet software. You need to create an additional feed which will include the language or country variations.
To create a product feed for different currencies, you need to create a feed using the below structure:

To create a product feed where you have different product descriptions, use the structure below:

Bear in mind that the id should correspond to the same product and should be the same as the one in the main feed and the one one that is being sent when you view that product on the website (the value being passed to the pixel).
When you finish creating your feed, make sure that it is exported in a compatible format and head over to Catalogue Manager and In the "product data sources" tab click "Add data sources" and then "Add Product Info".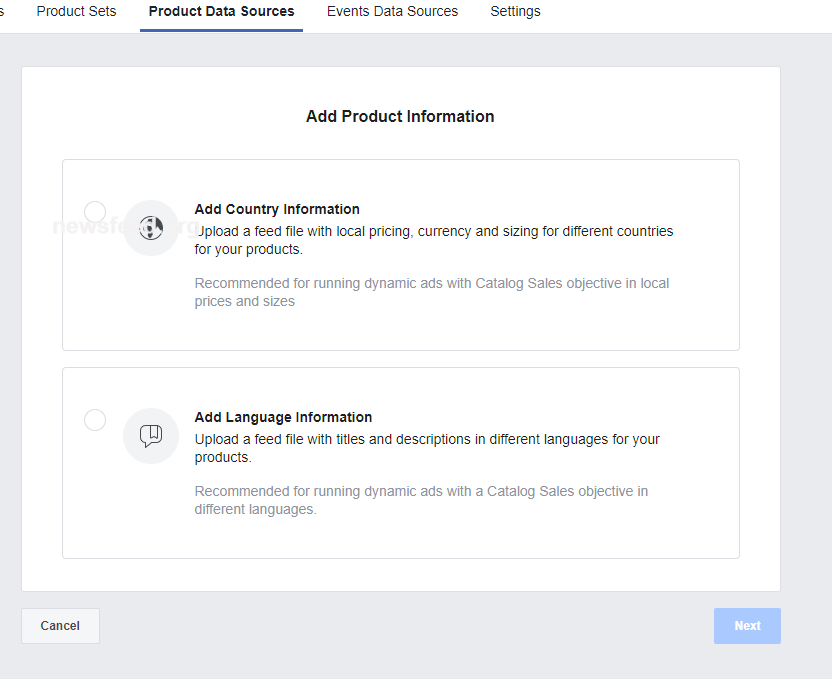 Choose the option that suits you best and, on the next screen, choose the type of upload.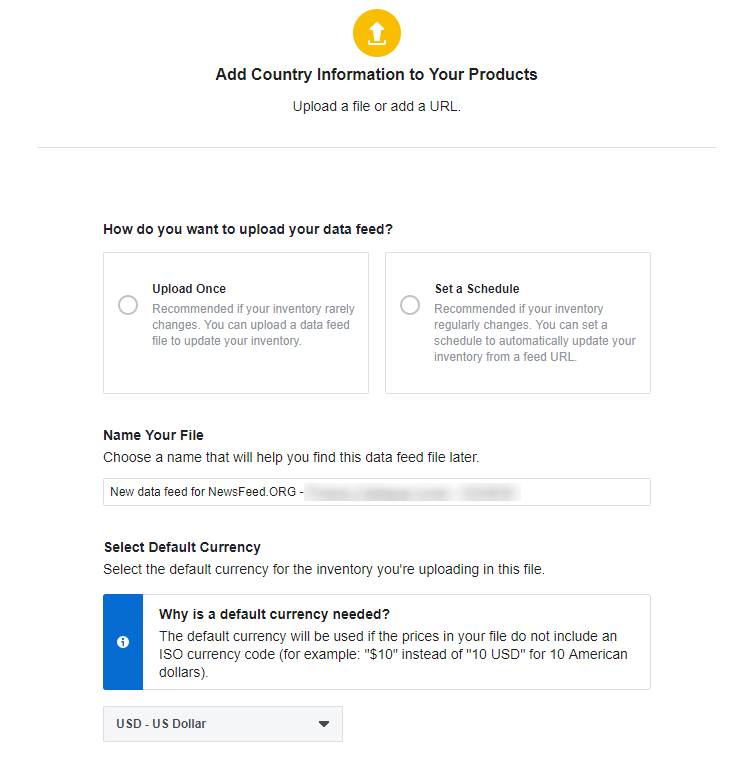 Once you are done, check the status column to ensure that your changes have been uploaded.

Now, the next step is to create an ad using Dynamic Language Optimisation.
How to create a Dynamic Ad with Dynamic Language Optimisation
In order to create a Dynamic Ad in a different language, create a Dynamic Ad campaign the way you usually do and on the ad level scroll down to the Multiple Languages field and click on "Create in Different Languages".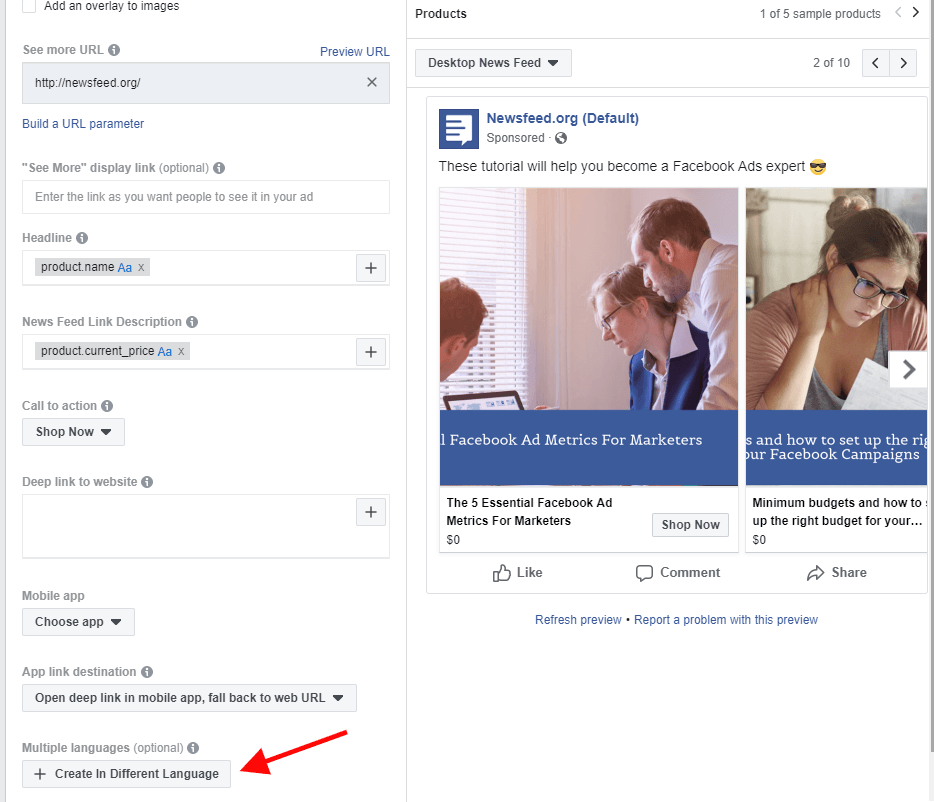 Choose the "default language". This is the language that will be displayed when none of the added languages matches the user. Next, insert the necessary text for the languages you add and use the "+" button to retrieve information from a product catalogue in the corresponding language.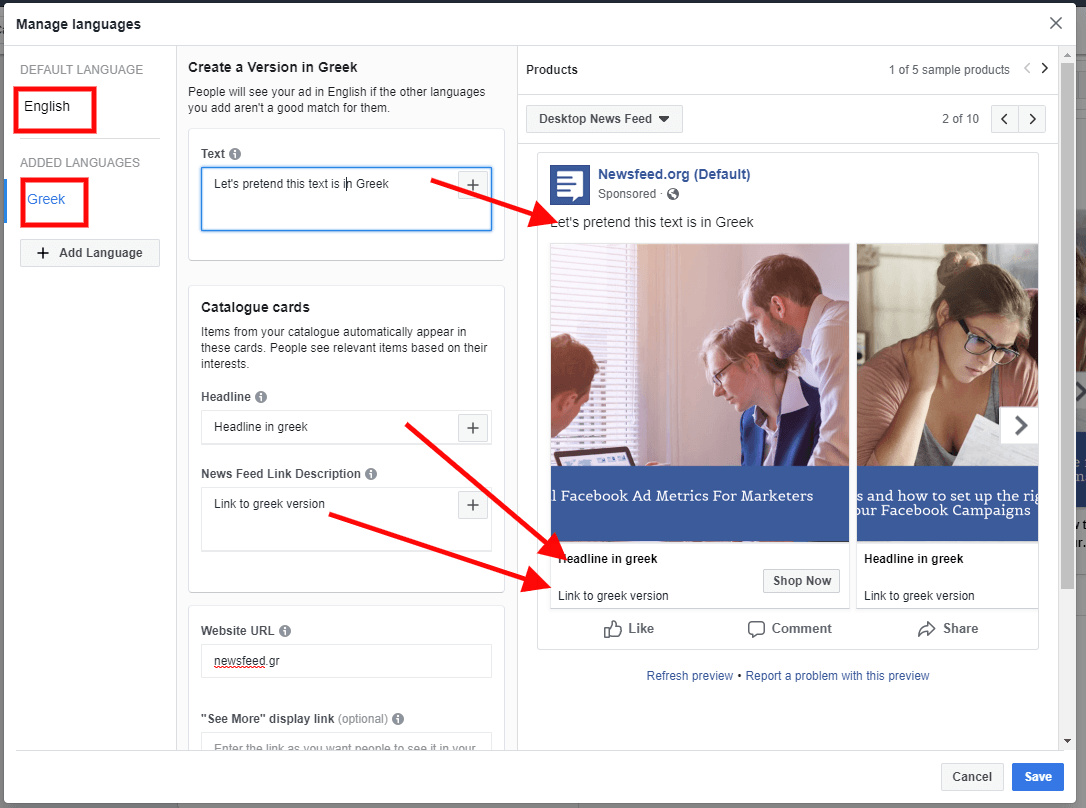 Click "Save" and publish your ad once you are done.
What you should know
When using Dynamic Language Optimisation for your Ads you should have the following in mind:
The maximum number of assets per type is six (one "default" language and up to 5 added languages).
Titles, descriptions, bodies text maximum length is 255.
No two assets of the same type can have the same language
Only languages from the list of available languages Body assets must have values for all languages.
Only one image can be used with all text variations.
This feature doesn't support bulk editing, bulk duplication or quick duplication.
This new possibility will help businesses expand to new countries and engage with their audiences by showing the right product at the right time and in their preferred language.
At the moment, the feature isn't available to all advertisers.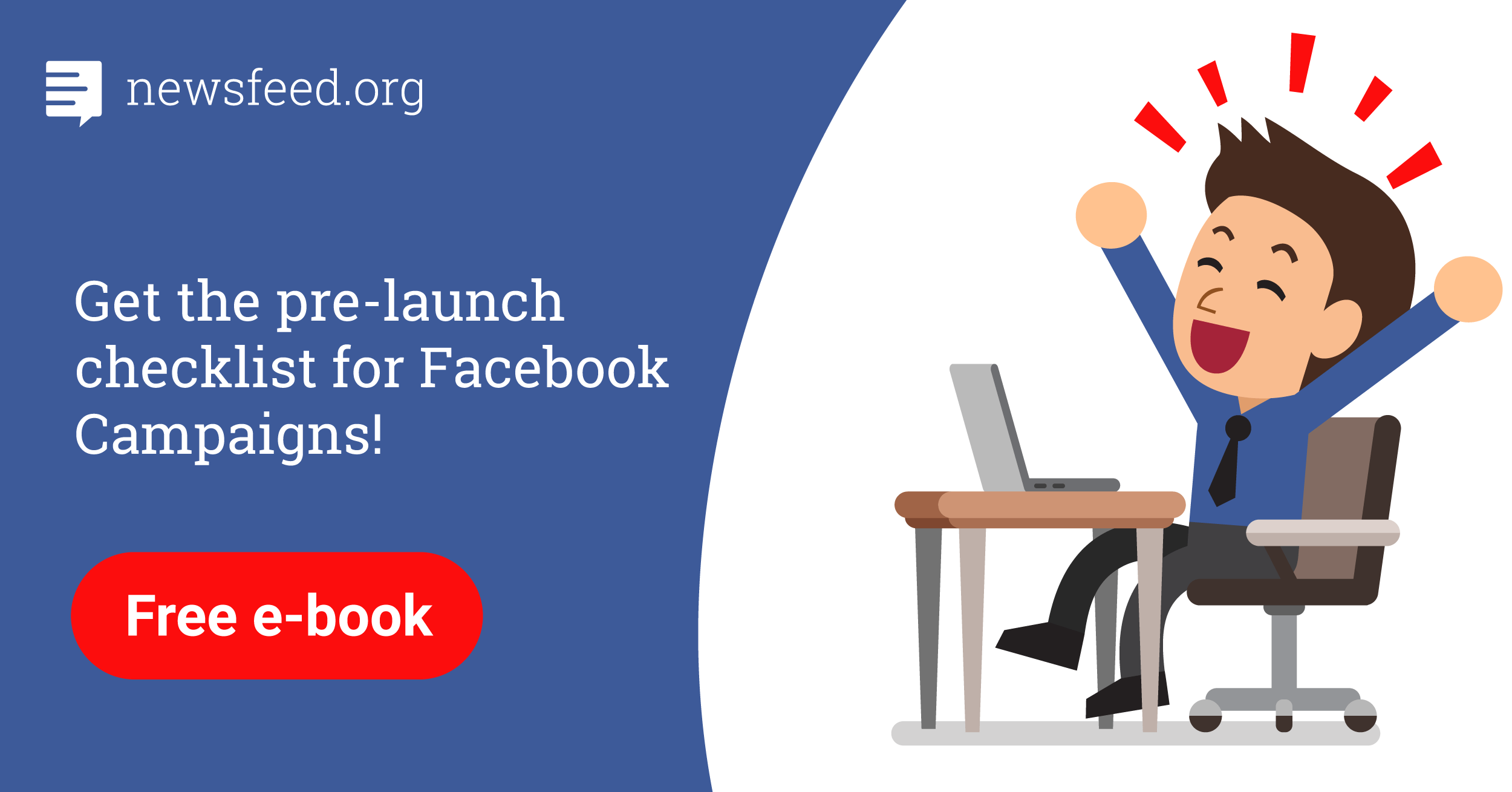 Comments