 Social media can be your best friend when it comes to international expansion of your business. People from all over the world use it to connect with businesses, so sites like Facebook and Instagram are a treasure trove of potential customers.
Facebook definitely stands out among all popular social media networks (source: Business2Community):
With 2.-7 billion monthly active users, it's the most popular social media in the world
89 percent of marketers say that Facebook is the most beneficial social media platform for businesses
Facebook has 5 million active advertisers promoting their products on the platform
There are about 65 million business accounts on Facebook.
Statista also supports the fact that Facebook is excellent for international businesses by revealing that it unlocks access to some of the world's biggest markets. For example, the graph below shows that the countries with the highest number of users are India, the United States, Brazil, and Indonesia.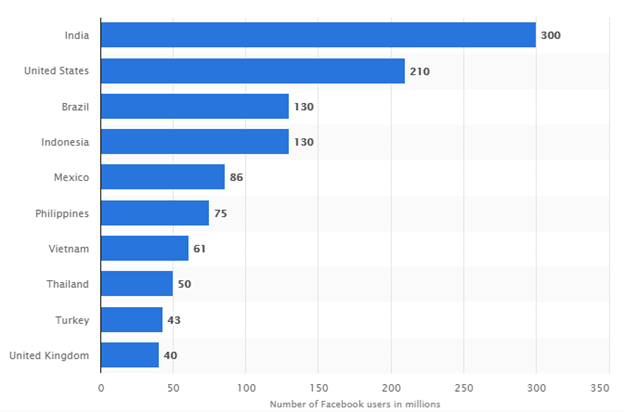 With so many people enjoying Facebook every day, it's sufficient to claim that your target audience is there as well. To reach them, however, you must understand the basics of international promotion on this platform as well as overcome a number of specific challenges.
In this guide, you'll discover what it takes to make your business international with Facebook and reach new countries and consumers. Exciting, right?
Dynamic Business Profile Configuration
Facebook offers a wide range of options for local targeting based on a number of characteristics. Some of these characteristics, like region and language, are perfect for ensuring that your ads and content target the right people. For example, you as an owner of a business account can target worldwide, regional, trade areas, or by city. This is exactly what you need.
Area Settings
To do that, you have to use the platform's worldwide and regional targeting tools. They can be found in Settings and allow to target everyone on Facebook or people living in a specific geographic region such as Europe.
In case you're targeting customers in Europe but want to expand to Asia and find new audiences that are similar to the ones you're already working with, consider using the tool called Lookalike Audiences.
Here's how to use it, according to Facebook's own guide.
Go to your Audiences, click on Create Audience and choose Lookalike Audience to select a source audience. This is a custom audience that you created using the data on the current followers of your business account.
Select one or multiple countries where you want to locate similar groups of customers
Pick audience size. As you can see in the image, the platform permits you to choose a range of 1 percent – 10 percent of the total population of the chosen country/countries. In most cases, 1 percent of the total population are the customers who most closely match your best customers' characteristics.
Click on Create Audience button.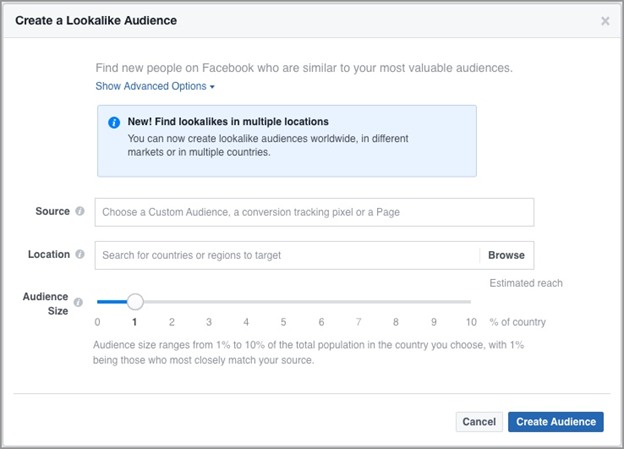 Language Settings
If you would like to create a campaign in different languages – and you should – then take advantage of Facebook's language settings. For example, there are two ways you can go about advertising in multiple languages: creating a boosted post and an entire campaign.
First, go to Settings and click on Post in Multiple Languages function. Activation of this feature allows content creators to write the same post in other languages.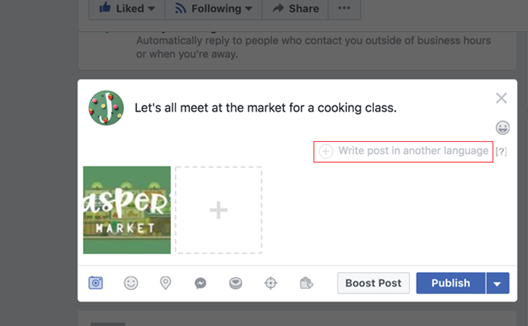 Now, you can create promotional posts in other languages, which is a must for companies looking to expand beyond the borders of their countries.
The second option is to create an entire campaign in other languages, which is something you will have to do when advertising your products for international audiences. To do that, you have to:
go to Ads Manager, click to create a new campaign, give a name for your campaign
Click Continue
Identify audience, budget, and placement
Enter website URL, headline, and text in the default language
Choose Create in Different Language under Multiple Languages.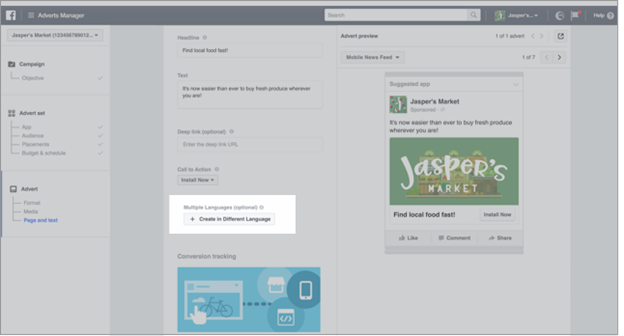 The final step is to identify the target language and enter campaign data such as headline and text in other languages.
City Settings
But what if you want to target dwellers in specific cities? You can do that, too! Open your Ads Manager, create an ad, then click on Audience and use Locations feature to select a city.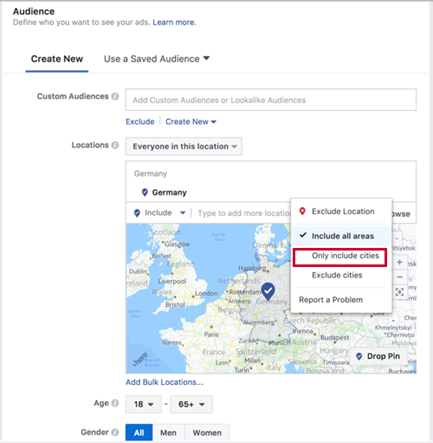 The platform also has multi-city targeting, so you can target a specific set of cities without having to research each city individually.
2. Compare Data Across Countries for Better Targeting
To help international businesses, Facebook has launched a feature called IQ Cross Border Insights Finder. It permits users to research markets by providing comparative country-specific data based on performances of past campaigns across Facebook and Instagram networks.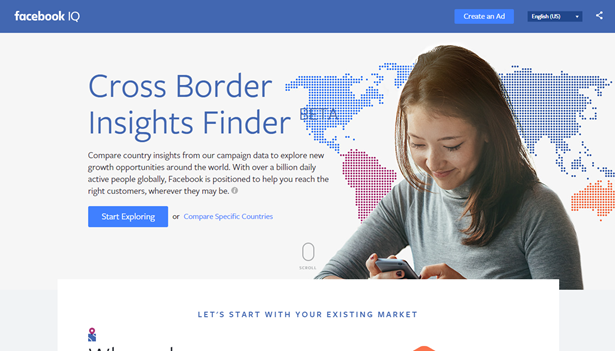 The tool is indeed amazing. For example, you can view useful data on your native country such as ranking in the global cost index, competitiveness rank in global advertising, and conversion rates when you click on Start Exploring on the home page of the tool.
Also, you can identify some features of your campaign as well as goals and click on Find Opportunities. The platform will give you useful tips on international expansion based on the data about your campaign, geography, and goals.
Next, if you would like to compare two countries and identify growth opportunities, click on Compare Specific Countries.
The tool generates such data as conversion index, cost index, competition index, potential reach, and others, so you can have an idea about potential costs, competition, and the size of the target audience that you can attract.
For example, here's the competition index comparing the data for Germany and France, as generated by the tool.

Ultimately, IQ cross-border insights finder helps to unlock the education and tools needed to reach international customers with confidence and discover untapped markets.
3. Localize Your Content Marketing to Get More Attention
In order to sell to international audiences, you have to localize your Facebook content marketing to attract attention more effectively and make it easy to connect with you. Many businesses make a mistake by limiting their localization with translation, thus failing to adapt their content to the culture of each individual target markets.
Here are some of the localization factors you need to keep in mind while implementing your international marketing campaigns on Facebook:
Translate everything and communicate with your audiences in their language. This is obvious that you need to localize every touchpoint including a brand description, posts, replies to customers' comments, campaigns etc.
This is done best by someone who has a deep knowledge of language and cultural expertise, so hiring locals is the most effective way to achieve that. Consider hiring locals for managing your Facebook business page in other languages if possible.
You can use the assistance of translation and localization experts online, but the use of review websites like PickWriters is recommended for making the best choice. Not only they can help you with localizing your social media content, but also give advice on culturally appropriate communication.
Here's how Facebook business page managers from a Danish furniture brand Jysk communicate with customers on the official page of the Polish subsidiary.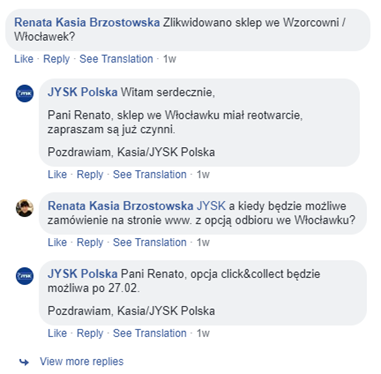 Obviously, the brand that has expanded internationally has local social media managers to ensure that communication with customers in Poland – and other countries, for that matter – is localized.
To enhance the localization of your Facebook content even further, make sure to mention local events, holidays, and news in your posts where appropriate. For example, you can congratulate your followers on common holidays and run some contests to increase engagement and boost online visibility.
That's why so many U.S.-based companies run contests and competitions during such days as Black Friday. This day is huge for many people (in fact, 60 percent of U.S. online shoppers say that Facebook and Instagram impact their buying decisions during the holiday season), so passing on this opportunity to attract more people to their stores would be a bad idea.
In addition to holidays, you may also share tips on issues that your target audience faces (the ones that could be solved by your products or services), and relevant news from your industry that impact the targeted country. For example, if you're running a career consulting service, you can cite some studies on recruitment trends in specific countries and cities.
4. Use a Messenger Chatbot
Facebook Messenger chatbots are big now. They are applications that simulate the conversation of a human and can give answers to pre-programmed questions and share content automatically. Online companies use it for their customer service, content marketing, and, of course, for data collection.
Facebook Messenger has 1.3 billion daily active users, so it may unlock direct access to a lot of quality leads on the international market. According to SimilarWeb, it's currently the most popular messaging app in 64 countries, outperformed only by WhatsApp.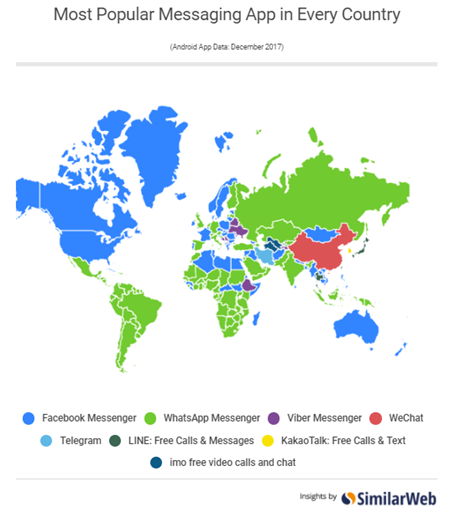 In addition to being the most popular messaging app in 64 countries, Facebook Messenger is also second most widely in a lot of places around the world; for example, it's either #1 or #2 app in 92 percent of countries in the world, according to SimilarWeb.
A localized chatbot that speaks the language of your local target audience can be incredibly beneficial for your international marketing effort. For example, it can:
The presence of a chatbot encourages more people to connect with your business on Facebook and message you because chatbots are well-known for being able to provide fast answers
A chatbot can supply your local followers with fresh and useful content, therefore, keep your business on top of their minds while helping with content marketing
A multilingual chatbot can help you collect data from your target customers, and therefore, get to know their preferences. This data would help you to create personalized offers.
Forbes supports this: according to this article, 75 percent of international consumers would like to make purchases in their own language and 60 percent never or rarely buy from English-only sites. However, most Messenger chatbots now speak only one or two languages, so the room for growth is huge.
The Bottom Line
Facebook is a powerful marketing engine that provides everything you need to target international audiences and develop your business on a whole new level. The key to succeeding here, obviously, is content: it should be engaging, locally relevant, useful, and, in many cases, written in a local language. This sounds like a lot of work – and it is – but the ultimate prize is access to thousands and even millions of international consumers. Sounds like something worth pursuing, agree?

Comments