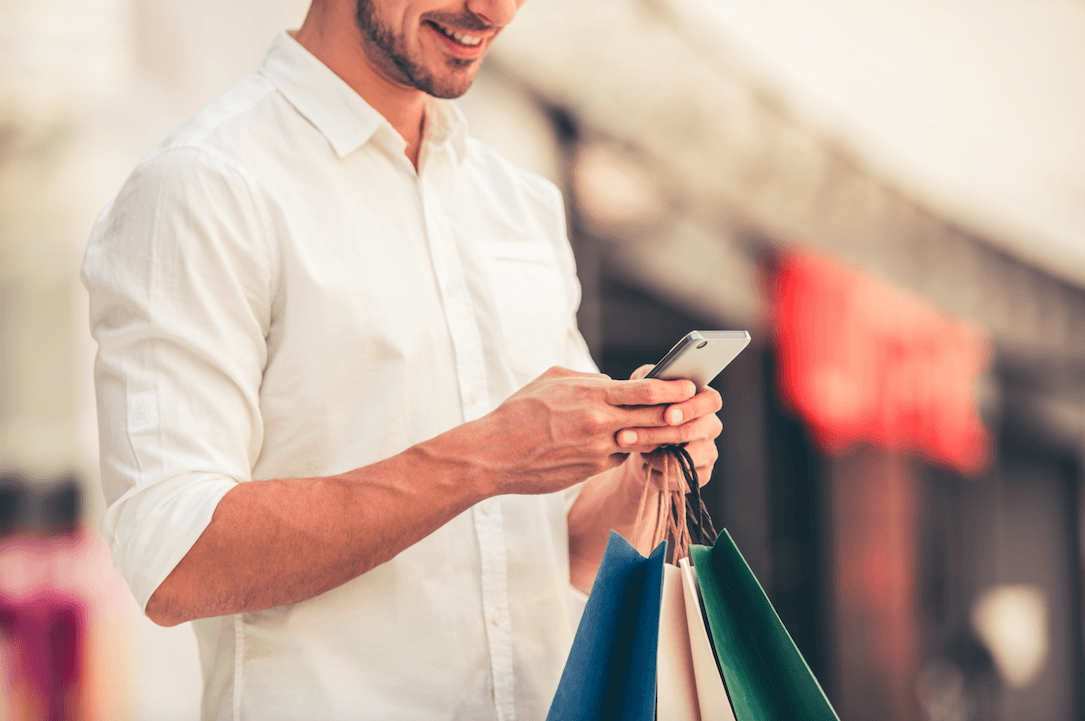 Offline conversions have been available since the late summer of 2016, but only this year, it seems that this type of conversions will finally get popular. If you do not know what we are talking about, how to set them up and what you need for them, then keep reading. It isn't complicated. You'll see that almost everyone can use offline conversions.
For a long time, it was almost unimaginable that Facebook's world of marketing could easily be linked to an offline environment, let alone simply mitigate the impact of our ads, for example, on store sales. That's all, however, with the option of directing offline conversions directly on Facebook.
What is it and how does it work?
You can think of Offline Conversion as any conversion that would happen on the online environment (the conversion path might have started and actually started). This may be, for example, a supermarket purchase, a negotiated loan, or a car sold at a car dealership. You can also use them when your customers order your services by phone.
If you are able to get data about your customers in any conversion, you have almost won. Facebook can save your conversion data along with the data it has about the users . This will tell you which of these offline conversions occurred after the user clicked or viewed your ad. Based on that, you will easily see which ad is the best converting.
Of course, there are some limitations. As you can see in the picture, the longest period between ad interaction and an an offline conversion is 28 days. This is the same as the Facebook attribution window for any conversion. Then, Facebook  sets a maximum of 62 days to upload the data back to its environment. In order for Facebook to correctly process this information you should upload all conversions within a maximum of 90 days from the day the user interacted with your ad.
What data do I need?
As already mentioned, you will need some information about your customers. Do not worry, it's not complicated. The source file that you will upload to Facebook is almost the same as the one you record when you create a custom list of customers. The data associated with offline conversions is just a need to add specific information about that conversion.
The source file can be either .TXT or .CSV (recommended), or you can simply copy-paste the data. This is similar to uploading customer data while creating a custom list of users.
But where the difference lies is in the data types . We have two and are: "Event Descriptors" and "Identifiers".
The 4 mandatory handlers that your source file must contain are:
"Event time" – The time when the offline conversion occurred
"Event Name" – Here you choose a name that matches the Facebook event. So it will be "Purchase" or "Lead".
"Value" – What was the value of the conversion? If you do not have or do not know the value, simply input 1 in the value field. Although the value inputted does not matter, it is required that you enter a value.
"Currency" – The currency in which the value is given.
The identifiers that you can include are up to 17. Your email address, phone number, name, surname, postcode, city, state, country, date of birth, year of birth, gender, or age are included in your set of converters.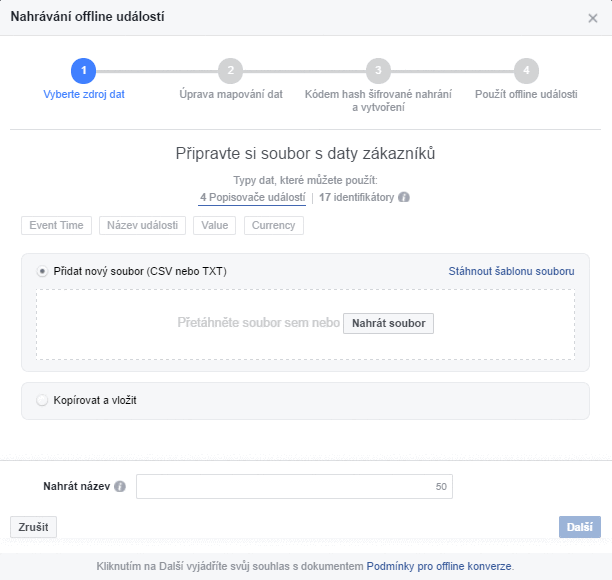 ATTENTION! Here, it's important to note that if you upload data over API, Facebook only accepts SHA256 hash identifiers. If your customer data are not hashed Facebook will not accept them. In the case that you choose another type of encryption, Facebook won't accept it as well. On the Internet you can find plenty of online tools to encrypt your data with SHA256, free of charge, so do not worry. In the case that you manually upload the data to Facebook you can do so and Facebook will take care of it for you.
Of course, again, the more information you can provide about your Facebook customers, the better. As with creating your own group of users, Facebook will try to find the right users who match the information you provide.
From our personal experience, we already know that most of these offline conversions can only pair data with about 40-50% of Facebook users. Why is that? It's simple. Because not everyone uses the same e-mail address or the same phone number as the one they have filled in on Facebook. Many users also have a slightly different name or surname, some of them enter another year of birth. Some may not even be on Facebook at all. All these may be few reasons why Facebook is not easy to match your data.
If you're not sure how the offline conversion file should look like, Facebook freely provides for your with a source that can serve as an example.
How can everything go in practice?
In order to run offline conversion tracking, you will need to access to Business Manager settings and it is necessary to be an admin. You can set up offline conversions in the left-hand menu, where you normally set up access to pages, accounts, or you need to deal with product catalogs. "Events offline" is an item in the menu that will be of interest to you.
Here is where you will manage all your so-called "offline event sets". You can set up people who will have access, assign them to a partner as well as sites or accounts, and you can also delete them.
If you are creating offline conversions for the first time, you'll only be interested in the "Create a new set of offline events" button. In the next window you can name your new offline set of events. The title here does not play any role, it only helps you in better orientation.
Facebook will then ask you to decide which accounts to pair this event set to. We strongly recommend to enable auto-tracking here. In practice, this means that your offline set of events is automatically matched with all active existing campaigns in those accounts, as well as with all newly created events.
This makes it impossible for you to forget when you create new campaigns that you want to track offline conversions with your ads. Do not worry, if you forget to turn it on, you can do so anytime in the future.
Once you've set up an account and right links, and who has access to this set, you're done. It was easy, was't it? You will now have to click on the event you created to open the offline event manager. Here, you will always upload data about your customers, update them and track their statistics.
However, you have not yet uploaded any user data at this time. All you have to do is click on the large green button "Upload Offline Events". After that, Facebook asks you to upload the data that we have described in detail above. Follow the instructions, upload the data in CSV, TXT, or simply copy and paste them.
Once you have the data uploaded, proceed to the second step, "Adjusting Data Mapping". Here, make sure that you have checked the "encrypted data" in each box so that Facebook knows what kind of data it is actually about. You must click the "Do not delete" button next to the statement of the encrypted data and manually select what it is (as shown). You'll have to do the same for each of your encrypted identifiers. Failing to do so, Facebook will not record this data.
In Step 3, Facebook automatically processes and uploads the data, step 4 is only a confirmation that the data are being uploaded.
ATTENTION! Here, it's important to emphasize the most common mistake when uploading offline conversions to Facebook. It is very easy to create duplicate data. You may have to upload the conversion file to Facebook twice or upload files that are up-to-date and contain both new and old conversions. That's bad!
Facebook for all the files you give it as "new" offline conversions. As a result, you may see a much higher number of offline conversions in the statistics than they actually happened. So always upload new, unique data you have not yet sent to Facebook.
How do I understand these data?
After uploading offline conversions, you can explore the information that Facebook offers about your data. You can find them in offline event manager under the specific offline set of events we just created. Once you've uploaded your data, you'll receive a report similar to that in the following picture from Facebook.
You will be particularly interested in:
Logs – This is the total number of records that you have uploaded from your files. Let's call it the total number of conversions you've uploaded.
Successful Records – This number is smaller because it is the number of records Facebook has managed to pair with real users. Only about 40% of the conversions have been passed in our test, and the other users did not match the Facebook IDs.
Upload – This is how much you uploaded files for this offline set of events.
Events – If you are uploading multiple types of events (according to Facebook Pixel, such as Purchase, Lead …), you will see how many events were.
You can also see how many events you've recorded for specific days on a clear graph. When you search for a particular day, you will learn how many events occurred on that day, how many events were paired with real Facebook users, what was the total value of those events, and what was the value of the events that you managed to pair with real users.
Below the graph, you can find the history of uploading files for that set of offline events. So you will see how many files were in the file and how many were able to pair with Facebook.
How do I automate these processes?
The above procedure for uploading files to the offline conversions section on Facebook is very simple and applies when you upload a small amount of data once in a certain period. How to proceed if you have a lot of data and want to automate this process?
This is what Facebook developers think, and, in addition to classic manual uploading of Offline Conversion Files, they also allow automated connections to the enterprise CRM system . You'll automatically see how many of the leads you've managed to successfully close your store, or how many of your ads promoting offline outlets have made real purchases.
However, this solution is no longer as easy as manual data uploading directly in Business Manager. To automate offline conversion conversations, you'll need to create an app in your Facebook Developer account , automatically upload files from CRM, for example, to a server where the data will be paired, and also to work with the Facebook API. That's why a frequent stumbling block comes in because you'll need to contact Facebook developers, if you want to help with this automatic solution.
The easiest option is to contact a Facebook Marketing Partner who already has experience with working with Facebook API and can help you with automation and campaign setup. In MENA as well as in Central and Eastern Europe, we can recommend contacting Business Factory, which, along with the ROI Hunter platform, has a lot of experience with Facebook API and automated offline data linking from CRM to Facebook. For customers who have a network of brick-and-mortar shops, they also offer the opportunity to participate in the Retail Incubator program to support online offline campaigns.
Where can I see the results?
Once Facebook can pair your offline data with real users, it can also use the event time information to see which of the conversions it clicked on or viewed on one of your ads. You'll see the results right in Ad Manager's environment, where Facebook offers you new options for selecting columns. So you'll see the number of offline conversions for each of your campaigns, ad groups, or ads. In addition, you can also track the offline conversion cost.
But here we have to warn you not to take the results as the exact real impact of your offline online sales campaigns, but rather as a pointer. Just remember that only about 40-50% of uploaded Facebook events are matched with real users. Real impacts may be greater .
The big advantage is that you can compare data for different attribution periods (for example, 28 days / 7 days / 1 day after a click) for your offline conversions, as well as normal conversions on the web. You can also compare the number of offline conversions for people who clicked on or only saw it.
Test results from practice
After several weeks of testing, we've seen over 2,5 thousand offline conversions that Facebook has attributed to people interacting with advertising, while online conversions recorded over 9,000 over the same period. Conversely, the price for one online conversion was about 2/3 less than the price for one offline conversion. This applies to the default attribution model 1 day after viewing and 28 days after the click.
If we compare the results only 28 days after click, the difference between the costs per conversion is more noticeable. The cost per 1 online conversion is only the sixth of the cost per offline conversion for the test period. So we see Facebook attributed a lot of offline conversions to users who only watched and did not click on the ad. 28 days after a click, only 1/4 of all offline offline conversions were recorded.
Take away
You are now ready to run offline conversion tracking for your projects. Offline conversions can be used by almost anyone, you only need to have data about your customers. It does not matter the size of your business.
But before you go to work on linking your offline data, think about a comprehensive strategy of how you could utilize this. We will show you our strategy that is useful if you have any kind of loyalty program. It will help you get as much customer data as you can then use for offline conversions while supporting this action. This strategy has four steps:
Create a special event to offer users a discount / advantage when selling offline. However, this discount / benefit is only available to users who register online for your loyalty program.
People register to get a discount / benefit. This will provide you with Facebook-relevant data to correctly pair online purchases with online data.
People will take advantage of your special discount / benefit offline after they sign up and become your customers.
You can easily measure the impact of your online Facebook campaigns on your offline activities for people that registered on your website. Thanks to the identificators you got from them, there is a big chance that data pairing will be successful.
We hope to inspire you and encourage you to use offline conversion tracking on your projects. Let us know what your experience is with them.

Comments