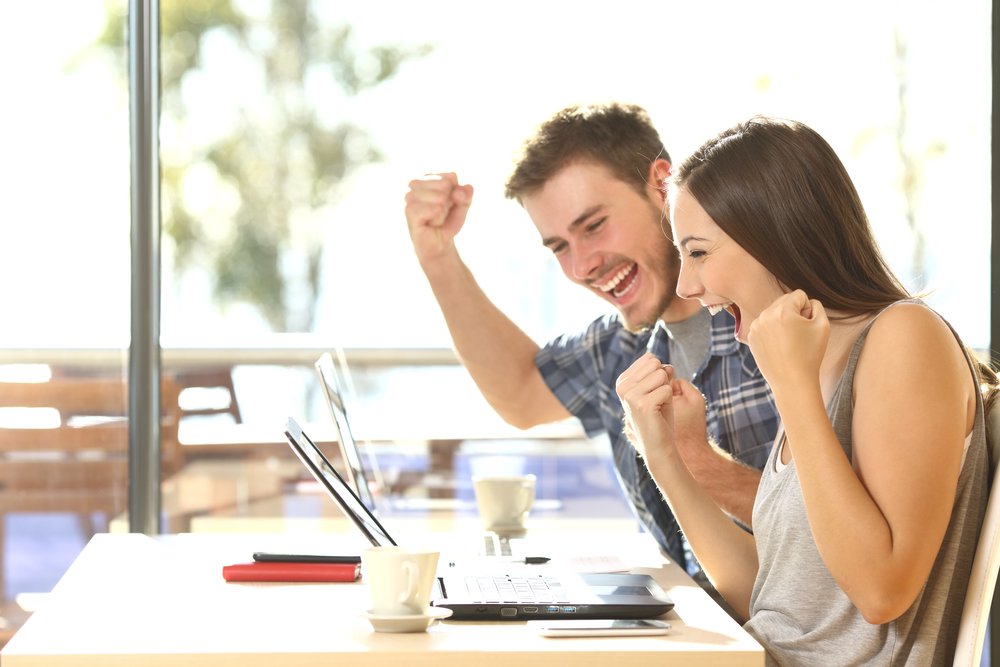 Setting up Facebook campaigns can be a daunting task. If you are new to Facebook marketing you can find it quite challenging structure you campaigns right. This is where this guide will come in handy.
Structuring your campaigns is a really important step towards optimising for success. Having a clear and well-thought-out campaign structure can help you to manage and optimise your campaigns easier, avoid overlap between audiences (it ensure that you are including and excluding the audiences you are supposed to), and help allocate more of your marketing budget to the audiences that perform the best.
Facebook suggests 3 optimal account structure templates that will help you ace your acquisition and remarketing campaigns whether you have a small website with one product or an e-commerce shop with hundreds or thousands of products!
Basic Setup – Combination of Acquisition and landing page retargeting
This campaign structure can work well with small website owners that have one service or product. You have an acquisition part that it's consisted of LookAlike Audiences of people who have purchased from you in the past. You can have 1% and 3% LAs and one ad set targeting via Facebook's Partner Categories. You will want to optimise for PageView (the event must be implemented) and set the conversion window for 7 days after click+view. Regarding placements use the default, auto-placement option. Make sure to exclude Purchasers from your targeting to avoid any overlap.
In order to target people who have previously visited your website, you can create one ad set, where you will bundle up all placements (auto-placement), exclude Purchasers and optimise for PageView.
In order for the algorithm to efficiently optimise the campaigns, 25* conversions are needed per adset.
 Advanced Setup – Combination of Acquisition and DPA retargeting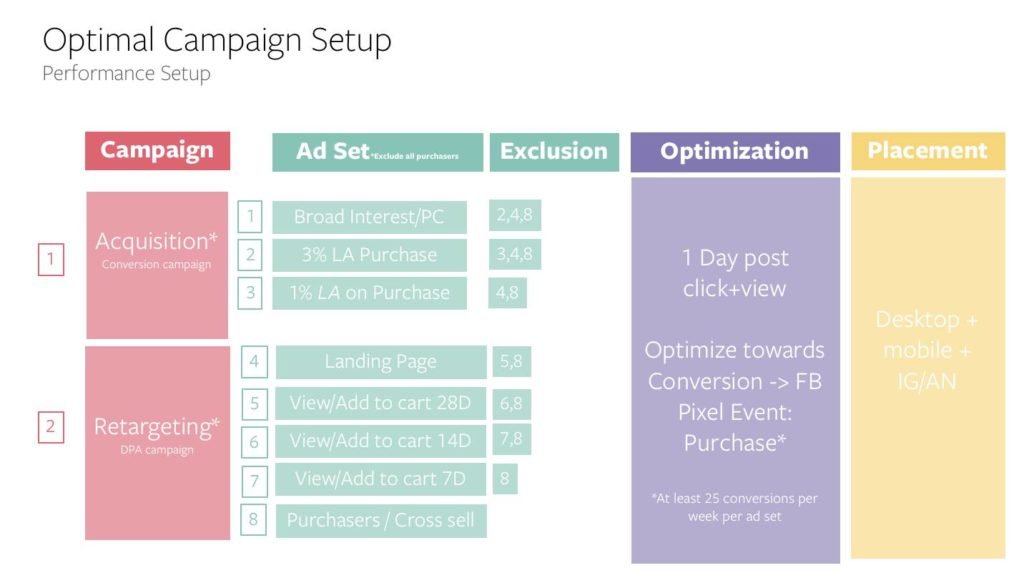 This campaign structure can be helpful if you have a small e-shop with a few products. The acquisition part is similar to the previous campaign structure; LAs (1% and 3%) and a broad interest but you will want to optimise for Purchase, 1 day after click+view and use all available placements in one adset.
As for your retargeting campaigns, you can utilise static or dynamic ads and target:
people who viewed a product or added to cart the last 28 days
people who viewed a product or added to cart the last 14 days
people who viewed a product or added to cart the last 7 days
Also, you can target visitors of specific pages and old purchasers in order to cross-sell them your products.
Full Funnel Setup – Combination of Branding, Acquisition and retargeting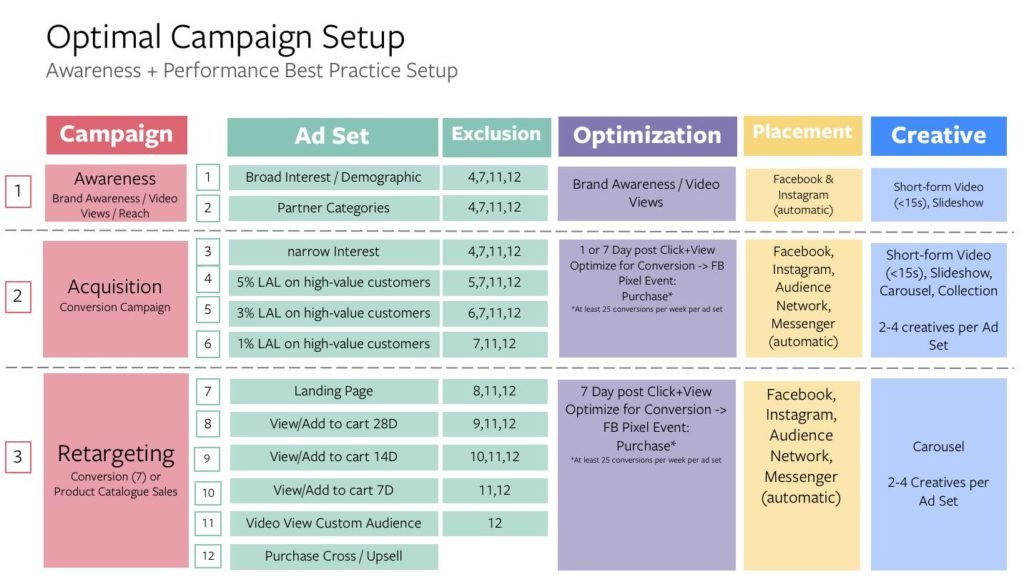 The main difference from the previous campaign structure is the existence of brand awareness "stage". To target people in this audience it is suggested that you employ short videos and slideshows. The goal isn't to get them to your website rather than increase your brand awareness and that's why you are optimising for Brand Awareness / Video Views.
For the acquisition part four campaigns are suggested – 3 LAs 1%, 3 %, 5% and a narrow interest. Here, you will want to optimise for Purchase and you can experiment with videos, slideshow, carousel, and collection ad formats.
For the retargeting part, you can either utilise static remarketing (you need to create website custom audiences or engagement audience from the video ) or dynamic remarketing (you need a feed, product catalogue and a template in order to show dynamic ads). It is also suggested to re-engage existing customers through cross-selling.
Which campaign setup is the optimal?
Before applying one of the campaign structures have in mind that there's no one single structure that works for everybody. Be sure to test and experiment with new audiences to find what works the best for you. Perhaps a 5% LookAlike audience may be better for you than 3%.
Something that is missing from the first two campaign structures but you should place special focus is creatives. Creatives play a very important part in acquiring and convincing a potential client to buy from you or visit your website. As a rule of thumb, it is better you have no more than 2-4 creatives in each adset at all times. Facebook's algorithm will assess their performance and it will pick the best performing to show to your audience. In the case that you don't want that to happen, you can utilise the Dynamic Creatives feature to serve the right ad creative to the right audience.
What is your campaign structure? Is it any similar to what you any of the suggested ones?
*Update: Facebook has updated the number of conversions needed from 25 to 50 conversions per week per ad set.

Comments