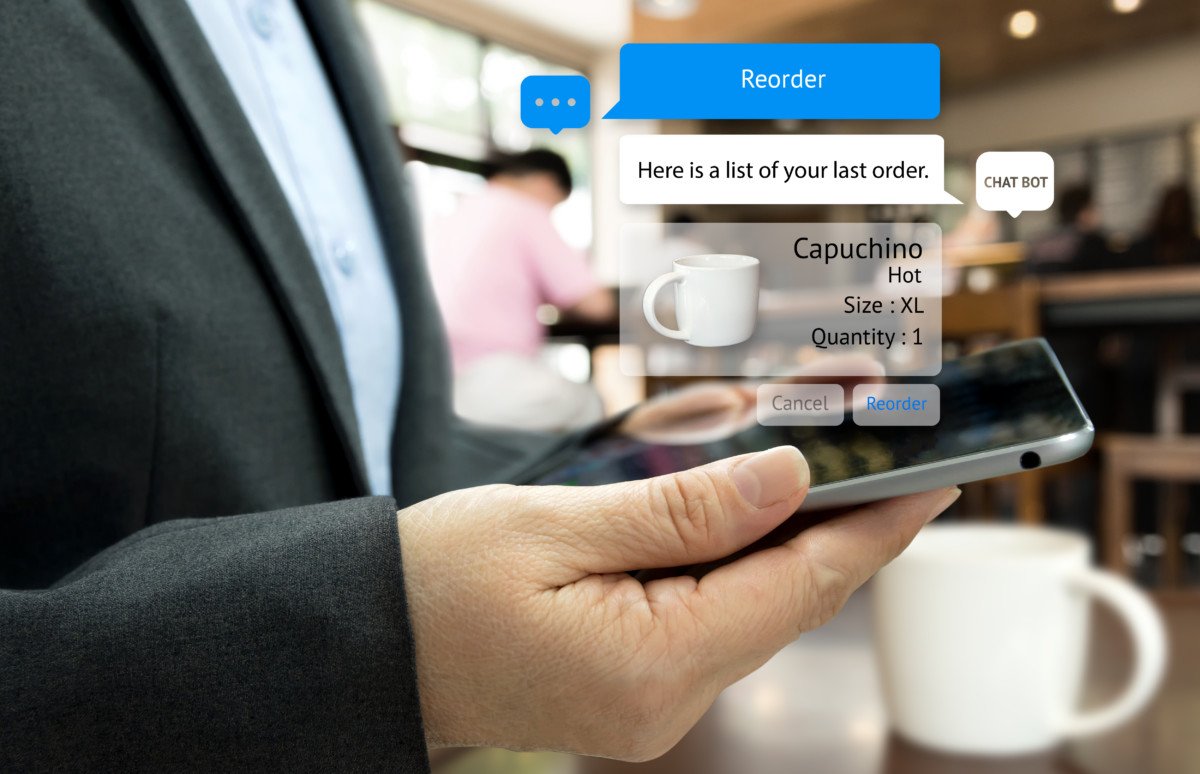 Chatbots have been gaining popularity in the last few years. A chatbot, a "program" used to interact with users interact via conversational interface through written or spoken text. Chatbots such as the ones you can find on Facebook Messenger serve many purposes and they are a new tool for marketers to leverage. In this article, I will show you to we used chatbot in our company, in the hopes of inspiring you.
Our company is an e-commerce startup that provides high-end cleaning and care products for home and automotive use. We've been using a chatbot to connect with current customers to a) engage them, b) provide customer support, and c) get them excited about new products.
Get your customers excited about new products or services
One of the strategies we've used with great results is surveying our audience about the preference on a product we're developing, then having them opt into a reminder when that product launches.
Here's a broadcast we did asking the audience if they'd prefer we bundle our new dish soap with a sponge or a brush: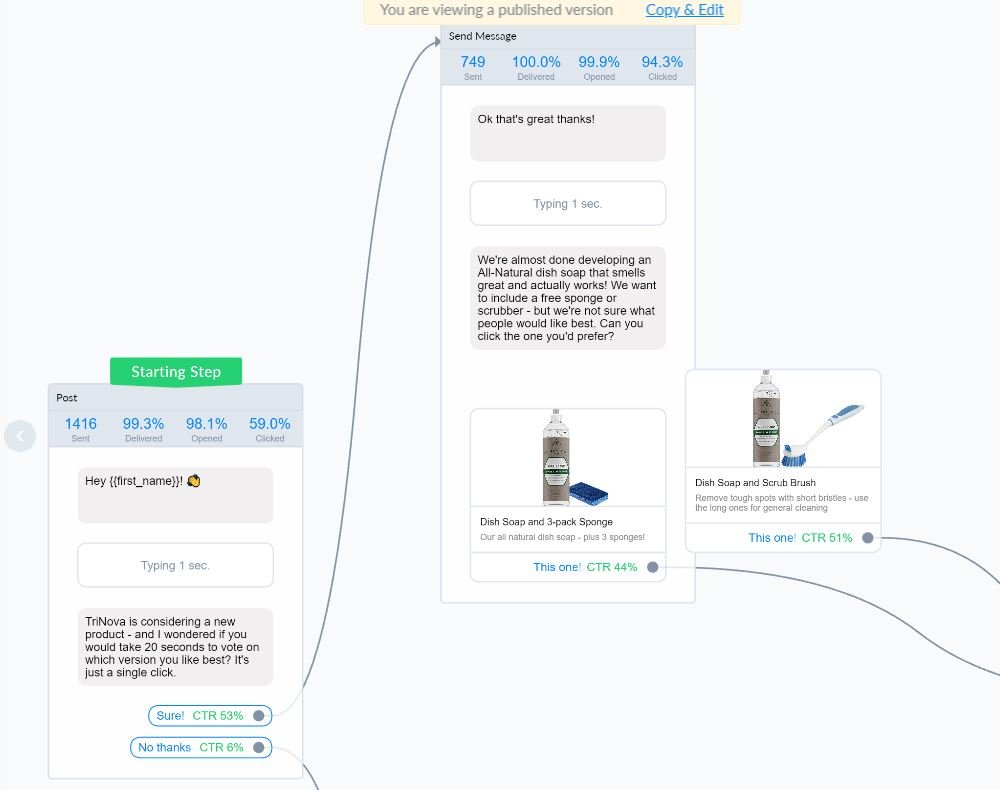 Out of the 749 people who took the time to vote (over 50% of the audience!) a whopping 528 (70%) signed up to be notified when the product launched.
Key take away: If you want to excite your audience about an upcoming sale/launch/event/topic – ask their opinion *before* you decide on how to proceed. By doing so, they feel included, valued, and they will likely give you permission to circle back and market to them about this specific topic in the future.
Reward subscribers
Another more common tactic we use is offering deep discounts to subscribers to drive sales velocity (important on Amazon) and make them feel like they're getting something special out of being on the list.
In this example, we hadn't sent a broadcast in a few weeks and wanted to re-engage our list.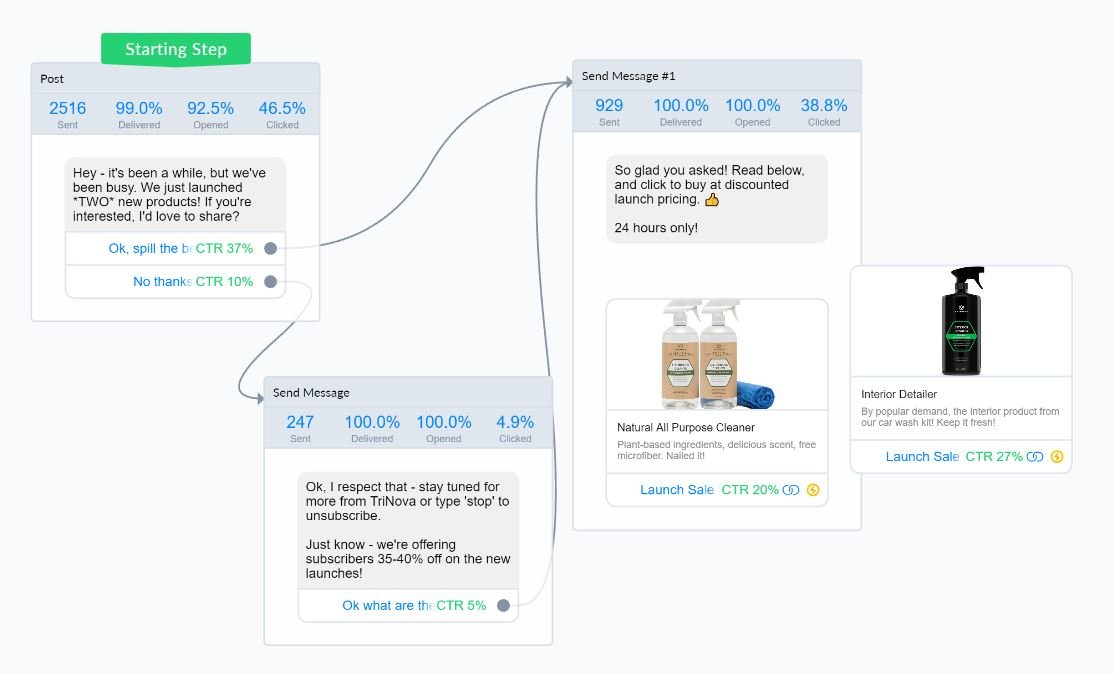 Nearly 20% of our list clicked through to check out the items on sale, and of those about 40% made purchases.
Key takeaway: offer your subscribers something special that they can't get anywhere else. For this to truly work though, you can't just offer them the same discounts your email list is getting.
Provide support
Our last important use of the bot is customer care. Amazon handles shipping, and if you've ever been a customer there you know that can end poorly. We have automations running to follow up with people once they order a product to ensure that it arrived on time and without damage. If there is an issue we have a custom field and admin notification set up so they can communicate with a representative right away. This has not only prevented countless negative reviews but generated hundreds of positive ones as well.
Key takeaway: it's always good business to follow up with current customers/clients as they're much easier to get future business from than strangers. Automate this process with your bot, and make the road to human interaction an easy one for people who have real issues.

Comments