Facebook has been making major changes to its ad formats and this time it appears to be Collection's turn!
Collections, Facebook's newest member in the ad format family,  are getting a makeover to help advertisers find more success. The new Lifestyle Layout template is expected to help drive product discovery and subsequently, sales.
Old collection ad format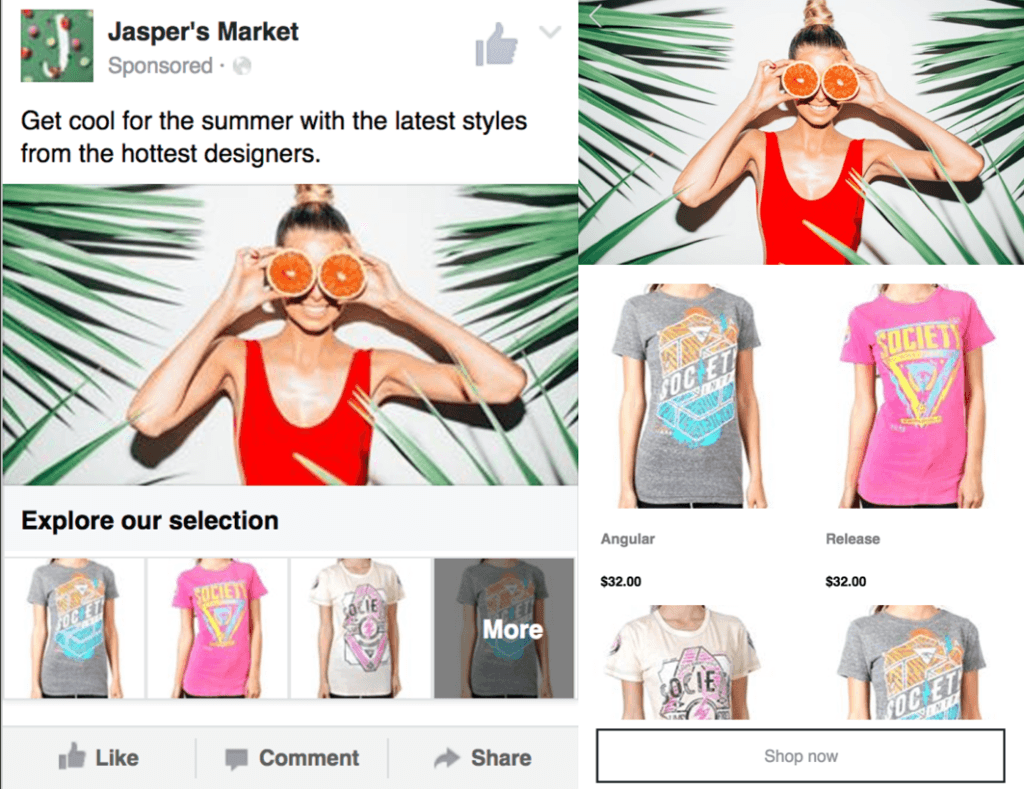 The old collection ad format enabled advertisers to use an image or a video to highlight your story. Below the chosen form of media there a was a set of 4 products displayed. Upon  clicking on any product out of the four you will be taken to a page within Facebook that will display up to 50 products. This setting, although it allowed for an immersive experience it didn't allow advertisers to creatively express themselves in a way that would resonate with Facebook users and convince them to make a purchase. This is where the new template steps in.
New collection ad format
Facebook has recently introduced a template that offers advertisers the creative flexibility they've been lacking. With this enhancement advertisers can now use Collections to "inspire product discovery and drive sales through an immersive mobile experience, using lifestyle images tagged with products. Lifestyle images could include photos of people, places or experiences".
How to utilise the new ad format
Create a new campaign by choosing any of the Traffic or Conversions objectives and proceed with the campaign creation as usual.
On the ad creation section choose the last option – Collection.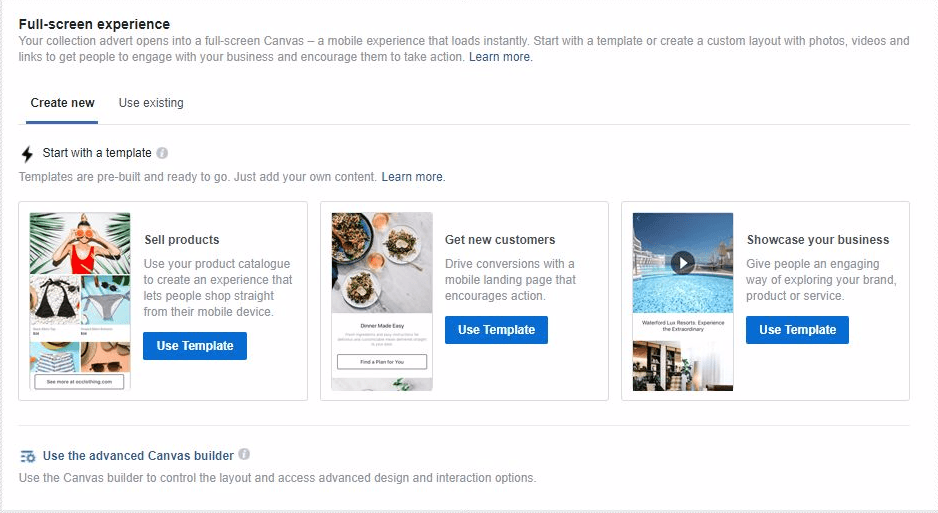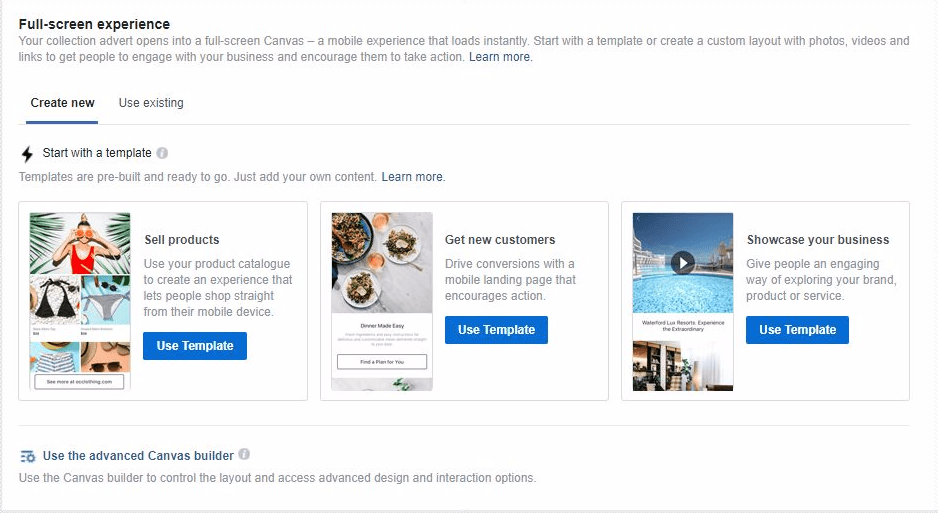 On the next section, you can choose out of the 3 offered templates.
Sell Products template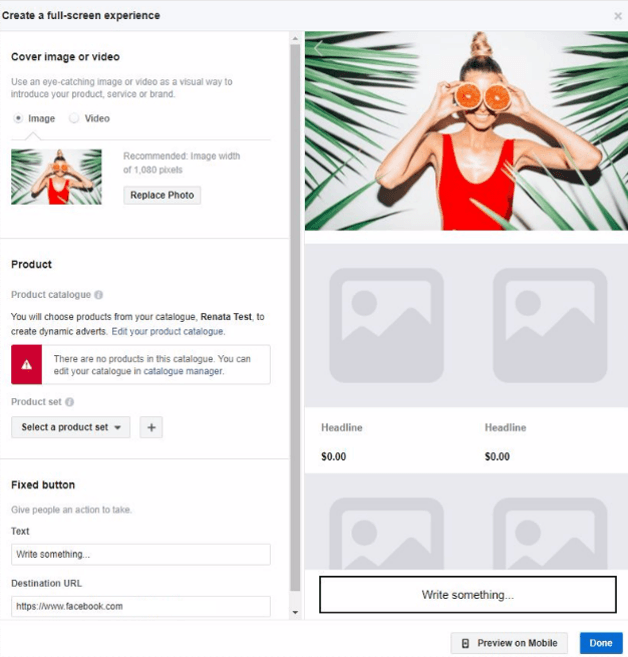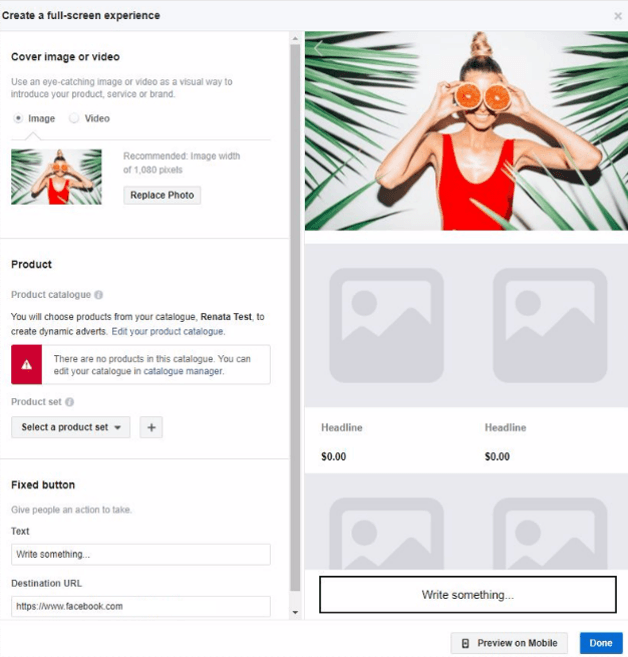 The first template only works if you have have a product catalogue as it is designed to generate more sales on mobile devices. You can have an image or video as a cover and a product catalogue. In the case of more than one product catalogues be sure to choose the desired one and choose the product set you want associated with your collection add or create one by clicking on the + sign.
Minimum requirements: a main photo or video that will be used as a cover and a product catalog. The product set should contain at least 8 products while it is recommended to use larger product sets to encourage product discoverability.
Get new customers template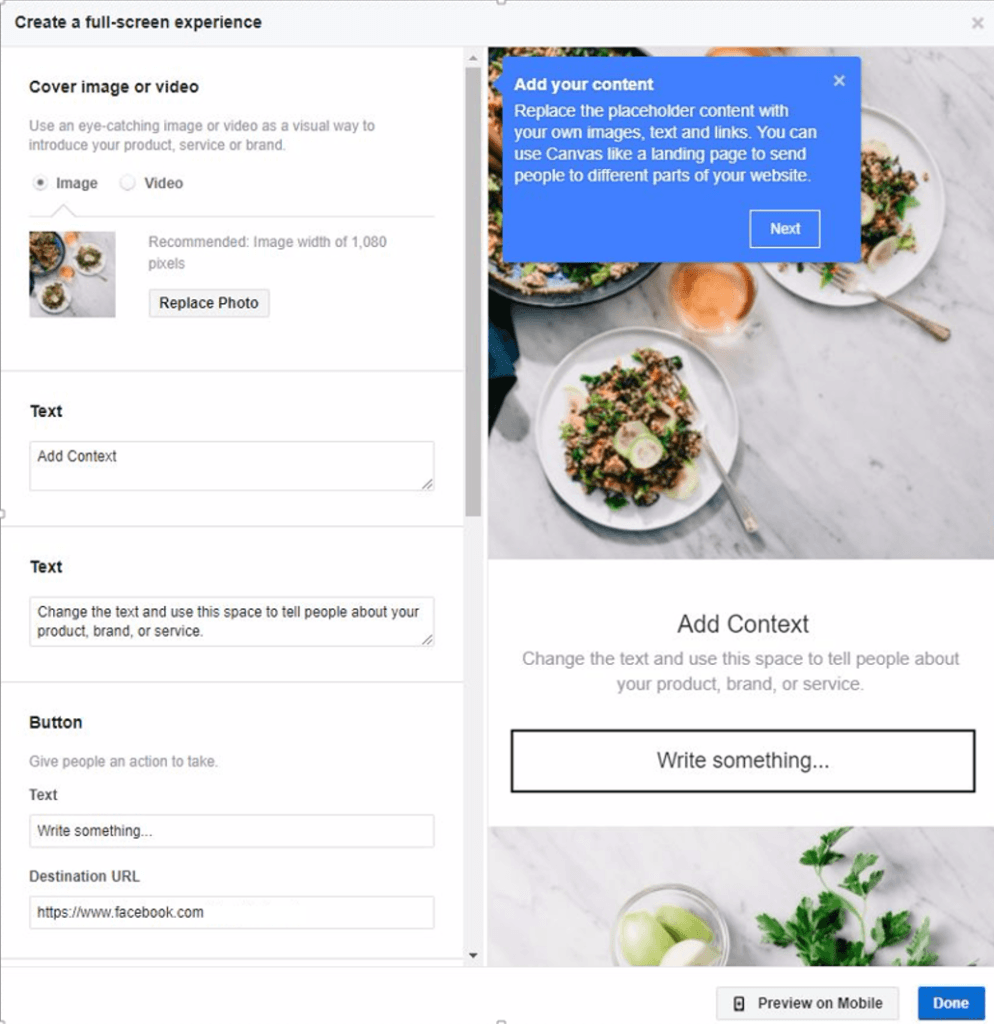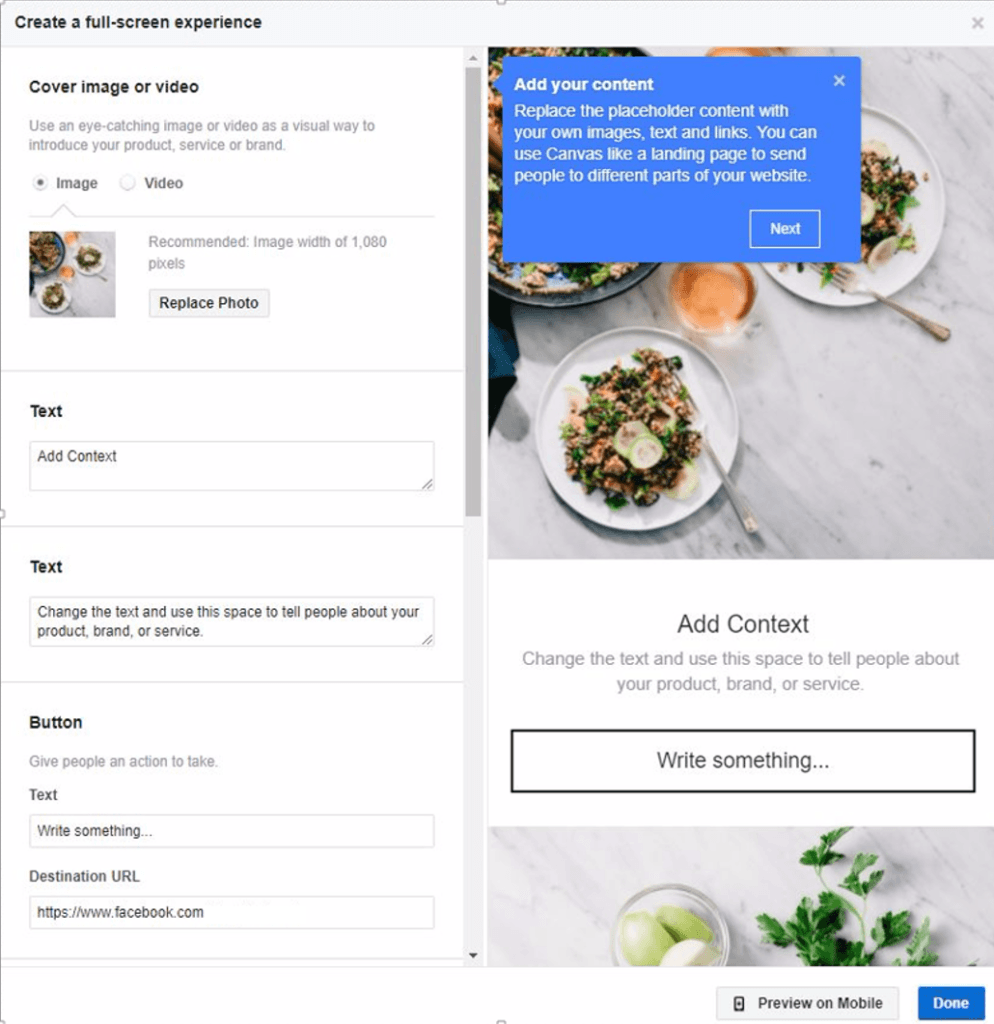 By choosing the second template you can drive conversions with a mobile landing page. The template allows you to utilise images and videos as cover photos as well as carousel, links and text as caption to better communicate your message.
Minimum requirements: 4 photos and a main photo or video that will be used as a cover.
Showcase your business template

The third template is enables you to showcase your business and provides room for more images/video compared to the previous template. As with the previous, the goal of the template is to encourage people take a specific action within your app or website.
Minimum requirements: 4 photos and a main photo or video that will be used as a cover.
Upon choosing the desired template, you can further edit it or delete and either choose an existing one or create your own custom template.
What you shouldn't forget
Before creating your first enhanced collection ads you should have in mind the following:
UTM parameters. If you only tag the destination URL you will miss any info from people clicking on your product. Tag all URLs to avoid missing such vital information.
Collection is available with mobile placement. In the case you choose other, including mobile, you will be prompted to remove the unsupported placements.
A product catalog is required with the Sell more template.
In the case you are using a product catalog you need at least 8 products with a maximum of 50 products.
You can use square videos (1:1), horizontal (16:9) and 360 videos. The 360 videos won't be available during preview but after you publish your ad.
The templates will surely help you get started quite easily and can be used by advertisers across many verticals. The enhanced collections are expected to be available to all advertisers in the coming weeks.
In addition to the above, Facebook has announced some additional updates:
Engagement Custom Audiences: You can now retarget people who have interacted with a collection ad, which means any click on the collection ad itself or any click within the canvas environment.
Store visits objective: Now collection ads can be utilised with the in-store visits objective. Already available for traffic and conversion objectives, we are now adding the ability to create a collection ad with the store visits objective.
Granular reporting: More insight will be provided to advertisers as they will be able to see which link lead people to the landing page. Pairing the links with UTM tags will also provide you with the possibility to measure the effectiveness of your ads via third-part analytics.
Looking for some inspiration on how to utilise collection? Check out the positive results reported in this article regarding collection ad campaigns.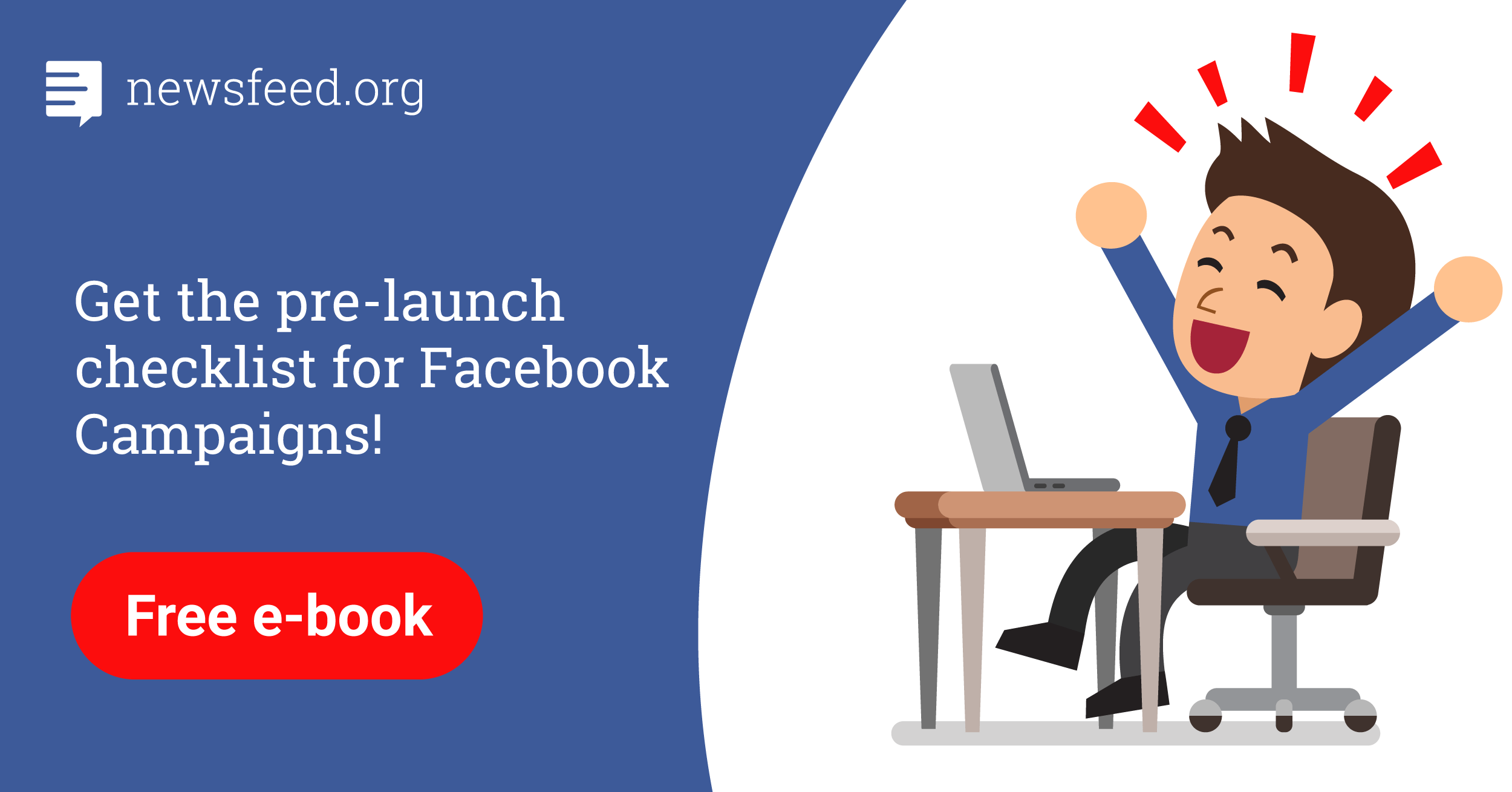 Comments