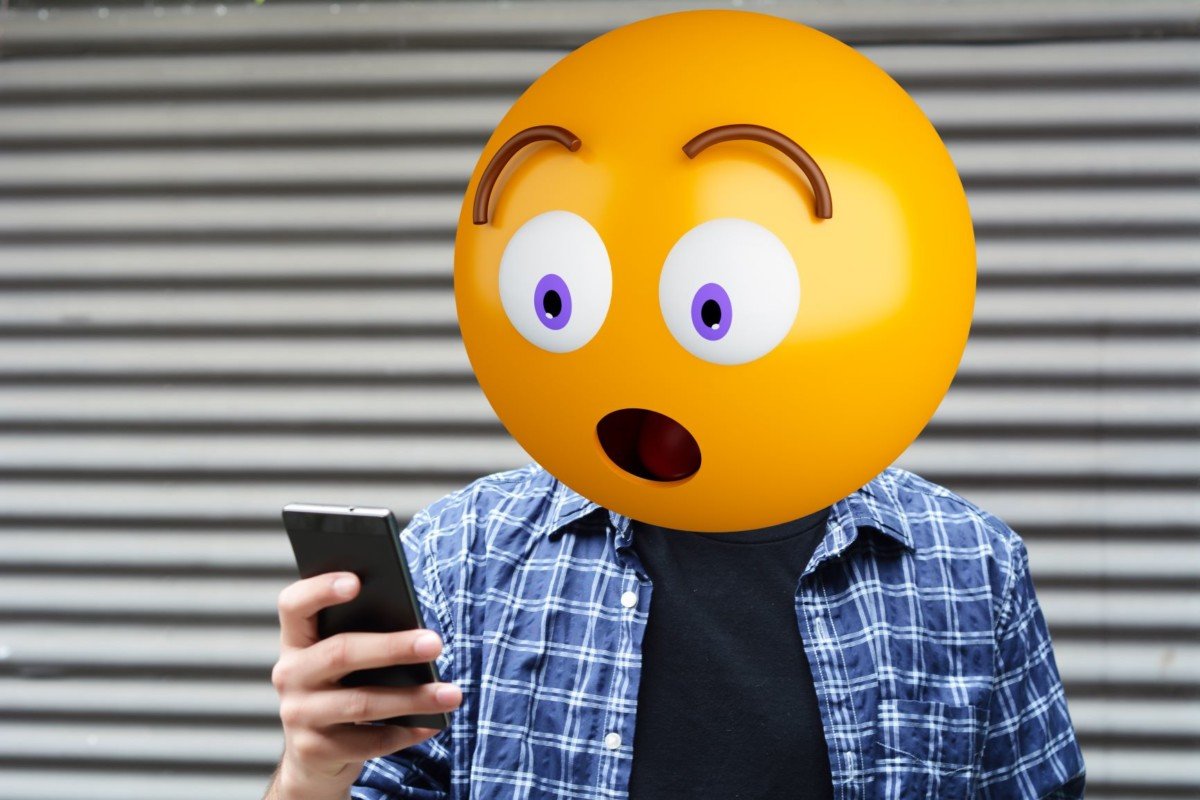 Emojis or smilies have become an inherent part of our communication not only on the Internet, but they have also gained their place in the advertising space. We've tested their advertising power in practice, and we'll show you how to increase your ROI with the right emoji.
This non-verbal way of communication is popular for several reasons:
Saves the number of characters you need to enter when writing ad text.
It playful and clear.
They are a universal language that everyone understands.
Emojis give an emotional background to a message.
Split test the use of emojis
There are many recommendations out there on why and how to use emojis, but we decided to solve the "emojis vs no-emojis"-dilemma by using concrete data and test how these ads work across markets, age groups and placements.
For the test, we chose the fashion brand VUCH, which sells fashion accessories for women. Their e-shop offers a wide selection of wallets, handbags, watches, jewellery and other products.
For performance testing, we chose the split test option where Facebook divides the target audience in half and tests your selected variables.
In all cases, ads were targeted at women aged 18-48 with interest in shopping and fashion. Our campaign ran for three days with an audience of 1 million users.
Results of emoji vs no-emoji Split-Testing
The emoji and non-emoji ads were launched in the Czech Republic, Hungary, and Poland.
While there was a clear dominance of the non-emoji advertising in the Czech Republic, especially regarding the number of transactions, CPC, CTR and engagement in Hungary the advertising containing emoji was the winner. In Poland, ads without emojis were successful regarding the number of transactions.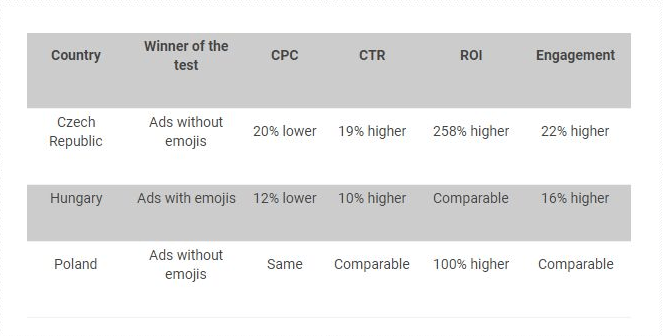 Testing ads across mobile and desktop placements
On desktop devices, the non-emoji ad was more successful. It had a 25% lower CPC and a 19% higher CTR.
On mobile devices, the results were quite surprising. The non-emoji ads had 17% higher CTR, but the emoji ads had a significantly higher number of purchases.
This placement test took place only on the Czech market.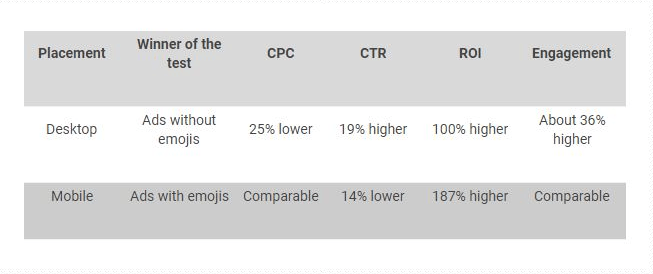 Testing emoji and non-emoji ads across age groups
For this last test, we divided the target audience by age. In the first group, women aged 18-29 were targeted, while the second group consisted of women aged 30-45 in the Czech Republic with an interest in fashion and shopping.
In the younger age group, the emoji ads were the winners, when it exceeded the number of purchases compared to the non-emoji ads. On the other hand, older users preferred ads without emojis, which generated higher CTRs, lower CPCs, and a higher number of purchases.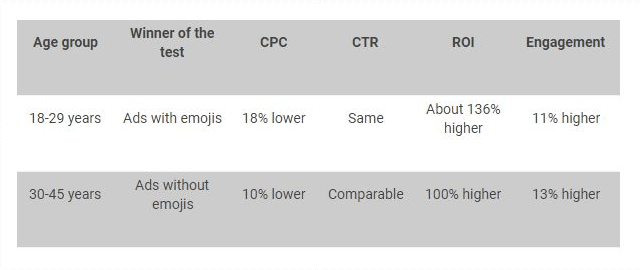 Should you use emojis in your Facebook Ads?
The test shows that ad using emojis can achieve different results and success across track metrics. Should you use emojis? It depends on the total "tone of voice" of your business, who you are addressing, how often and where your ad is showing. The results may be different, so we recommend that you run a split test of your ads to help you determine your strategy.

Comments