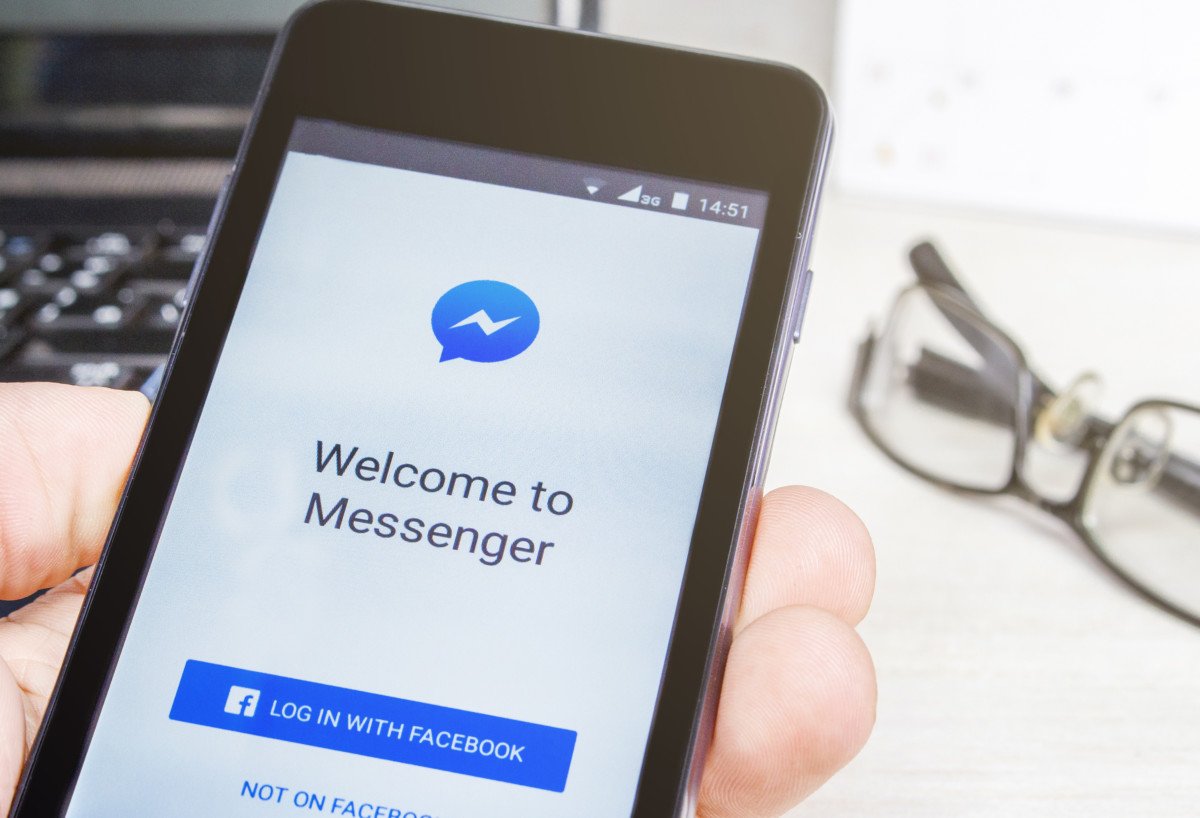 Remember when we used to call or email a business for information? Nowadays there's a new standard for how people communicate and that's messaging. Particularly when it comes to the communication between a business and its customers the implications of messaging are huge and not all businesses are taking notes.
Facebook-owned messaging platforms such as Messenger and WhatsApp rule the messaging landscape. With research showing that every month 1.3 billion people use Messenger and that 8 billion messages are being sent between people and business, if you aren't already viewing Messenger as a vital business tool then you should be paying closer attention.
Messenger can become a powerhouse when it comes to either reaching customers to drive sales or operating as a customer service platform. It offers automated messages, the possibility to host bots, the option to promote your products through conversations with new and existing customers, the ability to integrate it with your website and a myriad more of choices which can seem overwhelming.
So where do you begin?
Fret not. In this article, you will learn an array of options you can implement today. You will see features that require no budget or technical knowledge and possibilities that require an investment in time and/or money. Based on your needs and business size you will select which ones to follow.
How to use a Messenger bot in your business
Let's start with easy options any business can implement right now to step up its Messenger presence.
Log in to your page and visit Settings and then go to the Messaging tab to activate the following options.
Prompt People to send messages:
You might have visited Facebook pages for which a chat window pops up automatically. These pages have the "Prompt people to send messages" feature enabled. Activate it to encourage people visiting your page to send you a message.
It's always a good idea to reflect the friendly tone of your business online. Activate the option "Show a Messenger greeting" to create a custom message you will use to welcome your customers. The message can be different than a greeting. Do you run an in-store sale? Consider writing something like "It's a pleasure to connect. Did you know about our in-store sales? Drop by to say hi and see our offers!".
Keep in mind that you can personalise your messages to include a Facebook user's name. For example, the message above could be "It's a pleasure to connect [Facebook User's First Name]. Did you know about our in-store sales? Drop by to say hi and see our offers!".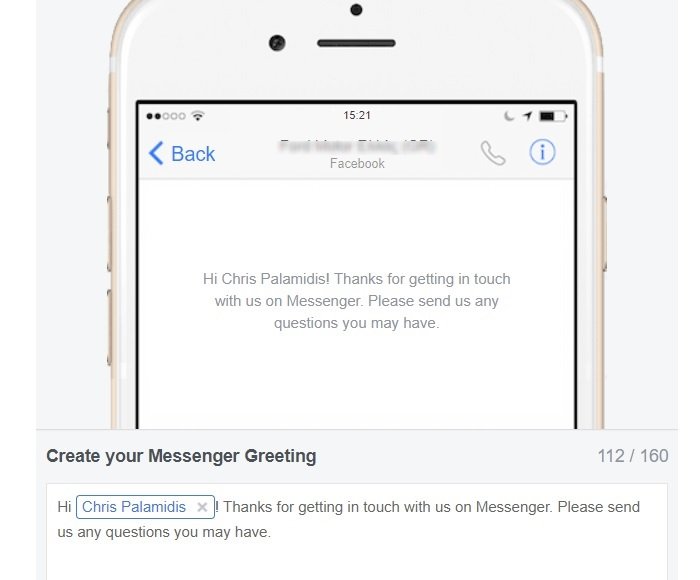 Are you a small business and connecting on Social Media is not your first priority? There's no need to worry. You can enable Instant Replies to write a message that will appear to anybody messaging your page. This way you can thank people for messaging you and you can let them know that you have indeed received their message and will reply as soon as possible.
Just like a welcome message, you can also set personalization for Instant replies.
Note: Instant replies aren't included in your Page's response rate or response time.
Away messages closely resemble instant replies but they are only sent when you are away from your Facebook page. How does Facebook know when you are away? You indicate it directly from the Inbox interface when you are logged in your Page. When you select that away button, you will appear as unavailable for the next 12 hours with your automated reply ready. And yes, personalization is available for away messages also. Enjoy your rest without guilt. Messenger's away messages will automatically inform anyone messaging you at midnight that you will get back to them first thing in the morning.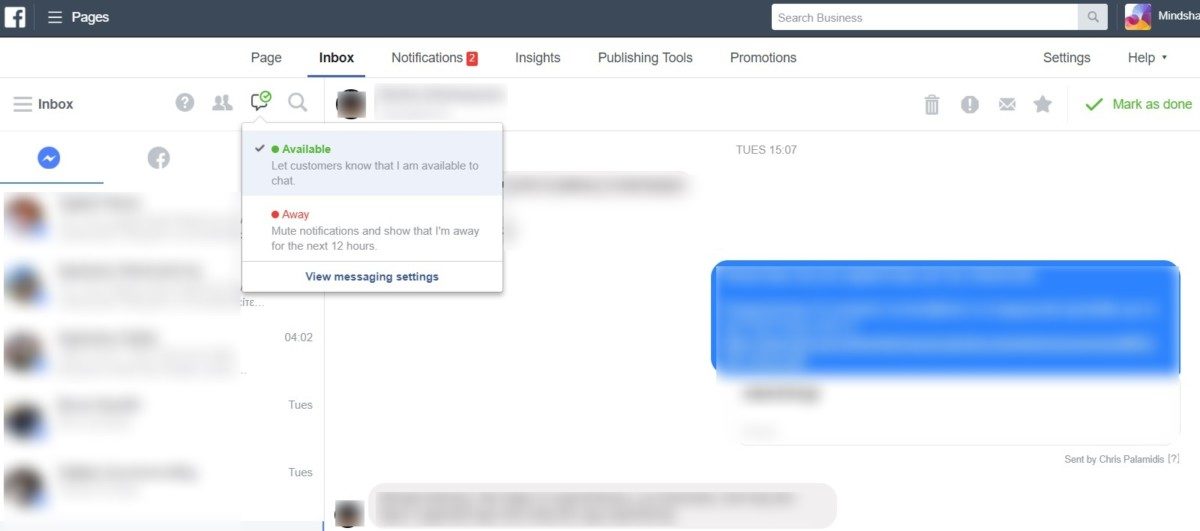 If you're receiving the same question over and over again, it might be a good idea to create a saved reply. A saved reply is not sent automatically but you can create several saved replies. Depending on the question you select and send a saved reply instead of manually replying the same thing to every question about the same thing.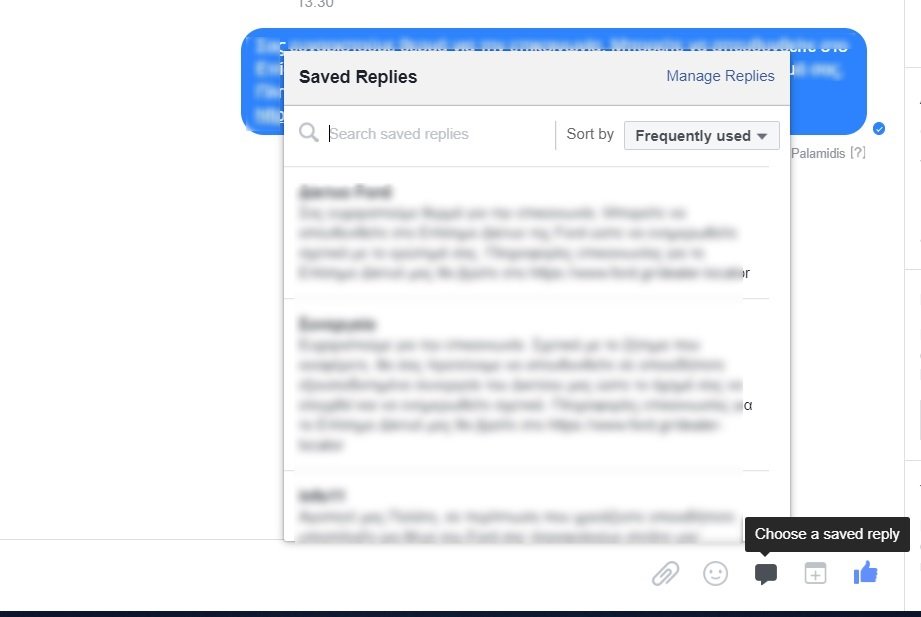 The features above will take you less than 10 minutes to implement and if you're a small business can have a significant difference in how people perceive your presence on social media and messenger in particular.
Since you're implementing these things to make your Messenger presence more robust why don't you try to nurture the idea of people reaching you on Messenger? A single move can get you a long way. Head over to the "Messenger Platform" tab and find your Messenger Link. Use this link on your website, emails, flyers etc. as an alternative in how people can reach you.
Advanced uses for a messenger bot
Let's move on to a bit more complex issue.
Bots. Bots can be intimidating for many those who don't have the necessary skills to create them or the budget to turn to companies which specialize in their development.
That does not have to be the case. Yes, there are companies that are Facebook Marketing Partners which build bots that can do wonders, but the truth is that in the majority of cases you will not need to cough up hundreds or thousands of dollars to build a bot. There are websites which allow you to create a bot for free if you're willing to invest the time.
Like many people who lack the coding skills but possess the curiosity to explore a platform and learn a new skill, you can also create a bot which provides tremendous value to people who interact with your Page and to do so in a spectacular fashion.
Give it a try if you think that a bot could help your business. You will find that it can be easier than you think and if you get stuck there's a lot of helpful material in forums and in the form of how-to videos. Before you know it, you can have a powerful customer service tool in your hands which in the long run will save you precious time. If you're asking yourself which platform can be the right one for you, I would advise testing a couple different ones. I have used the free version of chatfuel.com in the past and saw that it was fairly easy to create a bot from scratch which users loved interacting with.
Have you created a bot and think it's awesome? Don't limit it to those who would message you anyway. Make it discoverable to show up on the messenger app when people look for bots and businesses to communicate with. Go to the "Messenger platform" on your Page's settings, find the "Discover settings" and ask for your bot to appear in the Discover section in Messenger.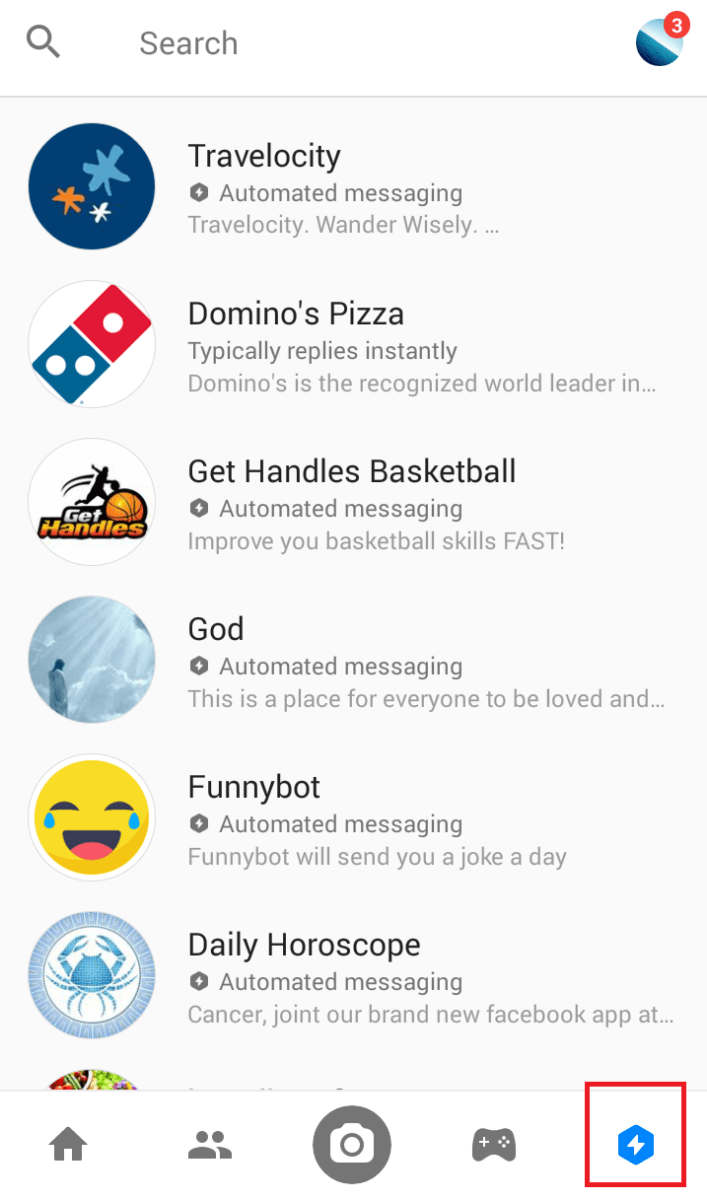 If you can provide valuable content regularly to people, request to enable subscription messaging, again from the "Messenger platform". With subscription messaging, you'll have the option to send messages to people who have initiated a conversation with your Page. Keep in mind that subscription messages cannot contain promotional content and that any user can opt out at any time.
Adding Messenger to your website
Now it's time to take your Messenger game a step further. That step would be to integrate messenger with your website.
Why limit the reach of your messaging to Facebook/Messenger? You can connect your messenger with your website and make Messenger a powerhouse for your business. People will be able to message you with questions directly from your website and you will respond via Messenger retaining the information and history of a conversation.
To set up the connection, again you will have to head to "Messenger platform" in your settings. Find the Customer Chat Plugin and click on set up.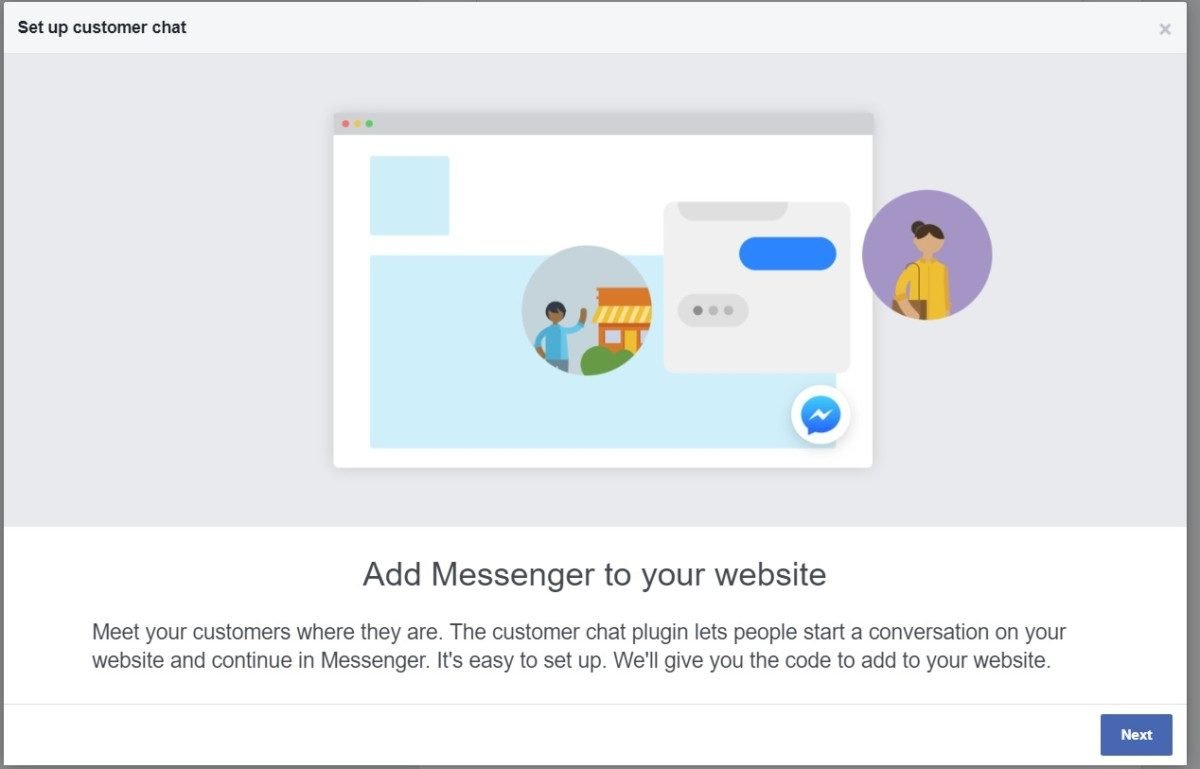 The process is fairly easy. You will choose your language, your message and submit your website and Facebook will provide you with a tag which you can install to your website. Make sure you also whitelist your domain on the "Messenger platform" tab.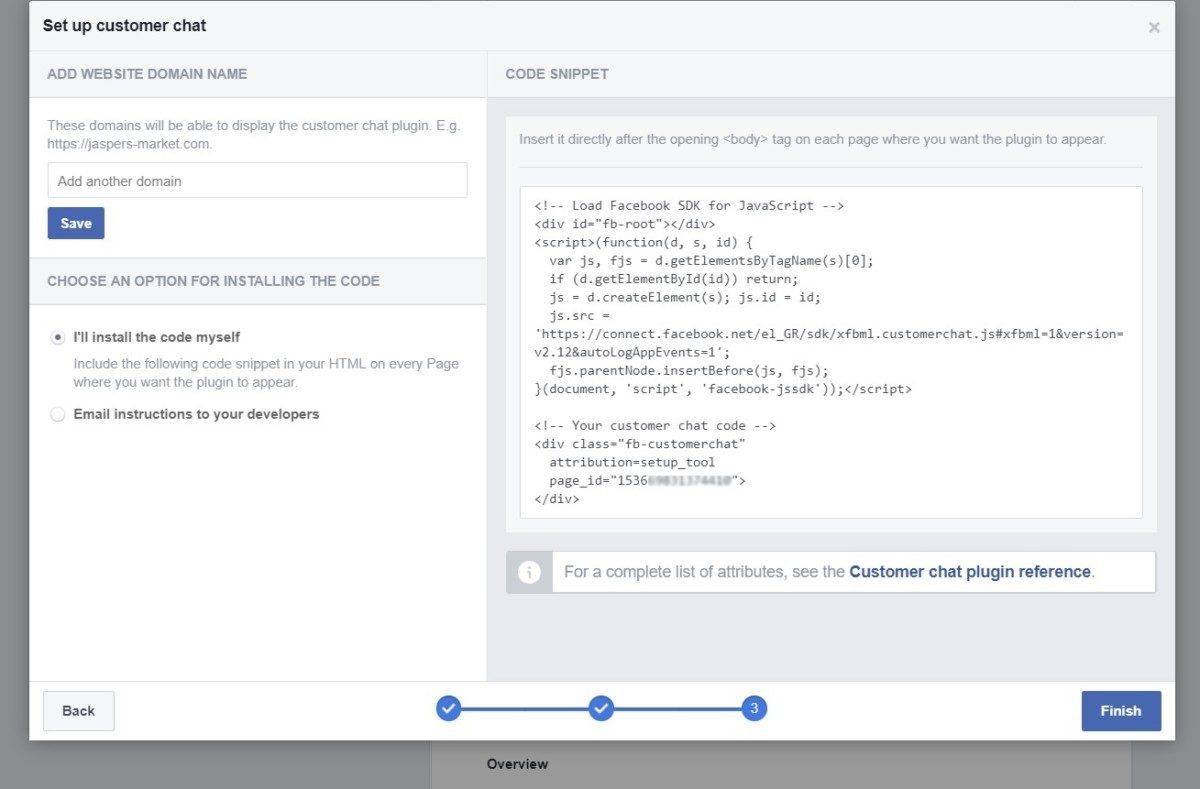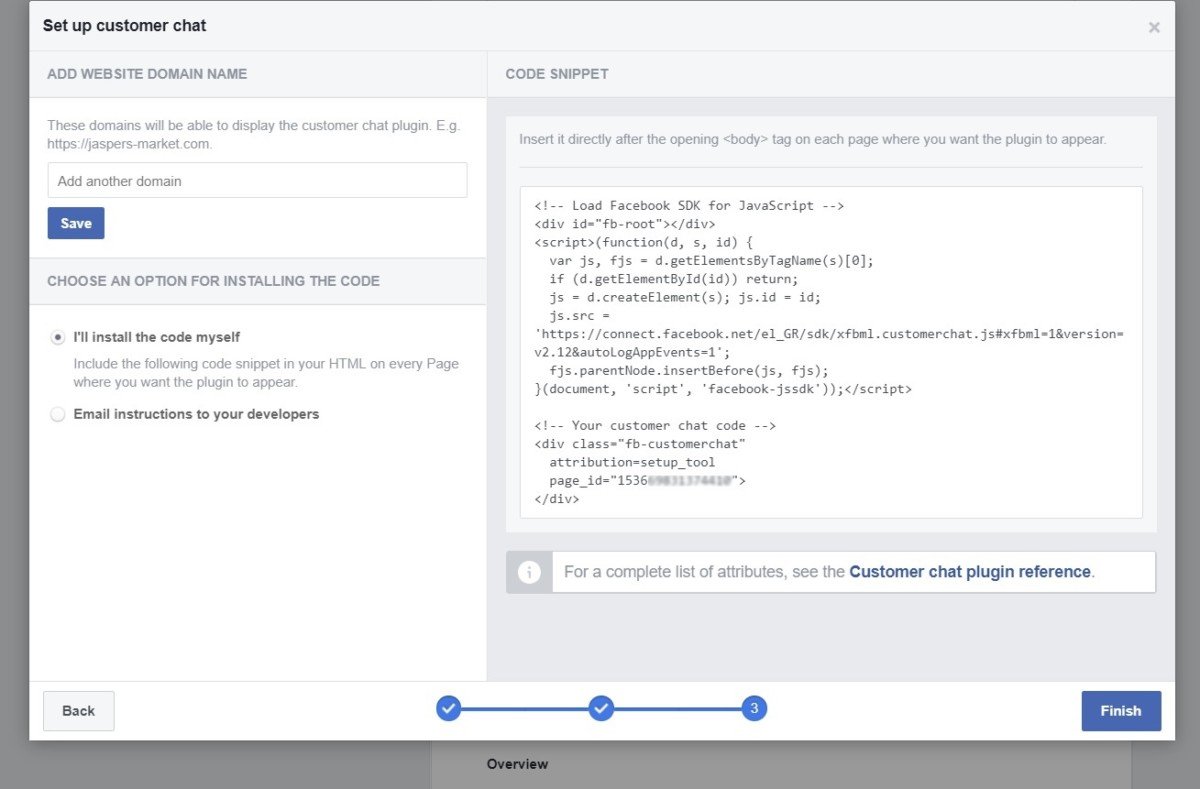 Once you're done you will have created an integrated experience for the user who can return to a conversation even after (s)he leaves your website and can come back to it at any time.
When you become accustomed to the idea of integrating your website with Messenger, you can explore more elaborate options like the CheckBox plugin. The CheckBox plugin is a plugin which allows you to contact users who have opted in from your website to receive messages from you on Messenger. That can be invaluable if you want to retarget cart abandoners. Reach them on messenger informing them that they can complete their purchase. You might even want to consider a discount especially for users who you contact via Messenger to show them how much you value the personal relationship you are trying to nurture.
How to advertise your Messenger bot with Facebook Ads
Now let's see how companies with a budget to spend can include Messenger in their advertising strategy and make it a tool to advance their business objectives.
There are essentially three ways you can incorporate Messenger into your advertising strategy.
A) Using Messenger Inbox as a placement
What that means is that you can run Facebook ads which will appear in the Messenger Inbox as they appear on Facebook Newsfeed.
The easiest way to do that is that is to don't bother with placements at all.
Let me explain.
When you set up a new ad, Facebook automatically targets all eligible placements (placement=where your ad can be displayed). You can choose to overwrite this and manually select placements. The premise, however, is that if you don't mess with placements at all, then if your ad can be displayed on Messenger, it will. It will also be displayed across different placements like Facebook Newsfeed and the Audience Network (namely websites and apps which have partnered with Facebook to show ads).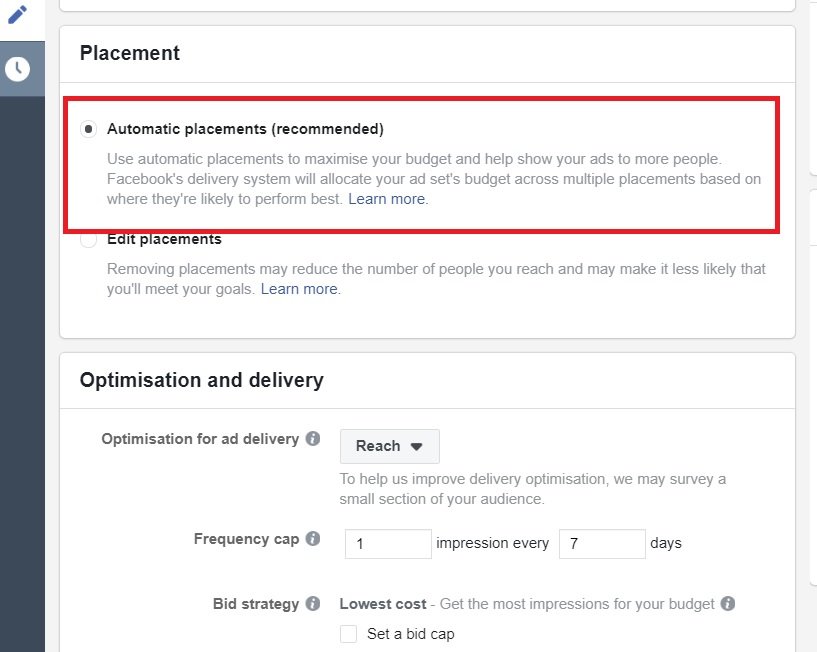 Going into a bit more detail here, the automatic placement can actually help you in terms of your advertising efficiency. You see, when you allow Facebook to automatically select a variety of different placements instead of restricting your delivery to a single placement like the Facebook newsfeed, you can bid in more auctions and receive a lower cost/desired result even though a single placement can appear expensive. If that sounds convoluted don't worry. It all happens automatically and you don't have to do a thing.
By the way, if you choose to edit the placements to exclude some of them, you can, of course, do that. But if you want to exclude all placements except Messenger Inbox, you will find out that you cannot do that because you can only use Messenger Inbox in tandem with Facebook Newsfeed.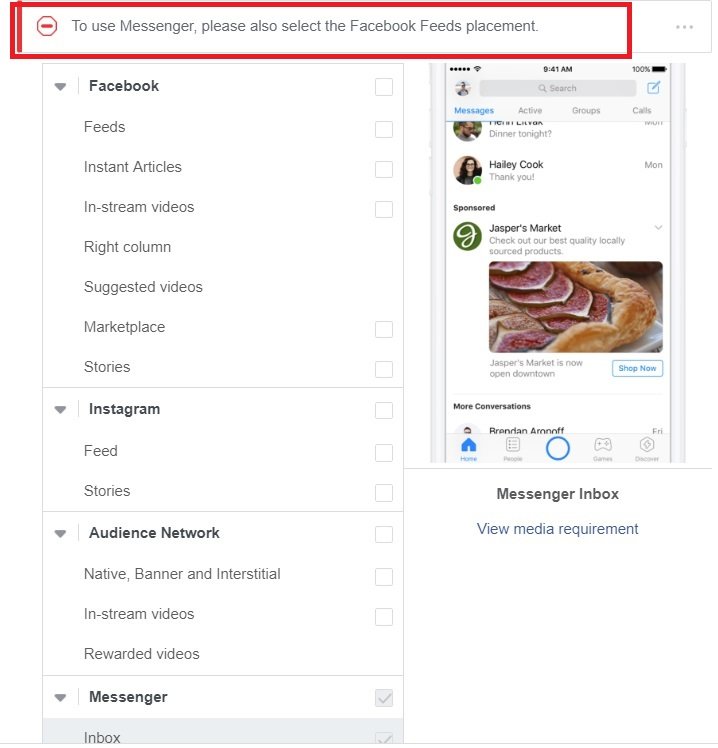 B) Creating ads which do not appear in Messenger but lead to it
The simplest way to do that is to create a "Messages" campaign. By selecting this objective, you will begin creating a campaign that directs people to your business in Messenger and is optimized towards that goal.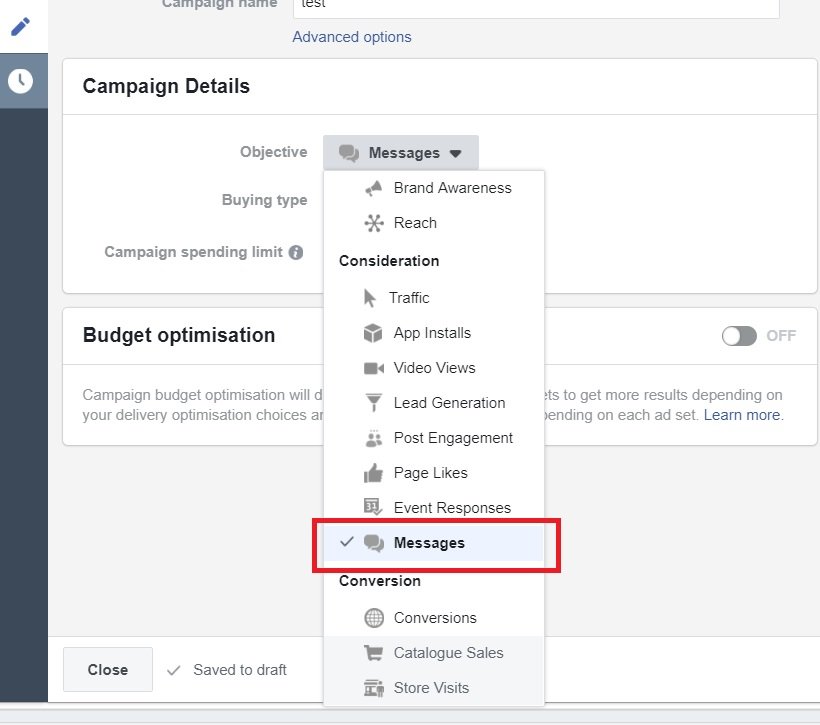 With this campaign type, you can also control the Messenger experience people will have after they click on your ad and are transferred to Messenger.
You can choose to have the "standard" template with a greeting and three questions (you can tweak all of these)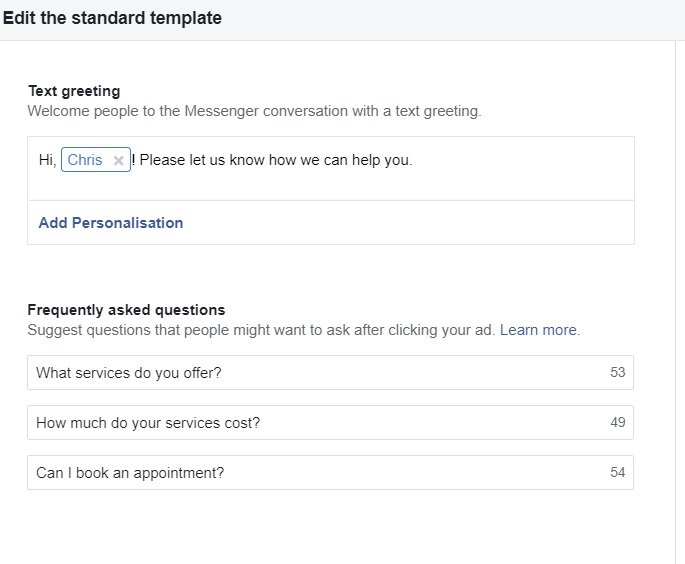 or you can create a custom template. A custom template will allow you to tailor the welcome experience to your liking. More importantly, it will allow you to connect your bot with Messenger so that when people click on your click-to-Messenger ad they can have a conversation with your bot.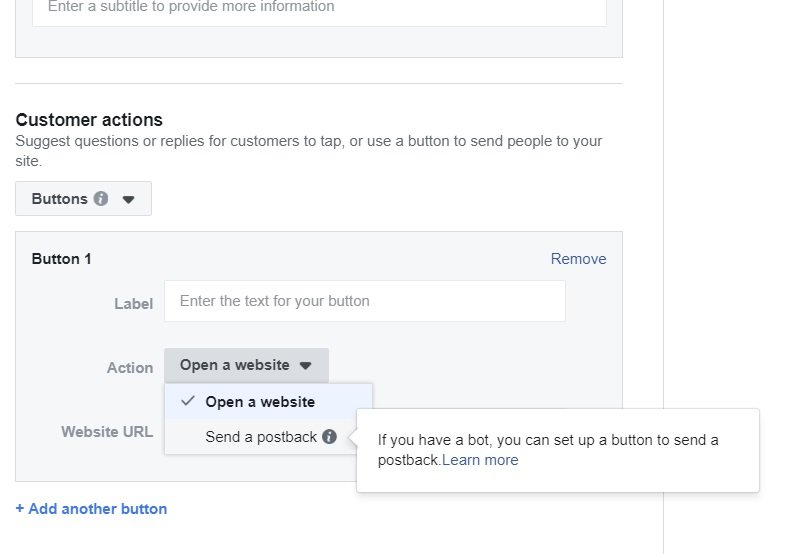 It is important to note that if you have a bot and perform a click-to-Messenger ad it will not automatically connect with your bot. You will have to manually edit the custom template to send a postback and connect with your bot.
C) Using "Sponsored Messages"
Sponsored Messages allows you to re-engage with people who have already messaged your business. The number of people who have already contacted you should be very low but if you follow the methods described above to increase engagement with customers via messaging you can improve that.
Again, you will have to select the "Messages" campaign objective to get started. On the ad set level, however, this time you will change the "Choose an ad type that will direct people to Messenger" to "Sponsored Message" from the default "Click to Messenger".
As already mentioned, this campaign is intended to reach people who have already messaged you. You cannot contact anybody else with this ad format as that would be spammy according to Facebook. That's why when you choose "Sponsored Messages" the targeting is automatically set to reach exactly these people. You can refine this audience of course with age criteria etc but you shouldn't go overboard with additional targeting parameters here as the audience is limited from the beginning.
In the placements, you will see that the placement "sponsored messages" is selected and you can't choose any additional ones. With other campaigns, this placement is locked and cannot be selected. I call it "placement" because that's what Facebook calls it but "Sponsored Messages" is not a placement as Facebook calls it. It's an ad type. The ad is served in the Messenger Inbox exactly like any other ad that can be served in Messenger (first scenario). The difference is, however, that in the first scenario you could be directed from Messenger to a different platform like a website when you clicked on the ad. With "Sponsored Messages" when you click on the ad, a conversation begins with the advertiser in Messenger.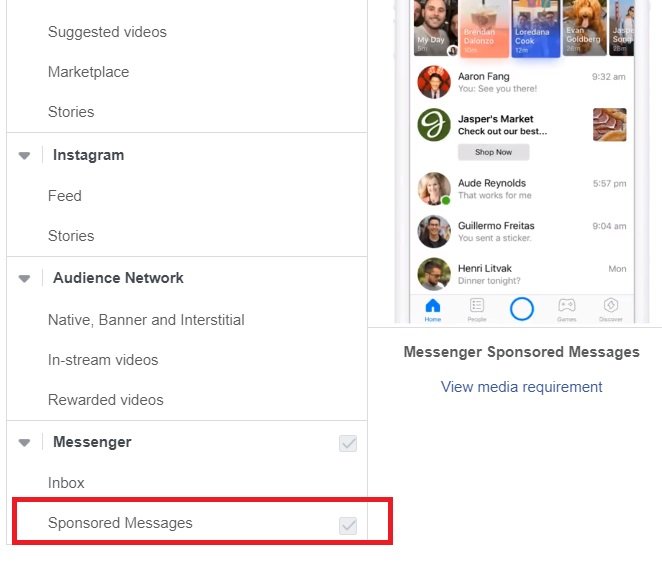 That is why when you create an ad you have to edit the creative which will be served in the Messenger Inbox and will be seen by everybody you reach with your ad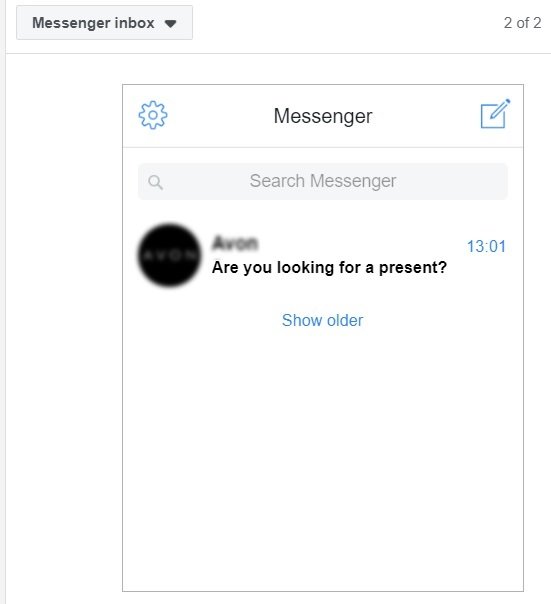 AND the ad in the form of a message that will be seen by those who click on the Inbox ad and actually want to send you a message/continue reading your message.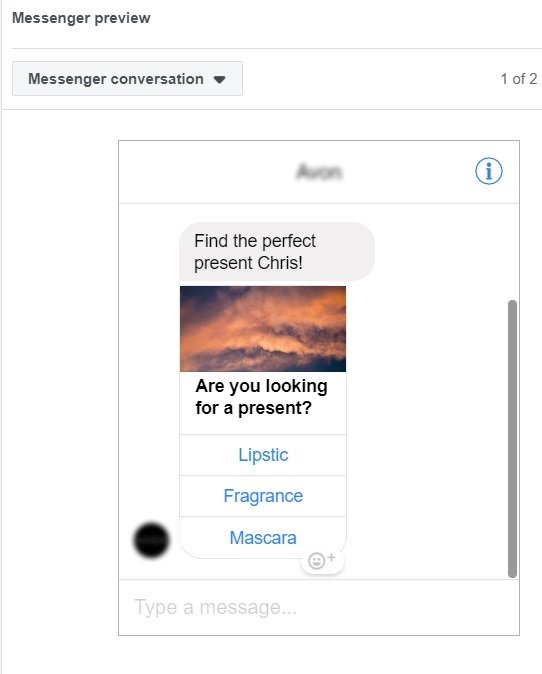 The message can, of course, be personalized to include a person's name and you can also include features like quick replies/buttons which will make the experience better for the user. A cosmetics brand targeting men looking to buy a present, for example, would be wise to include a couple of fixed answers in the form of buttons leading to the website to keep potential male customers from bewilderment.
Of course, if you have a bot you can go ahead and connect it with your sponsored message. Keep in mind however that this is an ad type which targets people who have already messaged you. It doesn't make much sense to perform this campaign to reach people who have already communicated with your bot. What does make sense from a marketing perspective is to perform this campaign when you have a brand new bot and want to showcase it to all of the people whom you already know are interested in you because they have already messaged your Page.
Because "Sponsored Messages" are only allowed to reach people who have already messaged you, you will not need a substantial amount of money to perform this campaign. To get a ballpark estimation of how much money you will need, look at how much it costs you to reach 1,000 people with a regular ad targeting a broad audience. Triple the cost (because now you're trying to reach a very narrow audience with a very specific placement it will probably cost you more to reach your audience) and you will have a rough estimation. It will not be accurate by any measure but at least if you're a small business and every dollar counts, you will get an idea.
When you perform the campaign, you might see that it's not delivering adequately and you're reaching only a small portion of your audience. That's unfortunately natural. Not all people are on Messenger when you want them to be and there are also other advertisers competing with you for very limited space on Messenger for the very limited time people spend on the Messenger Inbox.
These are methods that can help your business improve its presence on Messenger and take steps to turn Messenger into a valuable tool to drive business results or at the very least make your life easier. If it seems intimidating, I would advise starting small with features like Instant messages and as you gradually become more accustomed to Messenger as a business tool, start experimenting with possibilities which can prove more significant for your business like Messenger-website integration.

Comments