It's true! Data is the new gold! They are important in helping your business grow but also lead you successfully through a crisis. Surprisingly, the results of BI-SURVEY say that organizations only use on average 50% of all available information for crucial decision-making. 1 In this article, we will examine the main reasons for that and provide tips on how to become more data-driven.
Humans are emotional creatures, and when it comes to a crisis, they tend to panic. Everyone wants to be prepared for the worst, but only a few of us do something about it. Wouldn't it be better to rely on data than on your feelings when we talk about the future of your company?
Owning enough data becomes even more critical in informing your business strategy during these difficult times. The more sophisticated analytics tools you have in the company, the higher your chances you have in exiting the ongoing crisis as a winner.
And it is not only about proper reporting tools. Nearly half of respondents of Deloitte's Analytics Advantage survey said they don't have the skill levels required for data analytics within the organization.2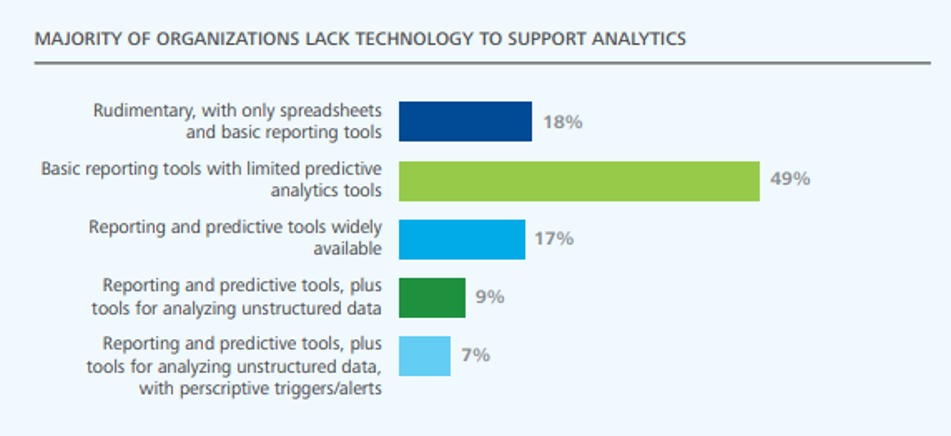 Source: Deloitte Analytics Advantage
So, how can a company prepare for a crisis then? It's essential to have a plan of action – not merely collecting as much data as possible and then not knowing how to use them. Check our steps on how to enable data-driven decision process in practice:
1. Find key questions
Decide what you want your data to tell you.3 Has the crisis impacted your sales? Lower traffic to your online store? Is nobody signing up for your training?
Do not try to solve everything at once. Find the most important pain-point and set your priorities.
2. Gather data
Start with the data you already have. As a source, you can use your marketing analytics tools, CRM, business intelligence platforms or even feedback from customers.4 Everything that might help you answer your key questions.
3. Analyze your data
Look into history and try to identify trends. Sometimes, having a working knowledge of Excel could be sufficient to dip your toes into big data analysis. However, in many cases, data requires a more experienced analytical approach. For example at Business Factory, when working on clients and need to make decisions based on advanced integrated data we team up with our science partners behind MarktingIntelligence.io*.
4. Plan your strategy
Create a plan of action. Make clearly defined goals. For example, you want to get new customers to your beauty salon through an offer you placed on your website. However, the traffic on this site is very low. In this case, how would a clearly defined goal look like?
Do a research and check the possibility of online advertising on Facebook, Instagram and Google. Determine the marketing budget. Launch a new online campaign within the next 2 months. Get 2 000 new unique visitors on the website.
Simple, but surprisingly effective.
5. Measure the progress
Compare the newly collected data against your historical and ask yourself: Did your data-driven decision made a positive impact on the business? Did you meet your goal?
Before you rush off to give an answer, make sure that a sufficient time period has passed. From our experience, we see that the bigger the improvement you implement the longer period need to be measured.
A last word – get your data easily
Not every company can afford to analyse their marketing activities in-house. Regardless of whether you belong among such companies, we can connect you to the right personnel, so please contact us via our website contact form.
 * MarketingInteligence.io is an initiative in which Business Factory and E-commerce academy combine their technologies and approaches to help build marketing solutions tailored to large clients from around the world.

CLICK AND LEARN HOW TO SOLVE THE CRISIS
Comments