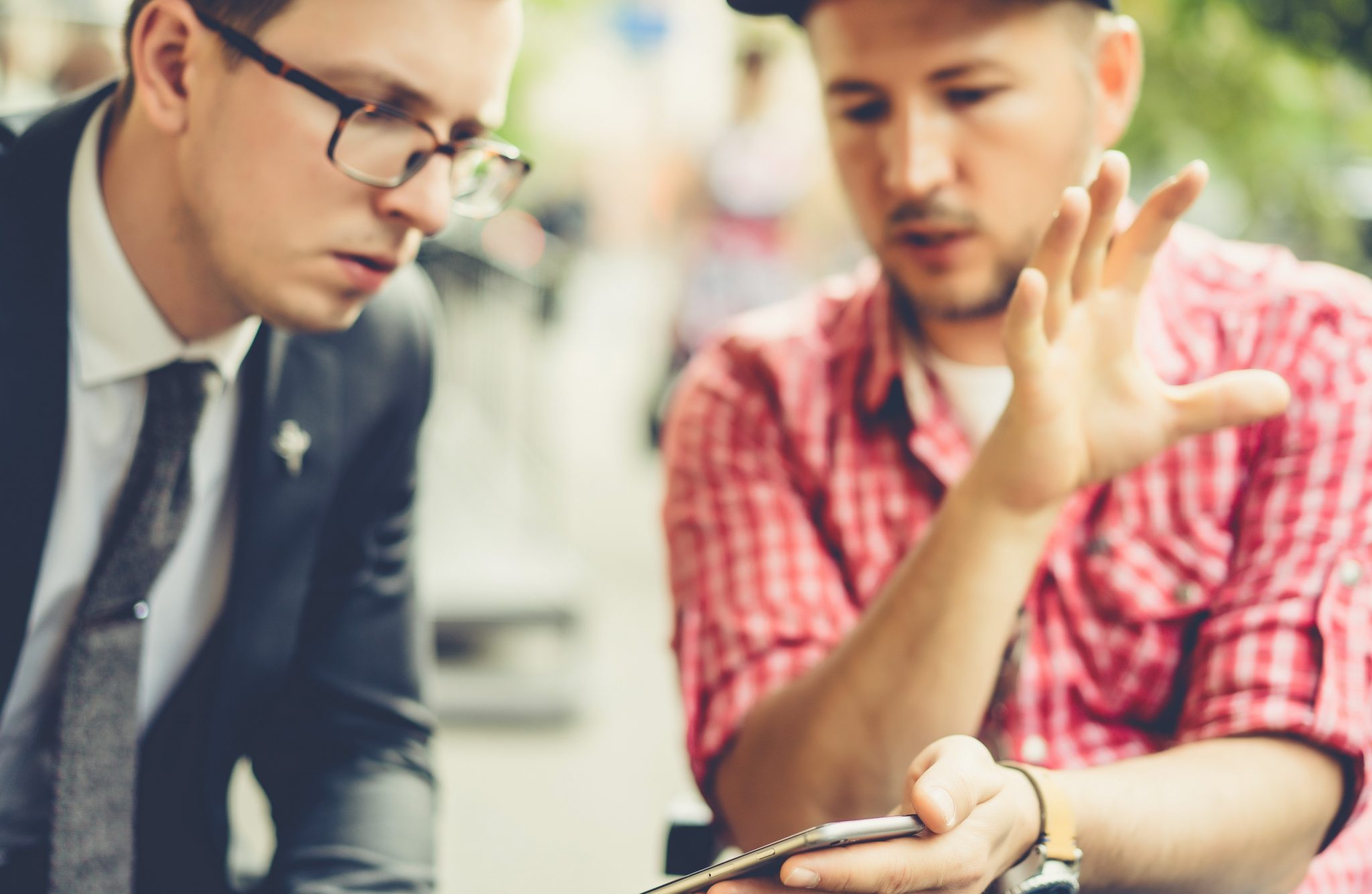 Facebook has quietly introduced tools for advertisers to help them in preventing where their ads appear.
Facebook has been helping advertisers extend the reach of their campaigns off of Facebook to a group partner sites and apps utilising the same targeting as they've been using on the platform. This group of sites and apps consist Facebook's Audience Network and serves as a placement for advertisers for quite some time now. Despite the valuable offerings, advertisers weren't quite on board as they didn't see Facebook's Audience Network as a a way to drive business outcomes. Besides that, advertisers had no control over the type of website and apps their ads would show up nor the content next to which they'd appear. If you wanted to avoid spending your ad money, you could opt-out of Instant Articles, Audience Network and in-stream ads on Facebook.
But now, Facebook is offering more refined tools that allow better transparency and control over where the ads appear. These tools are:
Block Lists
PlacementS for videos
Pre-campaign publisher list
Category blocking
Block lists
If you need to control where your ads will appear Block Lists will help you do just that. Block Lists are available to all advertisers and they can be applied to the ad account level. With such lists you can prevent your ads from running on specific:
Websites and apps or categories of them in the Audience Network,
Pages that allow ads in their videos (in-stream video placement),
Domains that allow Instant Article ads.
How to do it:
First, you need to create a .csv or .txt file that contains the URLs to the websites, or Facebook Pages that you want to exclude, properly formatted. "www.example1.com" for websites and "https://itunes.apple.com/us/app/id000000000" or "https://play.google.com/store/apps/details?id=com.app.example" for apps.
Once you are done with the file, head over to the Business Settings of your Business Manager.



Click on the Block Lists tab and then on the Create Block List button on the upper right side.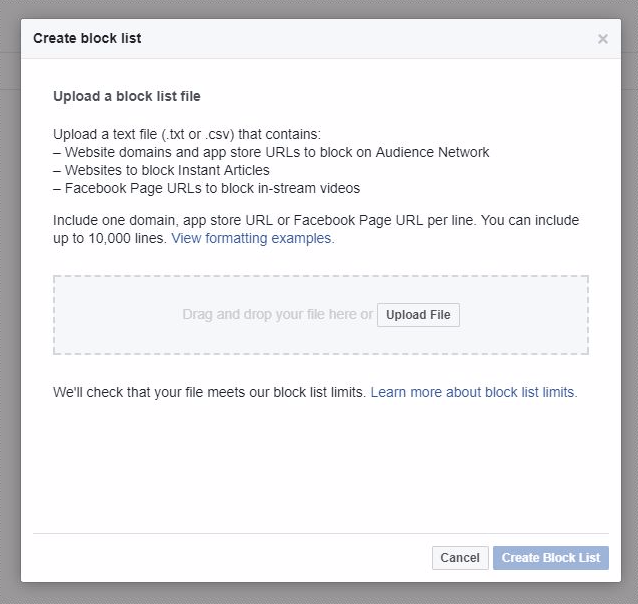 Click the Create Block list under Manage block lists. Find and choose your file.
Once the file is uploaded you will see it appear under Manage block lists. You can either rename it or click on it to reveal the contents. Here, you can either export it or choose to replace it with a more recent version.

Upon uploading your file Facebook will check whether the block list is is within limits.
Things you should have in mind
Once a block list has been created for an ad set, it can be selected again for all ad sets within that ad account.
You should have one domain, app store URL or Facebook Page URL per line.
You can include up to 10,000 lines.
Replacing this block list will delete all existing entries.
Your changes will affect all campaigns for which this block list is active
The blocking lists can be also added on the adset level
Expect limited campaign delivery which translates to fewer people seeing your ads.
Category blocking
This type of blocking, in addition to the previous one, also helps you control where your ads will appear.
In order to stop your ads from showing in certain types of websites and apps, head over to the ad set and click Exclude Categories under Edit Placements.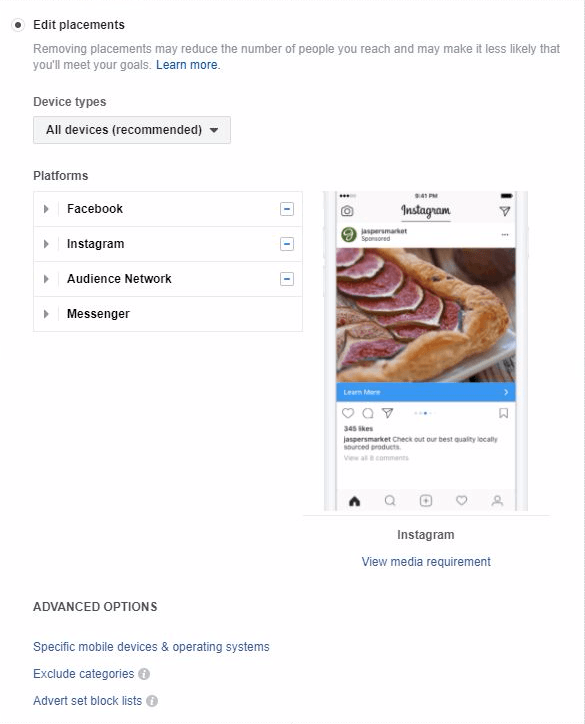 The available options for Category exclusion are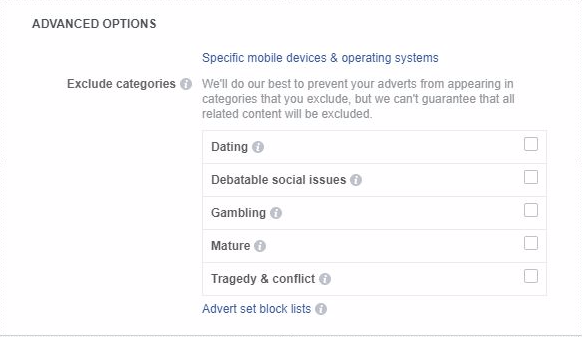 For Audience Network and Instant Article ads:
Dating
Gambling
Mature
Tragedy and Conflict
Debatable Social Issue
For in-stream video ads:
Mature
Tragedy and Conflict
Debatable Social Issues
Things to have in mind
Some category exclusions don't apply to all placements
Facebook will try to ensure your ads aren't not shown in the categories of content you choose to block, but cannot guarantee that your blocks will apply 100% of the time.
Choosing to exclude categories will result into narrower audience.
Pre-campaign publisher list
This feature is quite new and it is currently being rolled out to about 10% of advertisers. It is expected to be available to all advertisers this month. The great thing about this is that it offers transparency by enabling advertisers to see a complete list of places where ads could potentially show in.
Placement opt-out
Although this option isn't new, it has been more refined giving you control over the placements that you want your ads to appear on.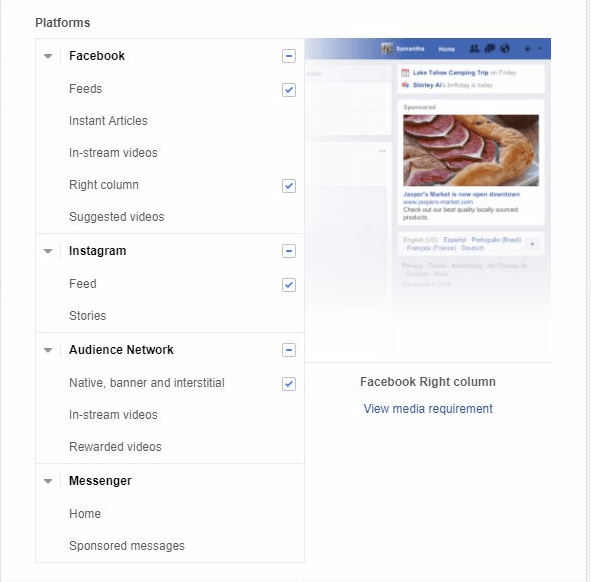 Depending on your objective you can choose to include or exclude placements by checking or un-checking the respective boxes.
Facebook is trying to build trust with advertisers and introduces/refines a number of controls in order to give more power to us, advertisers, to show our ads in places we like will keeping them off places we don't! Have you been using any of the above?

Comments