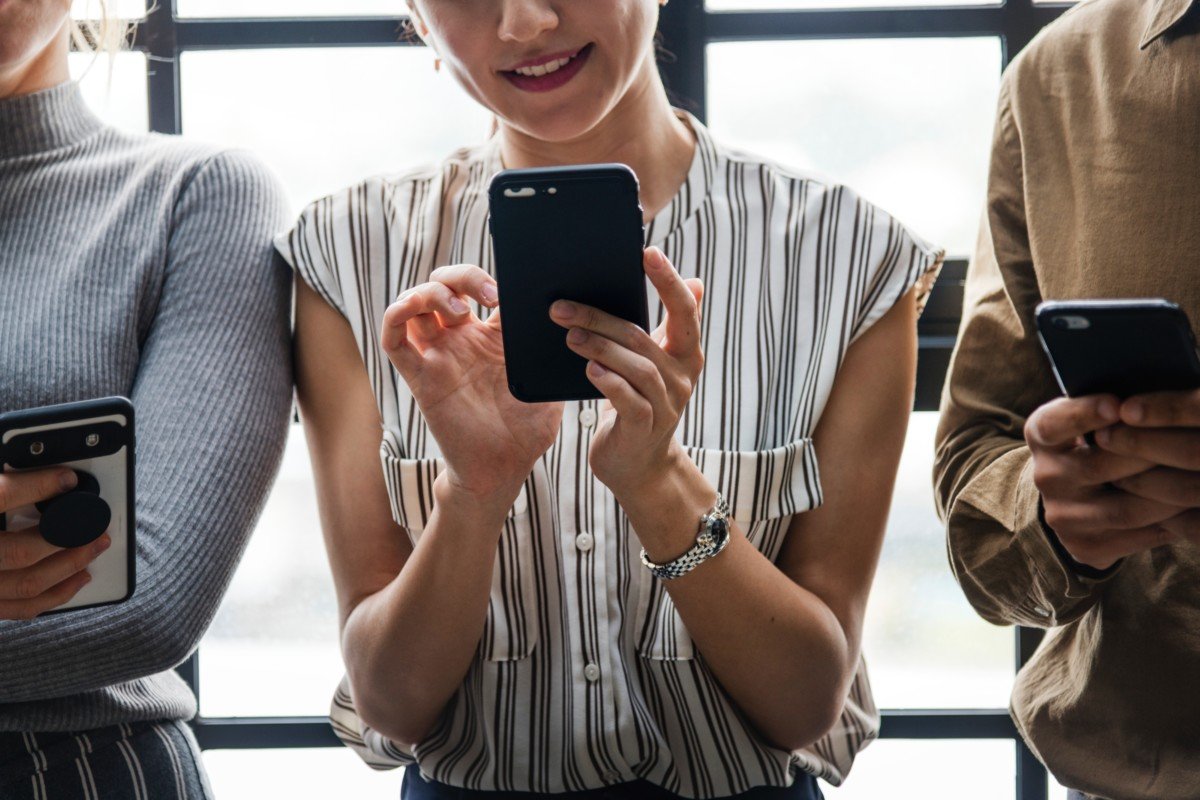 Instagram is one of the most popular social networks, yet still, it can be difficult to build up audiences on this platform. Facebook has now published a report that shows what users expect from brands and how brands should proceed if they want to create a stronger and meaningful presence on Instagram.
Users on Instagram are more demanding and more selective than on other social media platforms, and it's not easy to persuade them to follow you. According to Instagram, this is a positive fact for companies because it is harder to get followers, but once you reach them, they are more likely to follow you on the basis of real interest.
Facebook has published two studies; the first being based on in-depth interviews with 70 people and the second on a sample of 21,000 users, aged 13-64, from 13 countries. Their goal was to find out why users are coming to Instagram and what kind of content they prefer to see from brands.
The responses varied slightly by region and culture in some cases. For example, the Japanese had more conservative responses than the Brazilians. The results were also affected by whether the country has access to the Internet. India, Brazil and Turkey are countries where users connect to the Internet mainly via mobile phones.

Many respondents replied that they had joined Instagram to interact with celebrities, influencers and brands. Here, too, the answers vary slightly according to location. In the US, the most common answer was that people use Instagram to connect with family and friends; in Japan, on the other hand, it was to keep up with current trends.
Here are some interesting facts from the research:
66% of respondents said that Instagram is a place to interact with brands; they are happy to be in touch with them and are interested in their news.
57% of users answered that they use Instagram more than they did a year ago, and 44% said they would use the platform more in the next year.
2 out of 3 respondents said they are accessing the Internet only through their mobile phones.
38% of respondents say that Instagram shows them relevant ads.
Every second user responded that thanks to Stories, they're making more online purchases.
94% of US respondents are watching TV and mobile phones at the same time.
64% of users said they are open to following brands they see in TV ads on Instagram as well.
41% of respondents said they did not watch TV every week.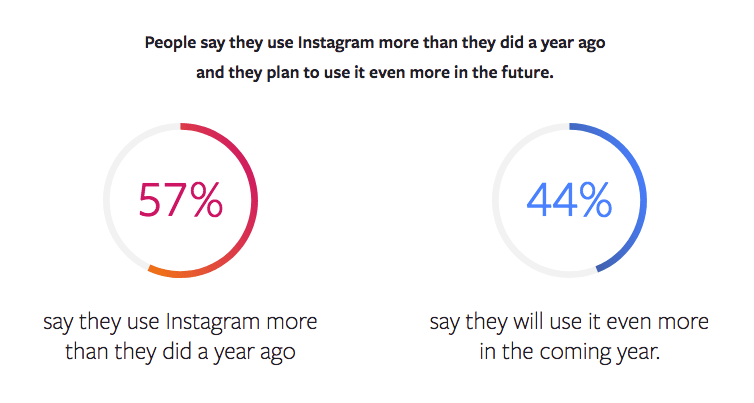 Users therefore join Instagram because they want to interact with:
brands
celebrities
influencers
family and friends
and because they want to follow current trends.
Interesting statistics are also available to confirm that many age groups use Instagram several times a day. This means that younger generations are more often on Instagram, but older age groups are also active on the platform.

The surveyed users said they prefer short, well-targeted content in terms of creative on Instagram.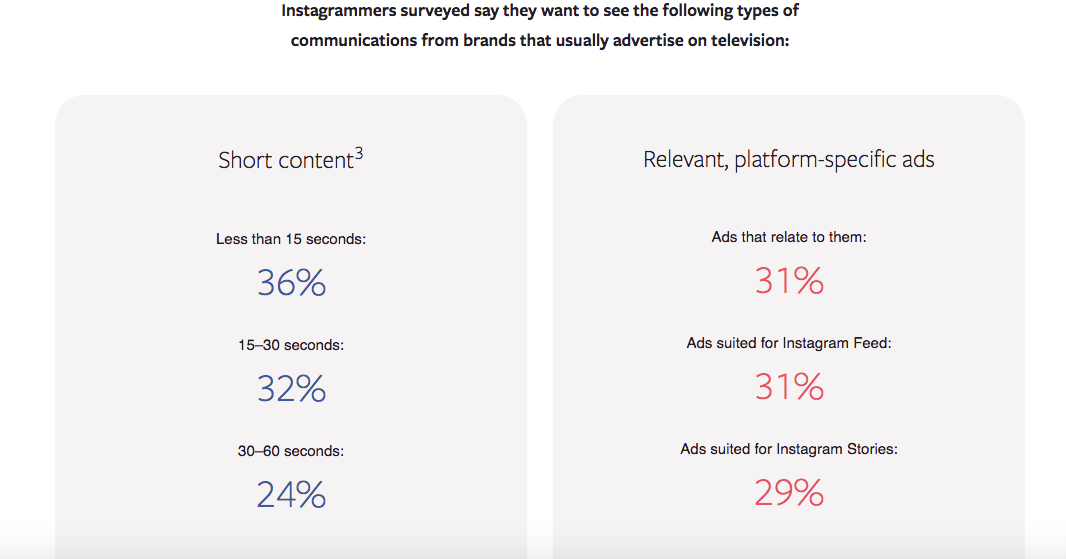 Instagram offers brands the following recommendations:
Instagram offers a wide range of audiences. Thoroughly explore which target markets, generations, or specially targeted groups you want to reach on the platform.
Companies should create content that is short, concise, well-focused and, most importantly, mobile-friendly. An appropriate ad will engage users by doing just this.
Instagram encourages companies to experiment with new ways of communicating in the form of posts, Stories, IGTV and ads to better appeal to new audiences.
An interesting fact is that Instagram wants to strengthen interactions between family and friends, but studies show that users are coming to Instagram mainly to follow trends, brands, influencers and celebrities. This is very positive news for business.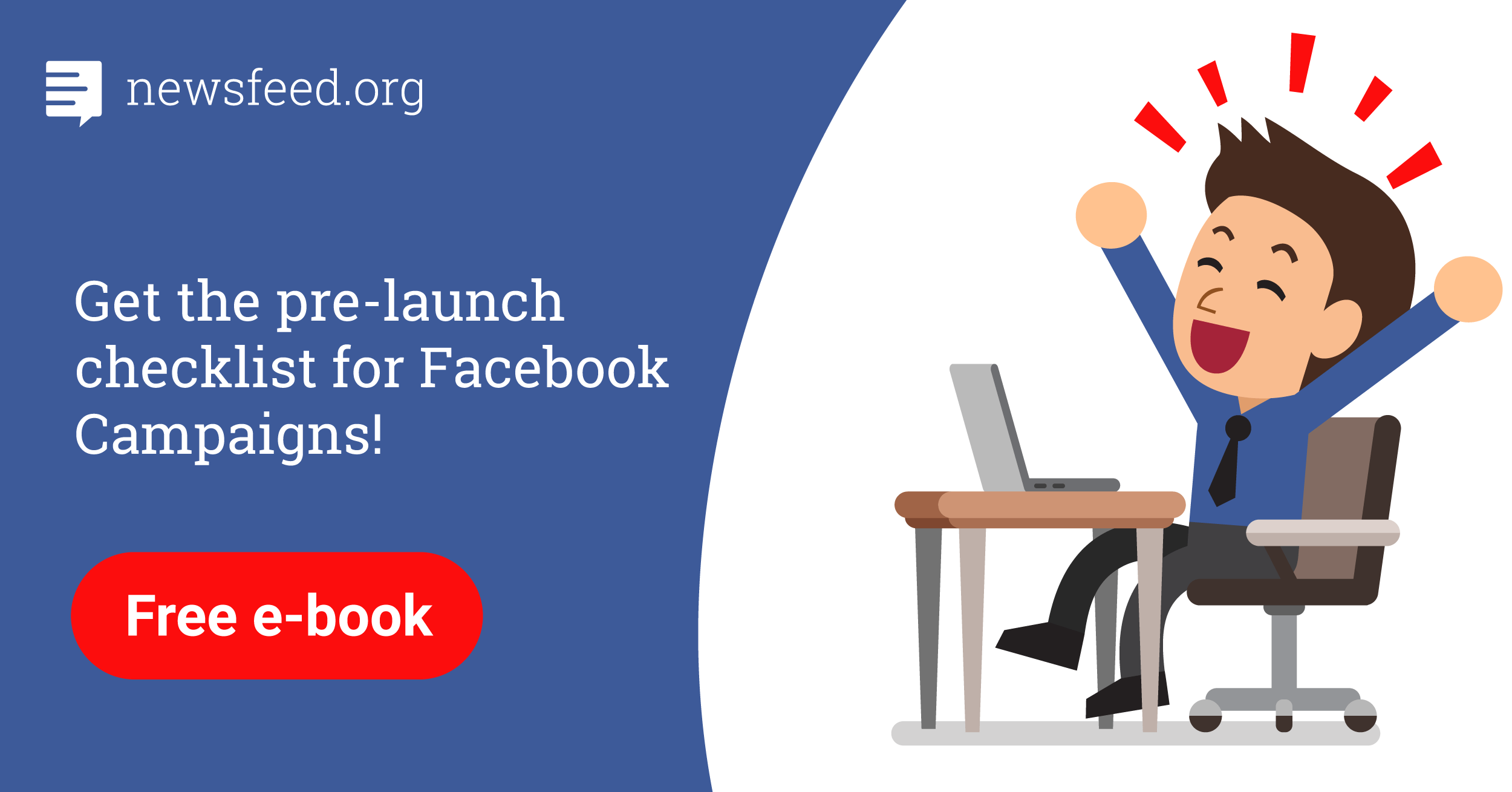 Comments