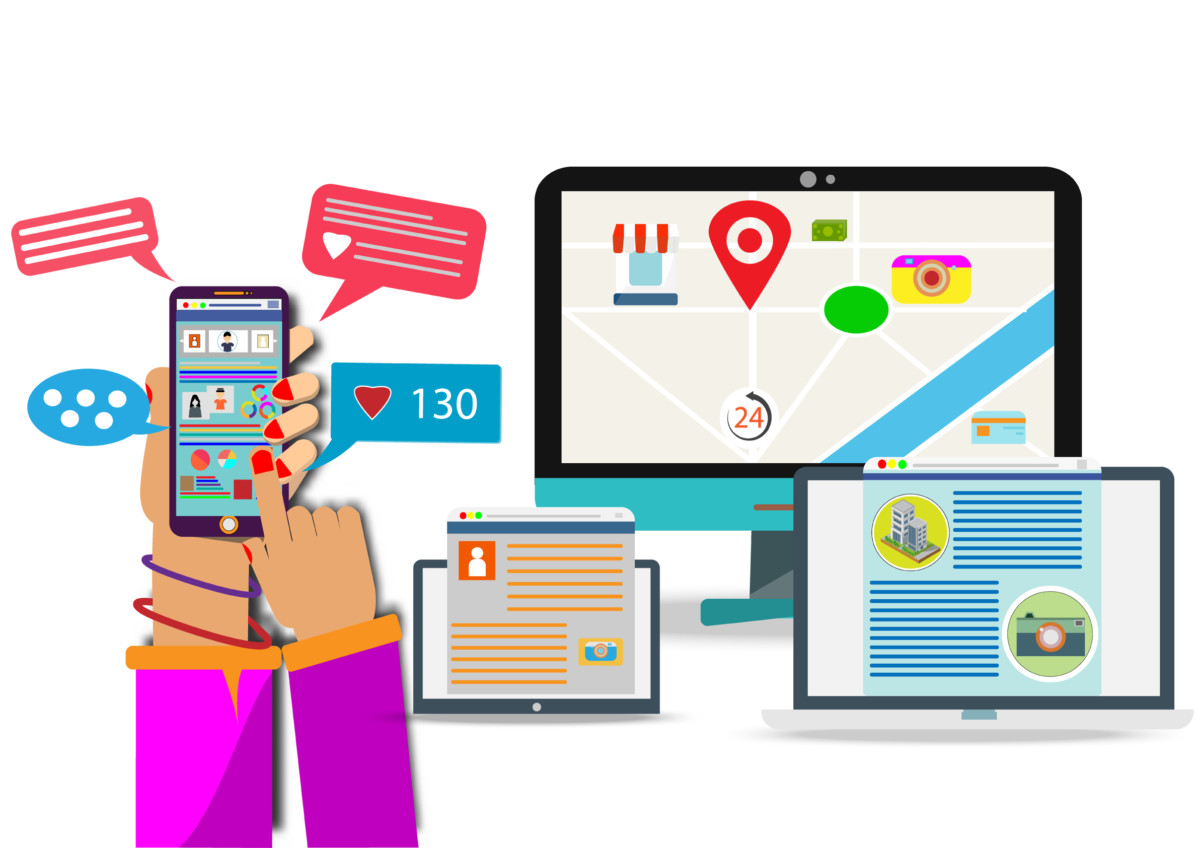 The COVID-19 outbreak is negatively affecting many local businesses across the world. Some have been even forced to close their doors. Some of them may not even reopen again. However, there are still many loyal customers out there who now crave for the simply irresistible cakes they used to buy or the exciting yoga lessons they used to attend. This article focuses on such loyal customers, and especially on how to make it easy for them to connect with you in these difficult times!
What is the greatest challenge businesses face these days? Perhaps you would not be surprised that the biggest pain point is the significant drop in demand, and thus the sales. In fact, a Goldman Sachs survey shows that 51% of U.S. small business owners said that their business would be able to continue operations only for the next 0-3 months under such conditions. 1
On the other hand, some small businesses have rather experienced an increase in their sales as they are lucky to be operating in areas which have been seeing increased demand in general. For example, food and healthcare businesses stand a much better chance of surviving the crisis.2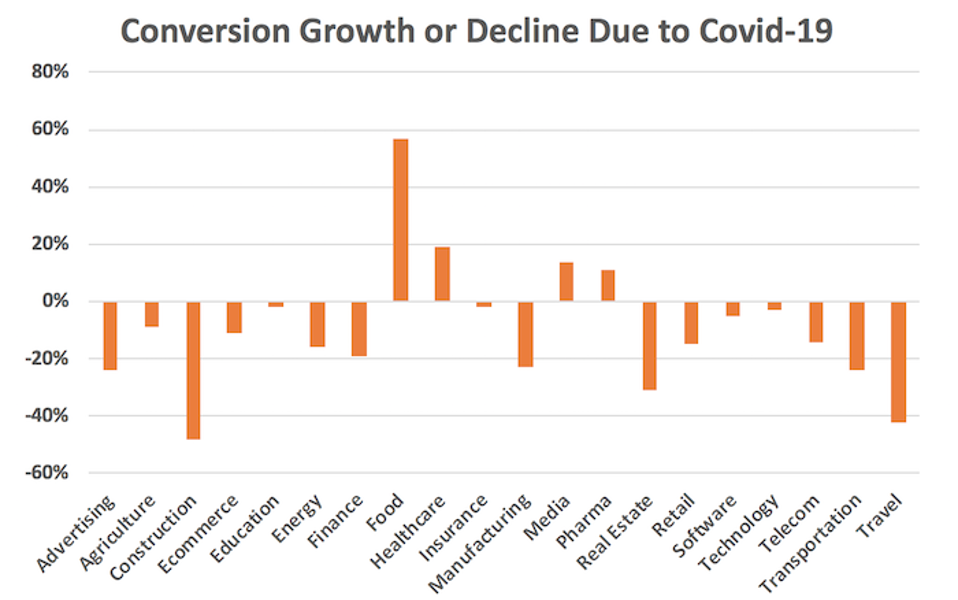 Regardless of your business area, however, the support of your local customers seems to be an important factor that can determine, whether your business survives or not.
Let's sum it up. Customers crave for your services or products but unfortunately, we are all social distancing. It's time for you to mix your marketing strategy up!
If your local community is willing to support your business, it is then wise to inspire and encourage your local customers to do so through any of the following 10 proven concepts.
Offer vouchers and gift cards
You can let your customers prepay your service to be enjoyed "later once this crisis is over". Incentivize them by adding an additional percentage to all vouchers purchased.
One of the ways of implementation would be adding the "Gift Card" tab to your Facebook page. You can easily do so in Facebook Developer's Account.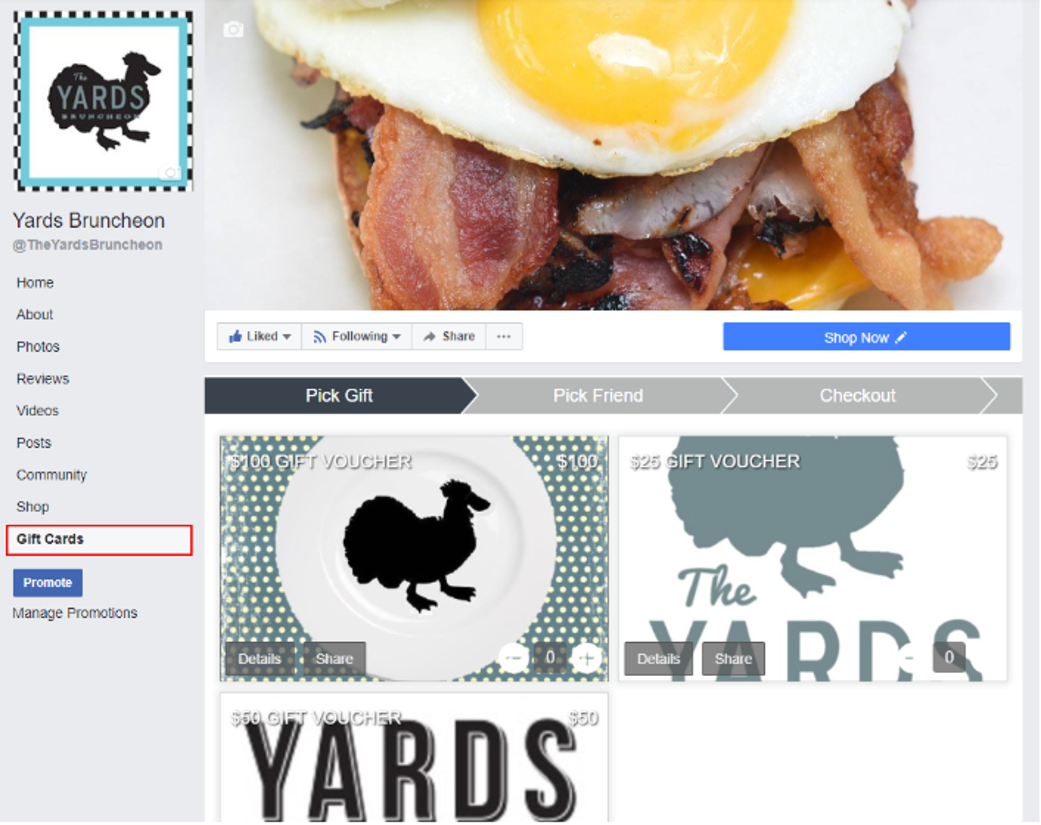 Start with your own delivery
You can use external food delivery services from other providers such as UberEats, AmazonFresh, DoorDash, Grubhub. 
Or you might use Facebook, Instagram or Whatsapp and let people order via these apps. They can place their orders by sending a message to you.
Use Instagram and Instagram Stories
Instagram is introducing new ways for people to support businesses.
You can share links to your offerings through a "Gift Card" or "Food Orders" Stories stickers or add a "Gift Cards", "Order Food", or "Donate" button to your Instagram profile. If you are interested in all the possibilities Instagram now offers, you can check them out here on the Instagram blog.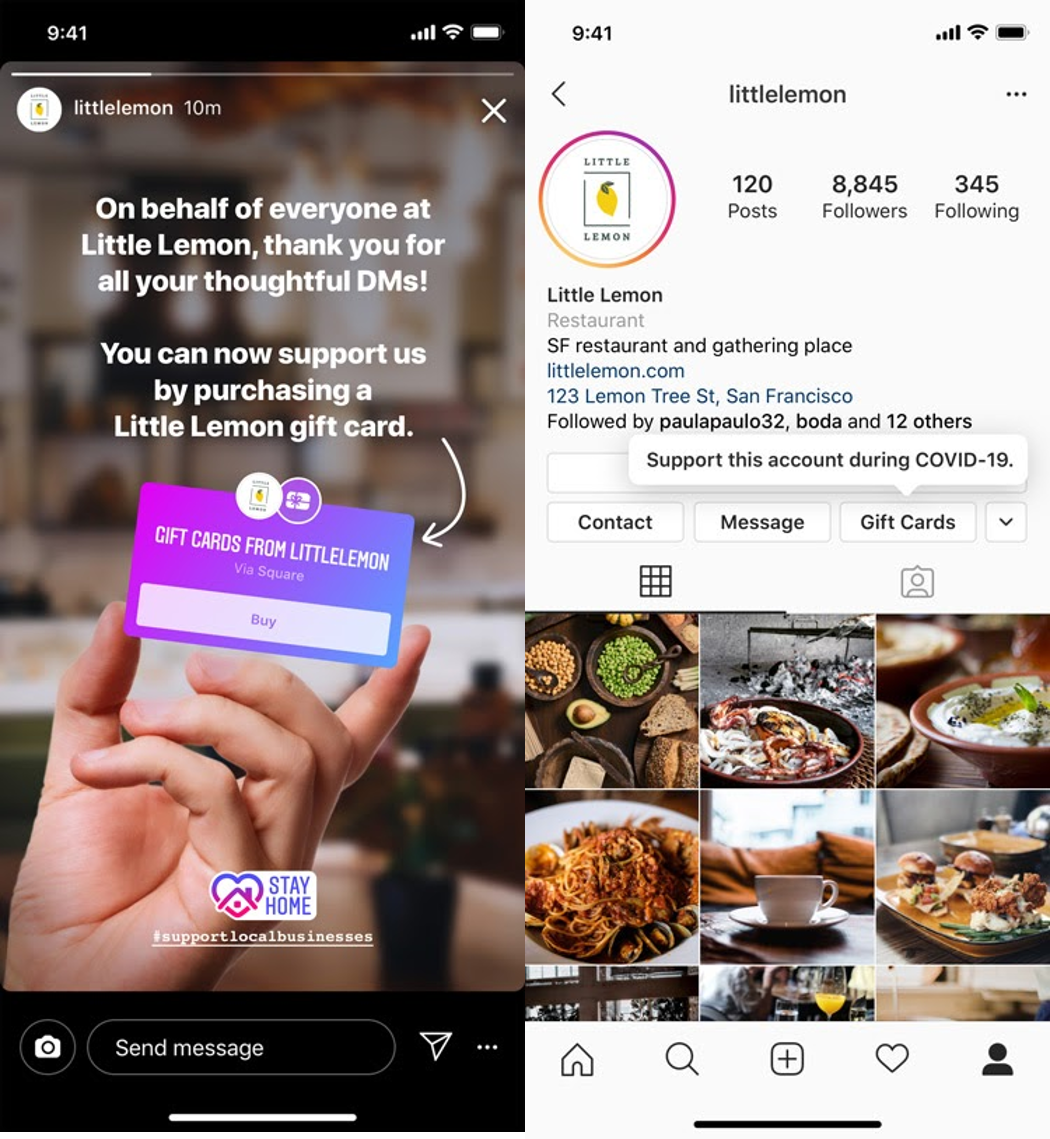 Update your Facebook Page
Tell your customers about temporary service changes and update this info easily on your Facebook Page. Businesses can change the way they operate: fitness studios can offer virtual classes or restaurants can offer delivery instead of a dine-in service. You can learn here how to best keep your Facebook fans updated.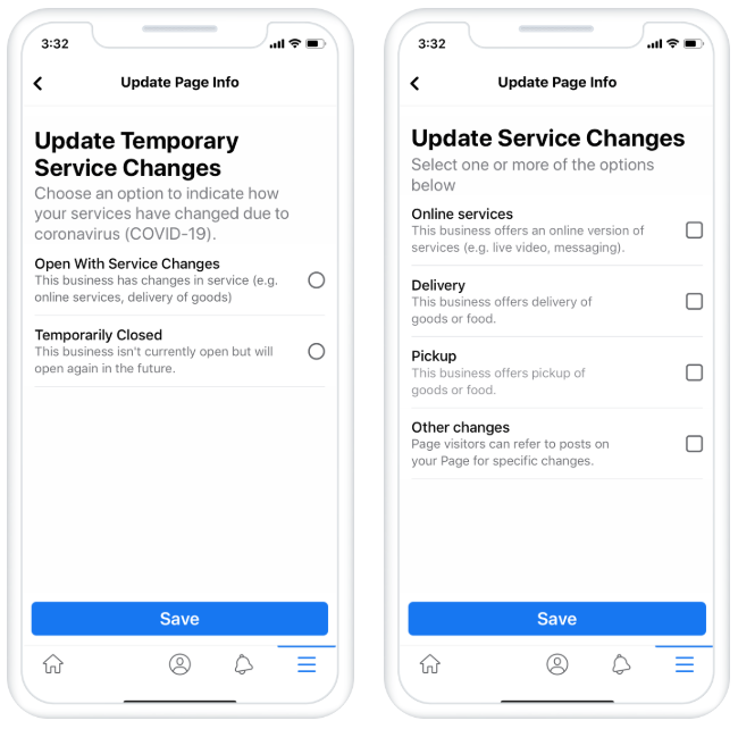 Find influencers
Find influencers who are relevant to your industry and whose audience penetrate your ideal audience segment.
If you are looking for branded content partnerships on Facebook, you should also consider influencer marketing platforms such as Brand Collabs Manager, an easy way to get matched with potential influencers.
Advertise your products on Facebook and Instagram
This is an essential way to expand your reach on social platforms. Facebook and Instagram have a wealth of information about their users. You can benefit from this by targeting just the people who are most likely to become your customers.
Enable online order on your Facebook Page
Besides standard tabs like "About", "Events" and "Photos" you can add custom page tabs via the Facebook platform which will be loading content directly from your website. That way, users will be able to easily click on "Start Order" to begin the ordering process.
Note: Only pages with 2000+ likes can create the custom page tabs.
Add a Shop to a Facebook Page
You can let people shop right on Facebook by adding a Shop section to your Facebook page. You can use this section to list products you're selling and connect with more customers on Facebook.
Implementation tips: Each product needs to be uploaded individually. There's no limit to the number of products you can add. But remember that you can only sell tangible products.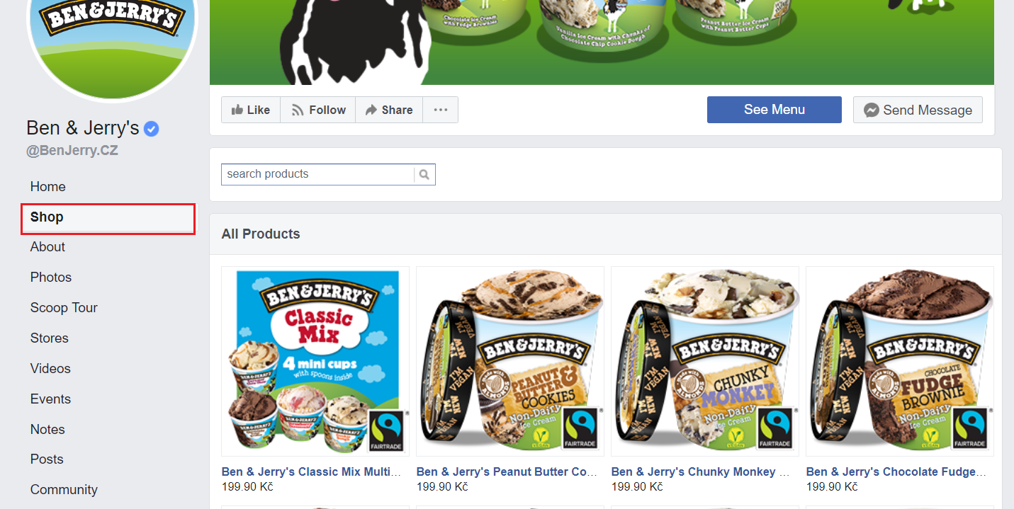 Start with Instagram shopping
You can show your products on Instagram through your organic posts and Stories, or have people discover your products in Search & Explore. When someone taps a product tag on your post or a product sticker in your story, they'll be taken to a product description page.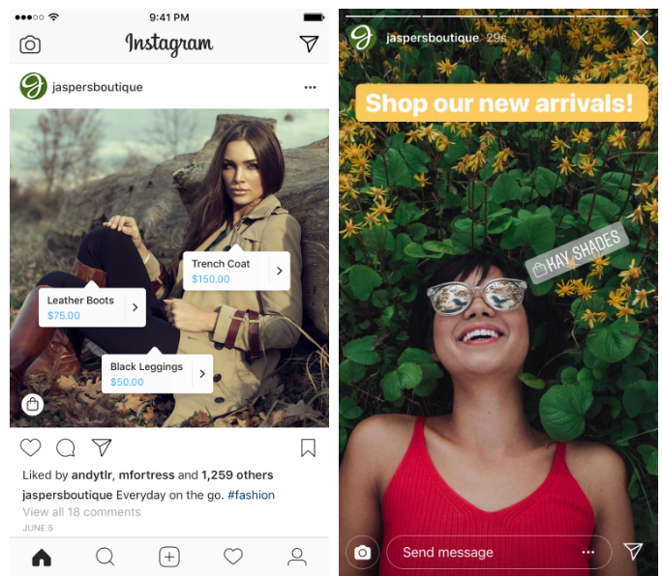 Cooperate with others in your location 
Find a partner in crime. Check crowdfunding platforms to support local businesses and their workers, keep afloat through gift card purchases. Examples of such platforms are helpmainstreet.com or saveourfaves.org. 
You can also be active in local Facebook groups in your location. Offer your services there. Follow initiatives that arise on Facebook and make yourself as visible on social media as possible
Should you prefer to have a team of experts taking care of your social media advertising, there is nothing easier than getting in touch with Business Factory via our CONTACT FORM.

CLICK AND LEARN HOW TO SOLVE THE CRISIS
Comments