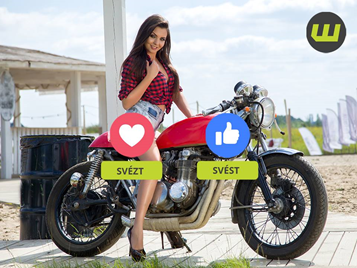 2) Let your fans express themselves
Put your audience in the center of attention – ask for their reaction. Use questions ask for comments or sharing of their own photo/experience. People love to express their opinion, especially on more controversial topics.
Sometimes, even a simple CTA to like the posts can do the trick. Another still functional evergreen is a simple emoji vote which leads to a lot of interactions and as a consequence, increases the post's reach.
Real example: One of our clients, biker clothes seller W-Tec, targets male audience with passion in motorcycles. It's no surprise that in his social feed, one can find both bold vehicles and sexy women. The two elements combined with a simple emoji poll create a fan-engaging content (here: 1 400+ reactions, organic reach 1,5-2 times higher compared to non-engagement posts).
Comments