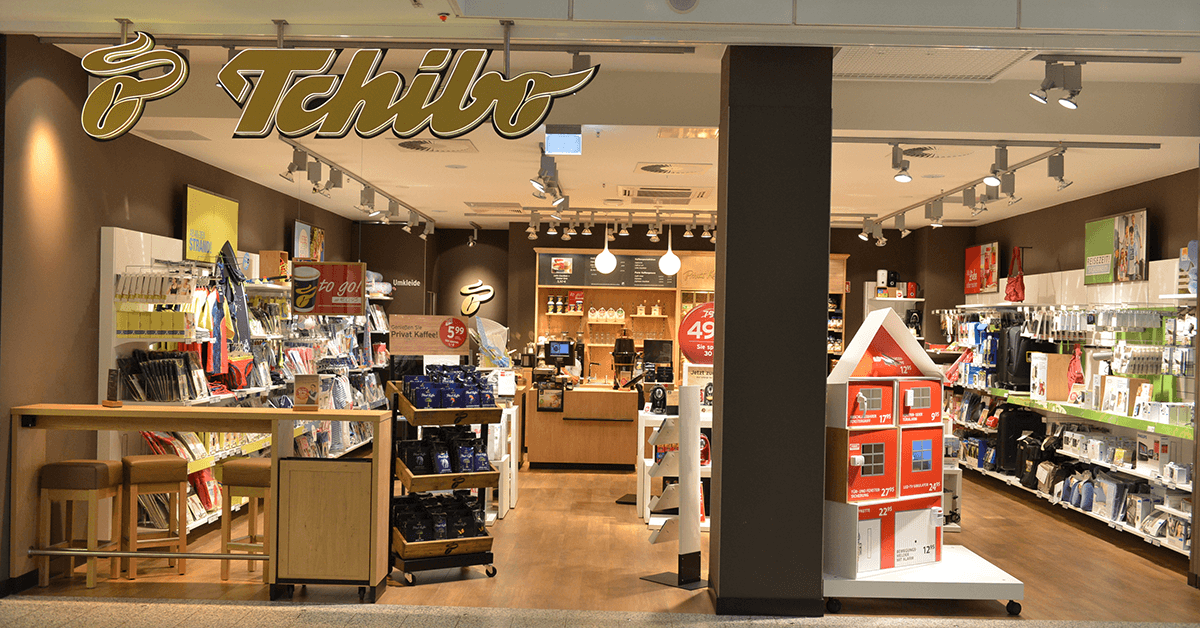 Polish Tchibo was one of the first in the Central and Eastern Europe who managed to automate the connection between the online and offline worlds on Facebook. Thanks to that,not only they could measure the impact of their online campaigns on offline sales, but also boost it thanks to Facebook's dedicated advertising tools. The result of this campaign was 4.9x ROAS only from offline sales in stores around the whole Poland which we could attribute to each specific ad in Facebook.
Campaign in a nutshell:
Connecting the online and offline worlds
Automatic measurement of impact of Facebook ads on offline sales
Boosting visitors of Tchibo stores in Poland
ROAS from offline sales 4,9x
But let's start from the beginning
Tchibo is a German chain of coffee retailers and cafés known for its weekly-changing range of other products such as clothing, household items, electronics and electrical appliances. Its Polish branch decided in 2017 that it will be part of our unique project called Retail Incubator. The project was launched in Business Factory together with our colleagues from ROI Hunter.
Retail Incubator works with clients who want to build on their Facebook advertising knowledge and improve on performance. Tchibo wanted to drive online sales and we helped them to do not only that but also boost their measurement of offline and online data. Our Retail Incubator is positioned such that we work directly with clients and show them how best to plan their Facebook campaigns.
We do this by:
Having our solution engineers consult with clients to find pain points and analyse data.
Developing a Facebook marketing strategy that will help them to reach their KPIs.
Preparing, running and constantly optimizing their campaigns towards their KPIs.
Helping to scale creative creation.
How does a Retail Incubator look like?
It all started with discovering that Tchibo is not the owner of their own data. Their Business Manager and ad account was in the hands of an external agency. The very first step we took, was to create a new Business Manager that was under Tchibo's ownership. This would provide them with full transparency on how their ads were run and the results they achieved.
The incubator process for Tchibo came in 3 phases:
Run DPA for re-marketing and prospecting then optimize for maximum impact.
Implement offline conversion data.
Run a "Store Visits" campaign that drives offline conversions to their stores in Poland.
First we had to work on our DPAs
With dynamic ads we started basically from zero because as we already told you, Tchibo didn't have access to their previous account. We started a new one without knowing what worked best in the past and what didn't work at all. It was our job to find the best solution.
We started dynamic product ads for Tchibo with proper segmentation. In order to do this, we broke down their audience based on interactions with the products on their website. So, if a product was viewed either 1, 2-3, or 4-7 days and 7 days after people added a product to the cart, a specific action could be made on that segment. It was important that we know which target group was best for re-marketing. We applied a dynamic graphic template in the beginning but found that the target group preferred a simple template. We also used the refine audience function to exclude bounce traffic from our target group.

Campaigns were set-up in such way that Tchibo saw results in the tracking systems they used such as Webtrek and Exactag while we were able to see results from Google Analytics inside the ROI Hunter platform.
Offline Conversions Connection
As you may already know from our previous articles, you need some specific data about your customers to be able to measure offline conversions in Facebook. Connection of these data from CRM to Facebook is not so easy, especially when you don't have any experience with it.
We connected Tchibo's CRM via our universal data connector to ROI Hunter. All Tchibo had to do in this case was set up the daily export of results from their internal CRM. That's all. Our engineers did the rest. They managed the secure storage and hashing so that we could read only non-sensitive data. From there, we used ROI Hunter's universal connector to process the data and convert them into the right format and sent the data via an API so that Facebook could track the offline conversions.
This was all set up automatically so that whenever there were new conversions, they appeared in the export and were automatically sent to Facebook so that they could be re-assigned according to the rules of the campaigns that were running. This meant that Tchibo could relax and not have to worry about the setting up anything as we did all of it ourselves.
At this point we need to explain you one more thing. Tchibo knew about their customers thanks to the program TchiboCard. We could measure offline conversions data only when the customer was member of this TchiboCard club. In the results of this case study you can only see impact on offline sales of the club members. The real impact can and probably was much much bigger.
Store Visit Campaigns
The store visits campaign is a type of campaign that is activated by two things:
The location of the online store.
The location of Facebook users.
First you must upload a list of addresses to Facebook locations in Business Manager. For Tchibo we uploaded all addresses of their stores across Poland. After that it is simple. So, if for example, you set up a radius of 1 km from the store, then whenever someone is on Facebook and also within the 1 km radius, then the person will see the ad. The message of the ad could be to invite them to the shop and the address. In the case of Tchibo, we ran a special call to action – "Get Directions". Clicking on this button would take the user to a Google maps navigation page.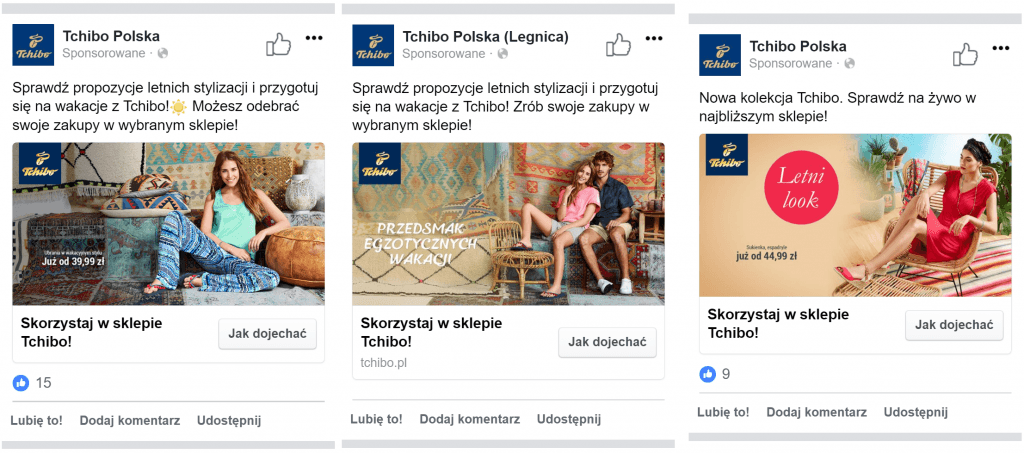 For the Store visit campaign you can choose from some new options at the ad level when creating the campaigns. You can for example choose for which Facebook page you want to run advertising (main page vs. local page) or you can choose many different landing pages.
We tested:
Different landing pages – The website tchibo.pl and landing page "Store Locator" which is basically a map that shows you where the store is.
Different Facebook pages – We could make ads for the main Tchibo Polish page or for individual local stores that are nearby.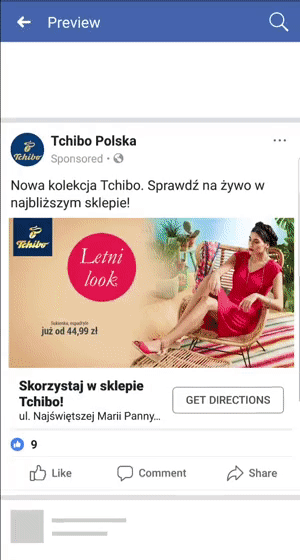 For the tests we used controlled split tests, each week we tested different types of settings of the ads.
Results
During testing the Store Visits campaigns we found that with regard to testing landing pages and Facebook pages that it was better to target our ads with a "Store Locator" landing page and promote from the main Facebook page. Targeting to website or Facebook page and promoting for the local pages had smaller amount of offline conversions with higher cost per conversion.
From our offline and online campaign, we achieved:
a total ROAS from the offline campaign of 3.5
a ROAS from the "Store Visits" campaign of 4.868
This was the first campaign in the Polish market where we were able to prove that it is possible to:
Boost online & offline sales as a result of ongoing optimization that is based on offline data
Show how great of an impact online activities can have on offline traffic and sales.
This can altogether help marketers to better plan their budgets and finally measure the impact of multi-channel activities on their business' performance.
"For a multichannel retailer such a Tchibo, always looking for better ways of utilizing the combined strength of offline and online channel, it was a great opportunity to be part of this pilot. It clearly shows the great impact of online advertising on offline sales and that one should always see any customer as a potentially multichannel customer. ROI Hunter did an excellent job helping us with the set up and optimizing these campaigns." – Jagoda Bednarska, E-commerce manager Comments